TCL this year he scored an outstanding victory at the EISA AWARD. In this edition, TCL won the "Premium LCD TV 2021-2022" for the TV Mini LED 65C825, an award of excellence that rewards the highest quality LCD TVs. Furthermore, the TV QLED 55C728 and the TCL Soundbar TS8132 they respectively won the "Best Buy TV 2021-2022" and the "Best Buy Soundbar 2021-2022".
The TCL Mini LED TV 65C825 wins the first "Premium LCD TV 2021-2022" in TCL history
Photo Credits: TCL
The TCL 65C825 TV is awarded the prize "Premium LCD TV 2021-2022" by EISA's image and sound experts, for the first time in TCL's history. Recently launched in April 2021 for the European market, the TCL 65C825 TV is a Mini LED TV 4K cequipped with QLED technology, Android TV and Onkyo audio system.
Thanks not only to modern technology Quantum Dot, but also to the second generation of AiPQ that uses AI deep learning networks extensively for UHD upscaling, TCL's 65C825 model and the entire C82 Series offer the 100% cinematic color volume, consisting of over a billion colors and shades, and are able to automatically classify the type of content selected, making the images on the TV screen as realistic as possible.
TCL 65C825 is now also Calman Ready. This means it supports 3D LUTs and over 4000 color calibration points, used by the Calman auto calibration software, and improves color quality with the Aurora Color Engine. Consumers can take full advantage of the Aurora Color Engine built into Calman software, built from the ground up by implementing the latest in color science research.
TCL QLED 55C728 TV wins EISA "Best Buy TV 2021-2022" award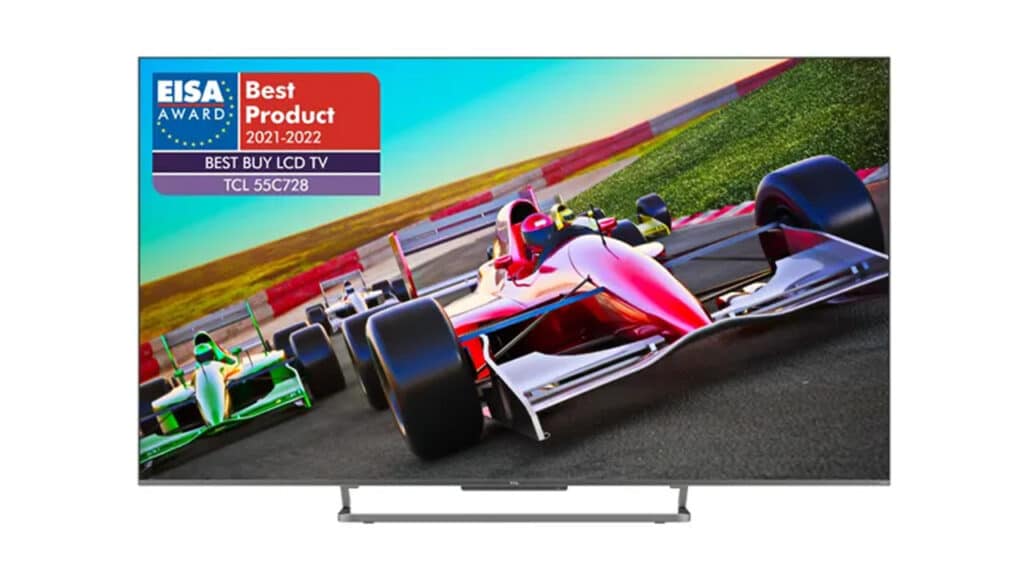 Photo Credits: TCL
Even the ultra-competitive model TCL 55C728, launched in April 2021 among the new Serie C, triumphs at EISA and wins the award "Best Buy TV for 2021-2022". The TCL 55C728, which fits into TCL's C72 + TV Series, combines the second generation of AiPQ, Quantum Dot with panel a 100Hz for crisp, smooth 4K HDR picture quality. In addition, this model also includes Game Master Pro and supports all the latest HDR formats (including HDR10 +, Dolby Vision, Dolby Vision IQ). The luxury frameless design of the TCL C72 + Series features an elegant metal center stand, so this large screen can easily be placed on any surface in the home.
Like the TCL 65C825 TV, also the award-winning TCL 55C728 and now Calman Ready, which means it supports 3D LUTs and over 4000 color calibration points, used by Calman software and improves color quality with Aurora Color Engine.
La Soundbar TCL TS8132 vince il premio EISA "Best Buy Soundbar 2021-2022"
TCL, which has had great success with soundbars offering immersive sound thanks to Dolby Atmos, is launching its new soundbar TS8132. This soundbar Dolby Atmos 3.1.2 has a wireless subwoofer and delivers immersive sound for consumer-favorite streaming services, TV content and games. The TCL TS8132 soundbar was awarded by EISA sound experts as "Best Buy Soundbar 2021-2022″.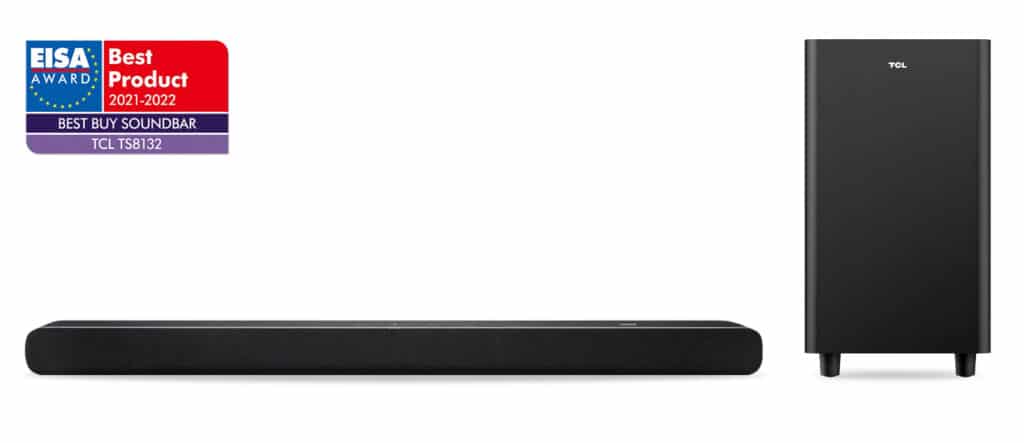 Photo Credits: TCL
With TCL's TS8132 soundbar, users can experience Dolby Atmos sound with a new guided version of 3.1.2 channel configuration, capable of delivering more immersive 3D sound. The performance will amaze customers and they will thanks to a surprisingly elegant design and a compact yet powerful subwoofer.
In addition to offering great movie and TV experiences, the TS8132 soundbar will also quickly become the audio hub in your living room thanks to the Chromecast integrated and to compatilità con Apple AirPlay, Google Assistant e Alexa, connecting to the most popular audio ecosystems. TCL's new soundbar is also equipped with HDMI with eARC for TV connection and support for all audio formats, as well as Dolby Vision compatible 4K pass-thru.