It's been years since cell phones were only used to make calls and send SMS and MMS (does anyone still remember them?). Currently the smartphone they are able to take great photos, become a voice assistant and much more: it all depends on the apps we decide to install. From leisure to free time, from utility to productivity, we have decided to collect the apps that you absolutely cannot not have on your smartphone.
Billbot, the app to keep your expenses under control
Photo credits: Billbot.
Billbot is a super useful application where it is possible enter and keep track of subscriptions and recurring expenses. After downloading it, all you have to do is select the name of the subscription or service, choosing it from those already present or creating your own personalized one, enter the number and the recurrence – so if annual, monthly, weekly or other – and set reminders optional.
This will help you understand how much you spend per month on average between Netflix, Amazon Prime, Spotify and all other subscriptions, a receive a reminder in the period preceding the renewal of the service; and figure out which ones you can give up to save something each month. As anticipated, in addition to the preset services, you can also insert custom recurring expenses, such as rent, mortgage or car payment, gym membership and much more. Billbot is safe and free, in fact all information must be written manually and does not access your data, in addition to not paying for the various subscriptions for you: it only serves to keep track of expenses.
Trello and Notion: the perfect apps for productivity
Photo credits: Notion.
If you are looking for useful applications to increase your productivity, Trello e Notion are for you. The first, Trello, is one digital whiteboard especially useful for teamwork, but it can also be used privately. You can practically stick virtual post-its on your whiteboard, to remind you to do something or take notes. You can create various cards, such as to-dos and to-dos, attach links or files, and assign labels.
Notion is another productivity app, which transform the simple notebook into something more complex and customizable. You can create private spreadsheets or share them with other people, create lists, tables, texts, insert images and links and do many other things.
Both Notion and Trello are free applications, available for Android and iOS as well as in the desktop version to be able to edit your projects even on larger screens.
JustWatch and TvTime, for lovers of cinema and TV series
JustWatch
In our opinion these two apps, very well known, are absolutely a must-have in your smartphone, above all if you love movies and TV series. TVTime it allows to keep track of all the TV series and movies you watch, notifying you when a new episode of the season is available and providing a real community. In the app, in fact, it is possible to review the episode or the TV series, both through a scoring system, and through real comments, as well as see the cast. We believe it an essential app to never forget which episode you watched last, keep up with the news and create an archive of all the contents seen over the years. You can also always consult the statistics to find out what your favorite genres are, how many hours you have spent watching movies and TV series and much more.
JustWatch is a complementary smartphone app, very useful in this age of streaming content. Thanks to its incredible database, in fact, you can find out via which video streaming service a particular title is available. This will save you the endless minutes spent browsing the Netflix, Prime Video, Disney + or Apple TV + site in search of that TV series that you have seen in passing but do not remember which catalog it was in.
Vivino, the must-have smartphone app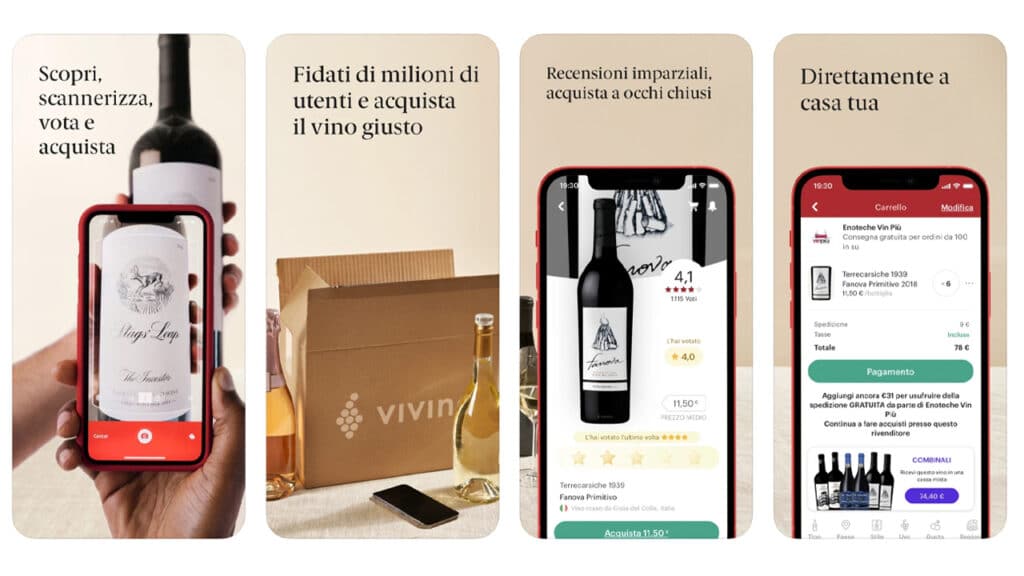 Photo credits: Vivino.
Together with a good film it would be great to combine a good glass of wine: Fortunately Vivino comes to our rescue, especially if we are not totally experts in the sector. The smartphone app allows you to search for a wine in its incredible database to discover the vote of users – a community made up of thousands of people – the ideal combination with food, the temperature at which to serve it, the type of grapes used and the origin.
It is extremely useful perhaps in the supermarket, or in a wine shop, as it allows you to take a picture of the wine bottle label to instantly have all the information you need: is it good? Does it go with your meal? Also it is possible photograph an entire wine list of a restaurant to have, in a few moments, an evaluation of the local proposals. In short, thanks to this application you will no longer make a bad impression on anyone!
Good on You, sustainability within your smartphone's reach
Good on You is a smartphone app dedicated to those who want to adopt a more sustainable lifestyle, at least as far as clothing is concerned. It allows you to search for a clothing brand – the database is really large – and find out how committed it is in terms of the protection of the environment, workers and animals. The app assigns a score for each category, based on official data, and recommends a more sustainable alternative for each less sustainable brand you seek.
Abillion, the smartphone app with which to benefit for free through reviews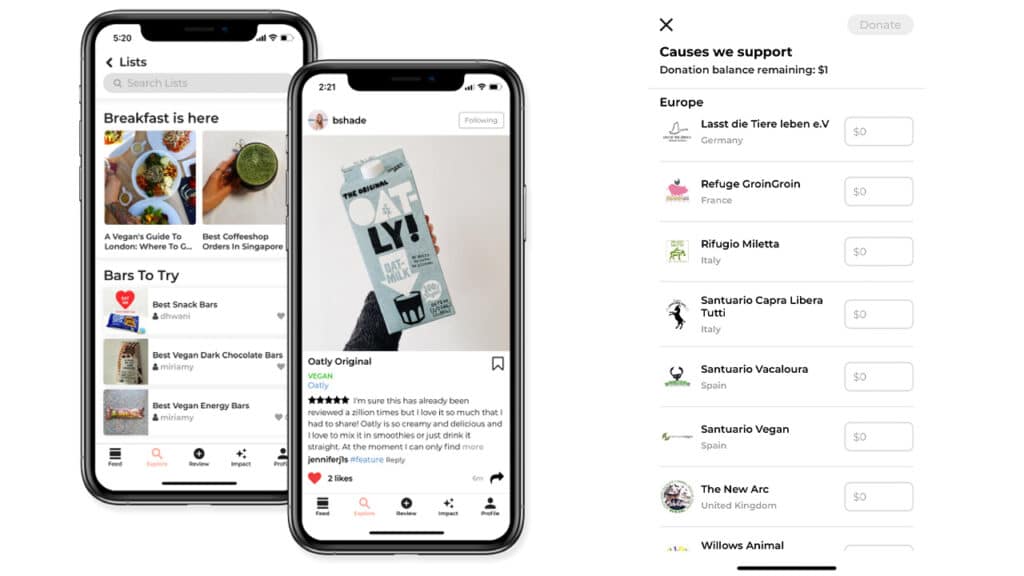 Photo credits: Abillion.
Abillion is an application that allows you to discover new vegan products thanks to reviews of users who express their opinion and allows you to write new ones by evaluating the products you have tried. But it has an edge. For every review you write, you'll get a dollar to donate to one of the many charities that Abillion supports. There are about 60 institutions, including two Italians: Miletta Refuge and Capra Libera Tutti Sanctuary. What can I say, it is an excellent application to discover new vegan products and do good, all for free.