Garden Story, a action RPG particular and dynamic, is now available on PC e Nintendo Switch: we have had the opportunity to try it on the Nintendo console and we are ready to have our say with this one review. Are you ready to find out if the adventure created by Picogram and published by Rose City Games has convinced us?
The Garden Story review – a pleasant story
Garden Story is the latest title developed by Picogram and, on the surface, it may seem like the hidden brother from Animal Crossing: New Horizons. After all, the protagonists all look like this cute ed adorable, are characterized by a cute pixelated graphics and we are inside a gigantic and wonderful garden.
In reality the game is much more than that: it has one dynamic story, twists and, if we really have to say it all, it could be a distant cousin of Zelda. Now, however, let's proceed step by step. In this amazing game we take on the role of a grape, squat and round, really lovely, who has spent most of his life in a kindergarten.
All the inhabitants of Garden Story live in Grove, or the house of a huge tree divided into four cities: Spring Hamlet, Summer Bar, Autumn Town e Winter Glade.
One day, Guardian Plum gets us out of this Kindergarden, obviously after showing us the main keys, and then informs us of his imminent departure. We are therefore named his successor and here we are taught basics of combat e how to help neighboring cities.
But we will soon discover that our little world is threatened by one dark force, known as The Rot. It is up to us to rebuild the cities, re-establish communication and eliminate this dark presence once and for all. Now that we know the story in detail, let's find out together the main features of this game.
A place to call "home"
Garden Story offers us one home. It may seem obvious but it is not. There are many games out there that make us travel far and wide and it is often difficult to call a place home. The title of Picogram, on the other hand, offers us more places to be considered as such. It is an element that is not visible, at least not immediately, but which will gradually become more and more here I'm.
Another main feature of the title concerns the communication. One of the main activities our lovely grape has to do is talk to the characters to progress in the narrative. We also have to interact with one notice board next to our house that assigns us daily missions to level up and rebuild the village.
Some main missions require our village to reach a certain level before they are available, so it's in our best interest complete some of them every day. Of course, the higher the level of our village, the better the items sold in the shops will be too.
Garden Story is a pleasant one mix between Animal Crossing, where we fish, rebuild the village, take care of it and The Legend of Zelda, where we fight to defend the inhabitants and the village.
Missions and fights
The daily missions are divided into three categories: combat, in which some Rot is defeated; construction, in which objects are rebuilt or repaired; And collection, where resources are collected to donate to the village. Although simple, the daily tasks vary from day to day, so don't be trivial and boring.
In addition to the aforementioned main missions and daily tasks, there are also side missions of various characters found in the world e challenging dungeons to explore. In the beginning the title focuses mainly on the Research e collection of resources, on the construction of the city and on the communication with the characters.
However, moving forward, the combat it will become a fundamental element of the game. This aspect, although funny, sometimes turns out to be a little slow, some enemies are not very reactive while others hard to hit. In any case, our grape will have a weapon with itself and even one shield to defend.
When bosses are defeated, we get bonuses like extra hit points it's a increase in our resistance bar. Another key element is exploration. By exploring we have the opportunity to use our weapons better and we can help people in other cities.
Also we can collect memories: some of them increase ours salute or the resistence.
The Garden Story review: yes or no?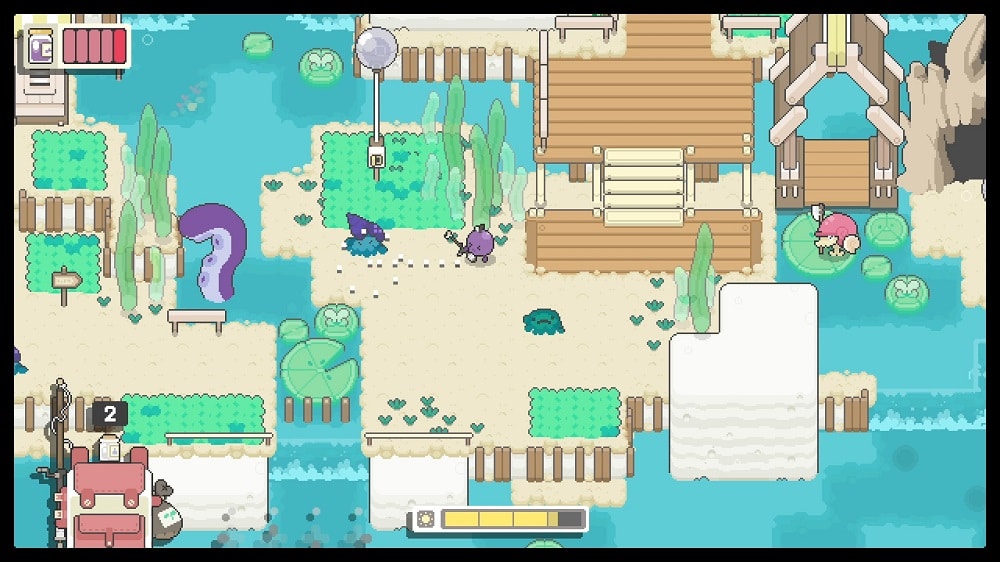 Our answer is absolutely yes. Garden Story is one real news and offers the right balance between dynamic fights – even if clumsy – e atmosphere of peace, relaxing, evocative. As the story progresses, you realize all the qualities this title has to offer. At first it may seem slow, trivial but trust us: hold on and move on because you will not regret it.
The pixel graphics are extremely striking, the colors are vibrant and the whole is wrapped in one particular and relaxing soundtrack that will accompany us on this journey, one of a kind. Each new city that we explore will offer us many new features that will keep us busy. There are some defects but the interesting thing is that they don't spoil the story in the slightest so we can get over it too.
Also we would like to point out that in Garden Story you never, ever get bored. Each village is ready to offer you something, the same with regard to i enemies e i personages with whom you will speak during your adventure. The title is available on PC via Steam and on the official Nintendo website.
If you are looking for an intense, dynamic, action-packed story but also moments where you can breathe and relax, Garden Story is definitely for you.
PRO
Evocative and immersive panorama
Dynamic and varied gameplay
Lovely and strong characters
AGAINST
Slow fights
Some enemies are harder to hit
Hit points too low at first