Huawei MatePad 11 is the younger brother of MatePad Pro, with which however it shares an important feature: HarmonyOS 2.0. Confused? Let's take a quick step back. For some time now, Huawei has had to give up Android. A painful divorce that has undoubtedly penalized the Chinese giant in the mobile field. Now, however, the Shenzhen-based company has decided to rebuild its empire in this sector by relying on a proprietary operating system: HarmonyOS.
Huawei MatePad 11 is therefore one of the first tablets to mount the new Chinese software but not only. Thanks to the chip crisis, the device is also the first to use a Qualcomm processor instead of the usual Kirin. Does this unprecedented combination work? Does it make sense to buy a Huawei tablet even without Google apps? We talk about it in this one Huawei MatePad 11 review, for the occasion flanked by the second generation M-Pencil and the Huawei Smart Magnetic Keyboard.
The Huawei MatePad 11 review
Before going into detail, we want to immediately address the question. The one with a capital D.
Is it worth buying a Huawei tablet without Android?
The answer is simple: Yes.
It is natural that it is not suitable for everyone. You want for the cost – it starts from 399,90 € -, either for the size, or for the specific needs of each of us. However, this is true for every product on the market. In short, you shouldn't discard MatePad 11 just because there are no Google applications. This tablet really has a lot to offer, both on the multimedia front and on the productivity side.
A classy tablet
Huawei has chosen the coloring matte grey for his latest tablet which, together with the symmetrical frames and the limited thickness, makes this device really fine. Classy, ​​we would dare to say. It is the type of product that goes unnoticed because no, it is not original, but at the same time it adapts to any type of situation and user.
At first glance it might seem made of aluminum or some special metal alloy, but it is made of plastic. Huawei has made a number of choices that have turned this tablet into a premium product despite the materials. We are not just talking about the finish but also the silver volume rocker, the power button with a thin red line in the center and the discreet but powerful speakers that we find along the edges, curated by Harman Kardon.
The weight of all this? 485 grams rising to 830 with keyboard and pen. Overall, therefore, you find yourself with a complete product that weighs less than a laptop and can be transported and used really anywhere.
A display for video and games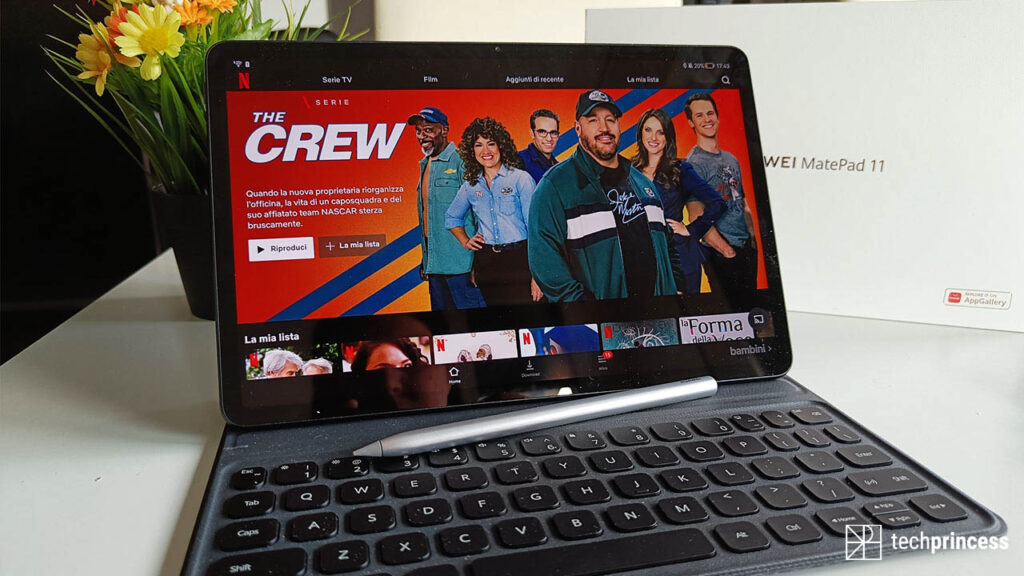 We do not have an OLED, an AMOLED, a P-OLED or any other variant placed on the market. The display of this MatePad 11 is a TFT LCD IPS but no, this is not bad. First of all we have in our hands a screen with a resolution of 2560×1600 pixel that allows you to see any kind of content and enjoy a browsing experience equal to a PC. Of course, 10.95 in they are not many if compared to a traditional notebook but they are sufficient for most of the activities, from watching a movie to writing texts.
This display has a lot more to offer though. MatePad 11 supports a refresh rate 120 Hz, to ensure not only the maximum fluidity during the traditional use of the operating system but also excellent performance with videos and video games. Also the DCI-P3 color gamut plays a vital role, giving back vivid and realistic colors which can satisfy even photographers when editing some photographs.
The Asian giant has also thought about the well-being of our eyes: Huawei MatePad 11 has obtained the TÜV Rheinland Dual certification so you can enjoy all the benefits of blue light reduction without changing display modes and without color casts.
Video calls? Why not!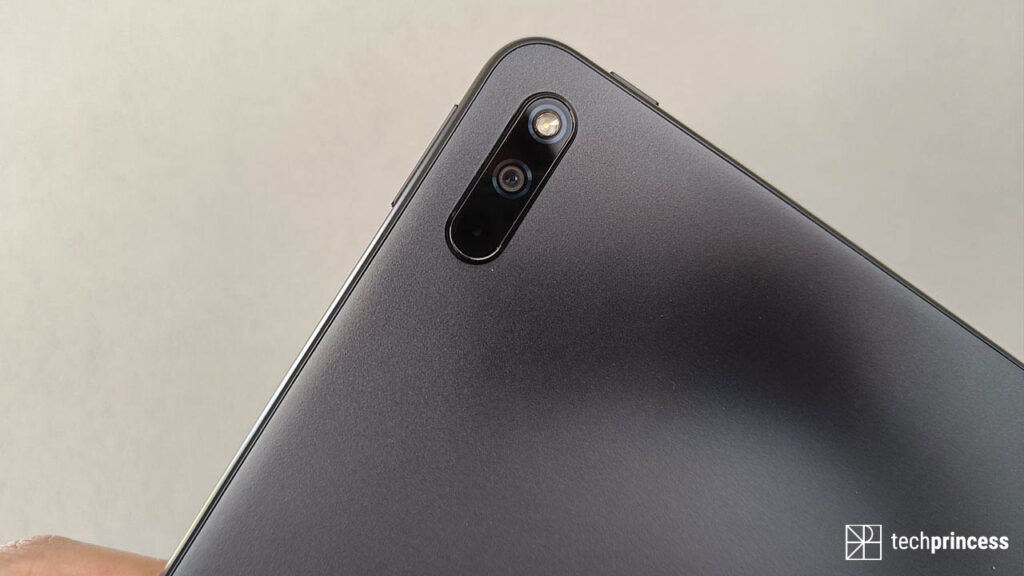 There are two cameras that we find on this tablet: the rear, enclosed in a slightly protruding module, from 13 megapixel con flash LED and the front from 7 megapixels with 1080p resolution. You will hardly use them to take pictures but on the other hand they are useful for video calls at work, with family or with friends.
The 4 integrated microphones, which use artificial intelligence to reduce background noise, including any strangers speaking nearby or the noise generated by typing on the keyboard.
Huawei MatePad 11 review: HarmonyOS and Qualcomm Snapdragon 865
HarmonyOS 2.0 and the Qualcomm Snapdragon 865 processor are a pair that works. MatePad 11 does all kinds of tasks without any indecision, even when you have a lot of applications running in the background.
The new operating system then brings with it a series of particularly interesting features. Let me be clear, it is not entirely original. A little bit was borrowed from iOS and the home base is Android, but Huawei has created a hybrid that behaves excellently and is very easy to use. We thus have one taskbar which includes your favorite apps (up to 7) and the most used ones (maximum 3), the retractable sidebar that you can recall with a side swipe and the multiwindows. The latter allows you to open up to a maximum of 3 applications ensuring good multitasking even for working or studying: you can open notes and consult slides, check the data of a spreadsheet and chat with colleagues or, again, watch a video and in the meantime read the emails.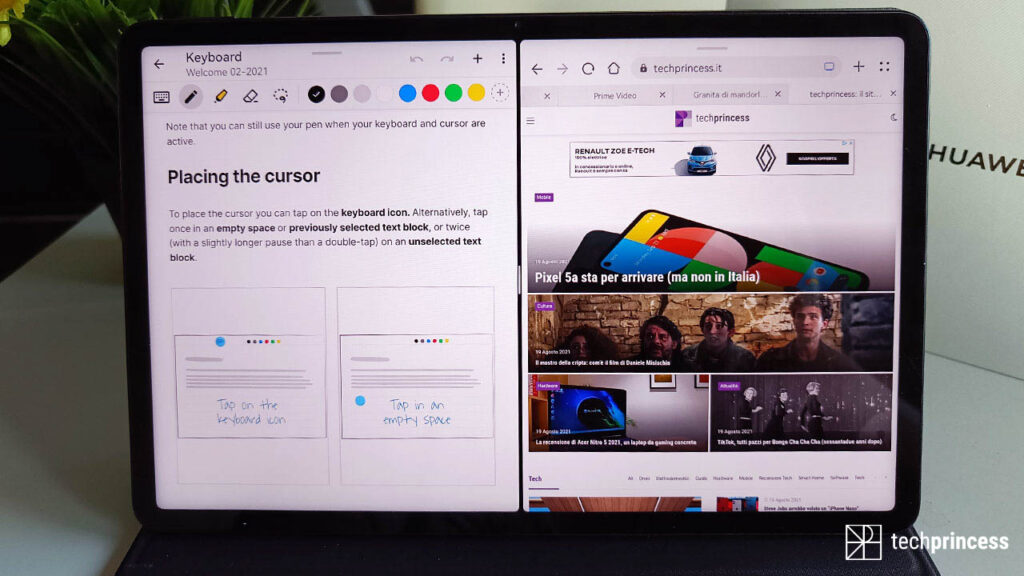 HarmonyOS 2.0 also allows you to compose your homescreen, mixing applications, creating more or less large folders and adding widgets that you can call up with a swipe up on the application icon.
What about Google apps? Well, technically they are not present but you can take advantage of two possible alternatives: use the browser, as you would on a computer, or install Gspace, an app that helps you log into your Google account and download apps like Gmail, YouTube and more directly from the Play Store. It's not a very orthodox solution but it could make your life easier and help overcome the initial uncertainty.
You can also rely on 64/128 GB of internal memorya, expandable via microSD, on 6 GB of RAM, on the Adreno 650 GPU and on unlocking with the 2D face. Connectivity instead is entrusted to WiFi 6, Bluetooth 5.2, GPS and USB-C ports.
In short, there is everything you need to use MatePad 11 anywhere and for anything. Too bad the absence of the LTE version which would have made it even more autonomous.
Autonomy
Huawei's tablet integrates a 7250 mAh and the company guarantees 12 hours of use but of course it depends on what you do with it and how much you use it.
With sporadic use we got to cover three days while more intense use, with a little gaming, drawing and video playback, made us oscillate between 36 and 48 hours.
The Smart Magnetic Keyboard and the M-Pencil 2: are they necessary?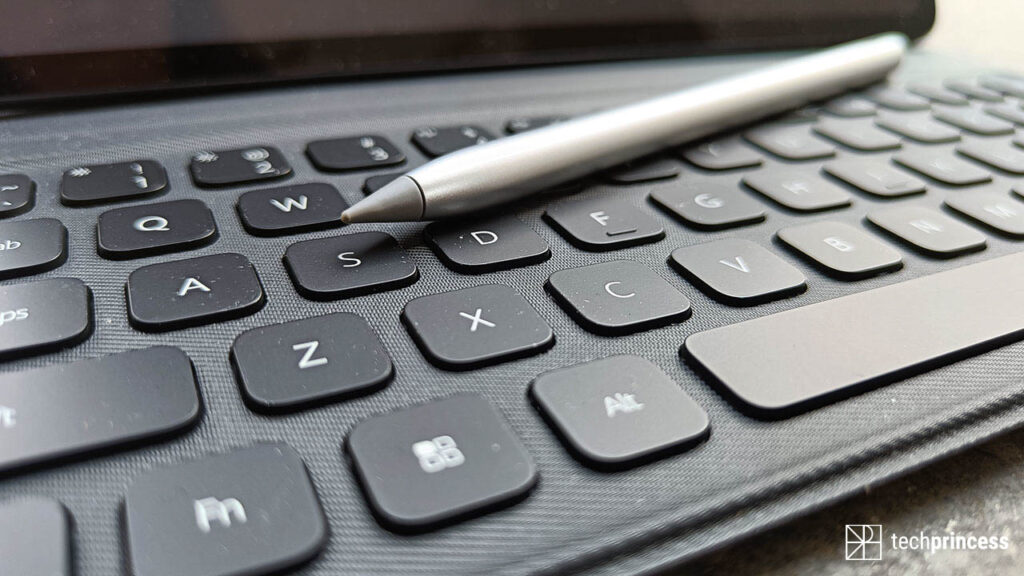 There is no single answer here. It is clear that the intended use greatly affects the response.
We used it a lot to draw, which made us addicted to it M-Pencil 2, for sale in 99,90 €. It is a stylus with a flat edge that allows you to magnetically hook it to the tablet and recharge it using the MatePad 11 battery directly. Don't worry, it will not drain the energy of the device. Consumption is very low and the usability advantage is evident. It is perhaps not the best pen for drawing but Huawei has decided to insert 2 spare tips inside the package: the rubberized one is definitely more suitable for artists while the other two go well with the notes.
Also pre-installed you will find theapp Nebo which also supports a number of very useful gestures. You can, for example, draw a vertical line to separate or join words, or to wrap. Or, again, delete entire words without any effort. With a double tap, on the other hand, you can convert the text by switching from handwritten notes to the typed version.
All in all the user experience is really good and adds versatility to a product that in itself allows you to carry out all kinds of activities.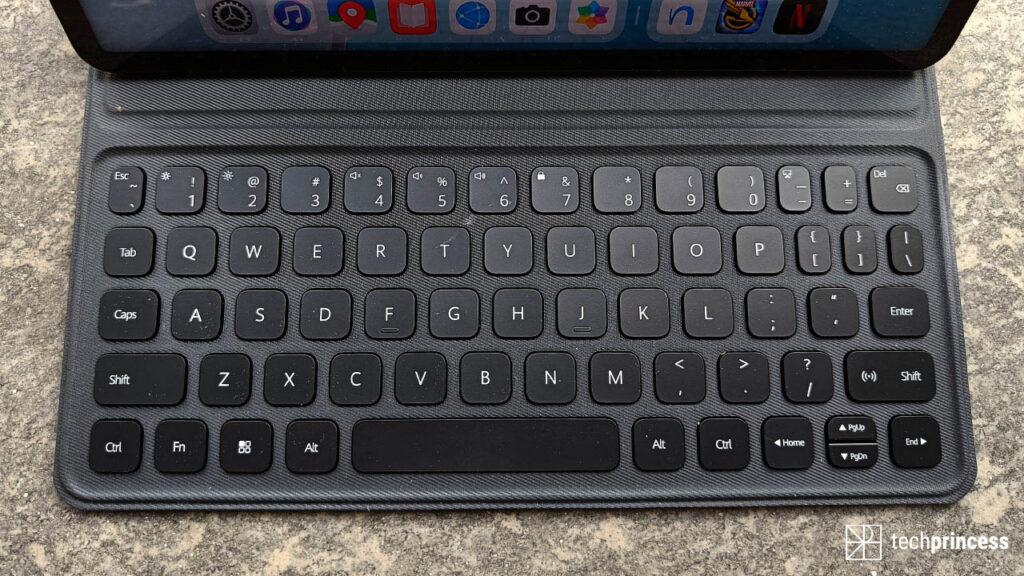 The Smart Magnetic Keyboard instead it performs two functions. The first, immediate, is there tablet protection. It hooks magnetically to the back of the tablet while the top is protected by the keyboard; the edges remain free, so you can use the keys, the USB-C connector and, above all, attach the M-Pencil.
The second task is related to writing. The keys are comfortable, well spaced and also suitable for writing longer texts. You will just have to get used to the dimensions a little smaller than what a notebook offers.
Also available you will find a series of shortcut which, combined with the Function key, allow you to perform operations such as volume management, capture a screenshot or adjust the lighting.
The Smart Magnetic Keyboard is on sale at 99,90 € and it can be a useful accessory for those who plan to work or study with MatePad 11.
Huawei MatePad 11 review: is it worth buying?
Huawei MatePad 11 definitely is a great product: lightweight, well built, with a 120Hz display and better performance. It really lacks nothing and HarmonyOS, despite still having a little way to go, manages to guarantee a fluid and intuitive user experience. In our opinion it can be a faithful companion for all those who want to use it for entertainment, from watching movies and TV series to listening to music and podcasts, but also for those who wish to take notes, consult files and read books and pdfs. .
And if you have other Huawei devices, you can make all the products work together without any difficulty.
PRO
Excellent build quality
Display a 120 Hz
Powerful audio
Top-of-the-range performance
HarmonyOS offers everything you need
Well thought out accessories
AGAINST
AppGallery improved but still missing a little bit