LG is one of the leading companies when it comes to gaming monitors and model LG 32GP850 UltraGear was created to make PC gamers happy, although it also offers excellent performance on consoles. After having tried it for a long time and in a wide range of situations, we are ready to propose youi our review of the LG 32GP850 UltraGear gaming monitor.
LG 32GP850 UltraGear: our review
LG 32GP850 UltraGear looks like a monitor from 32 inches, whose display can boast Nano IPS technology and a resolution from 2560x1440p. Features that already let us predict the quality of the product we are facing. The most interesting component of this UltraGear, however, is undoubtedly the refresh rate which reaches 180Hz, really noteworthy.
In terms of design and choice of materials we are faced with a product that is almost identical to its predecessor the 27GL850. To mention the very comfortable recess on the back, useful for fixing all the various cables to be attached to the monitor and which helps to maintain an orderly and efficient cable management. To further amplify the ease of use, it is possible to adjust the height and inclination through the base on which the actual screen rests.
Finally, as regards the connectivity options, there are two ports HDMI 2.0, very useful if you want to connect more than one console, and an input DisplayPort 1.4, plus two doors USB 3.0 and a dedicated headphone jack. The adjustment of the monitor settings instead refers to a sort of joystick placed in the lower part of the screen in the center, not always very convenient for navigating through the menus.
In fact, on more than one occasion we have encountered various difficulties in finding the way to reach the option to choose, also due to the partial counter-intuitiveness of the commands of the joystick. Despite this initial bewilderment, it was enough to get used to it to be able to partially obviate this limitation.
Image quality and technical performance
The image quality offered by LG 32GP850 UltraGear is excellent and manages to put the games of a few years ago in a new light, thanks to truly impressive graphic detail. Speaking for a moment of the technical sector, the monitor uses Nano IPS technology with a resolution of 2560 × 1440, as we have already explained in the last paragraph, what perfectly matches the 180Hz which guarantee an improvement over previous models.
It should be noted, however, that the 180Hz frequency can only be used if the DisplayPort 1.4 connection is used, a compromise that works, since through this function it allows the monitor to offer game performance far above average, thanks also to the low response times.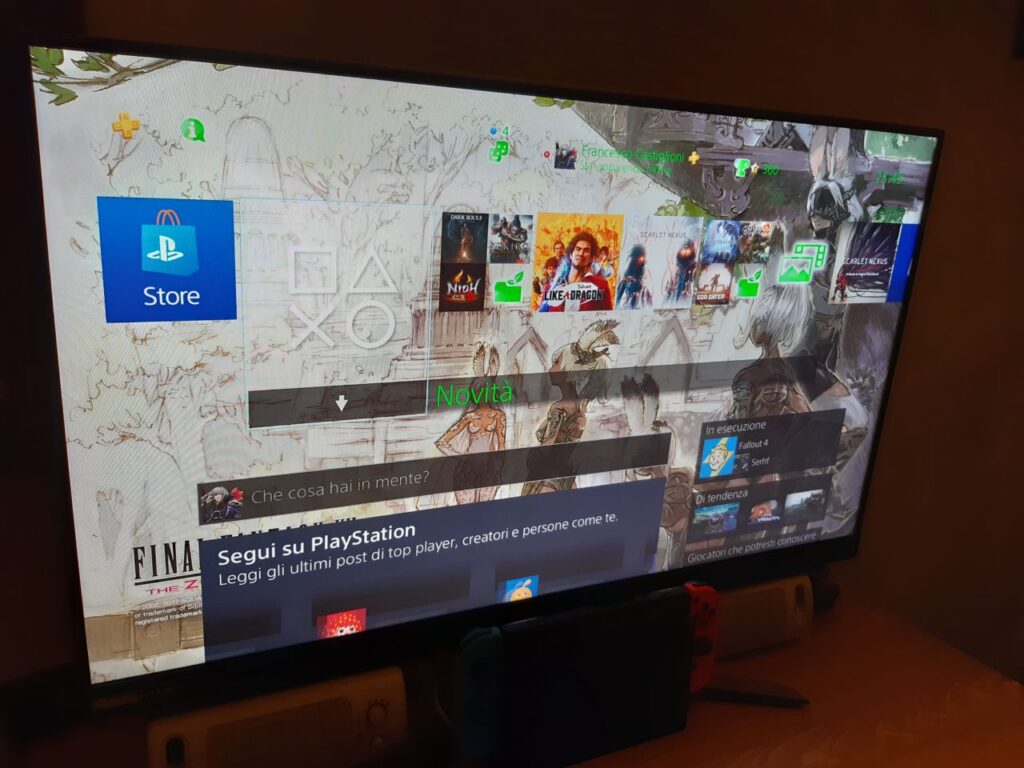 In this regard, it is important to point out that ghosting is almost completely absent and does not bother at all even during particularly long gaming sessions. It is not the case that there is support for the retro strobe lighting, specifically designed to reduce this phenomenon to a minimum.
Finally we also find the support ad HDR 10, which offers a much wider color gamut and higher contrast than traditional monitors. That said, don't expect a miracle: the color range is still far from those of medium / high-end TVs.
By playing on PC then you will be able to make use of AMD Free-Sync e NVIDIA G-Sync, functions that synchronize the frequencies of the monitor and GPU to ensure an even smoother experience without the phenomena of stuttering and tearing (also usable only through the DisplayPort).
LG 32GP850 UltraGear at a glance
As you have probably already guessed LG 32GP850 UltraGear is configured as a state-of-the-art gaming monitor, able to satisfy even the most demanding players. LG therefore confirms itself as an industry leader, to the point that this model has almost no competition in its field.
This new line shines particularly when compared with the previous model, of which it significantly improves the reactivity, applying a larger display and reducing ghosting. If we were to find a defect, this should be sought in the contrast, relatively shallow and shallow for a monitor that aims to be so competitive.
In any case, LG has succeeded in the arduous task of bringing together in the same device excellent performance in the game and a chromatic precision that at times leaves you speechless, especially on some specific titles. We can therefore say without possibility of error that LG 32GP850 UltraGear is worth the premium price at which it is sold and, if you are a particularly demanding gamer, it will hardly disappoint you.