It is undeniable that the TikTok App stands out for its constant commitment to the safety of its users, especially the youngest. Precisely for this reason the platform has chosen to expand the functionality of the Family connection, with the intention of supporting parents in the role of supporting adolescents in the digital world. And to achieve the goal, the App has now added a series of tips "developed in collaboration with children and youth online safety experts from the Internet Matters organization". Let's find out what it is.
The TikTok App adds advice for parents of younger users
The TikTok App renews its commitment to protecting the safety of younger users every day. In these days, in fact, parents who have their own account associated with that of a minor through the Family Connection will receive a notification that will invite them to consult some of the new advice provided by the platform. And to ensure that everyone is consulted correctly, these tips will remain available in the "Guide for Parents and Guardians" section of the Security Center.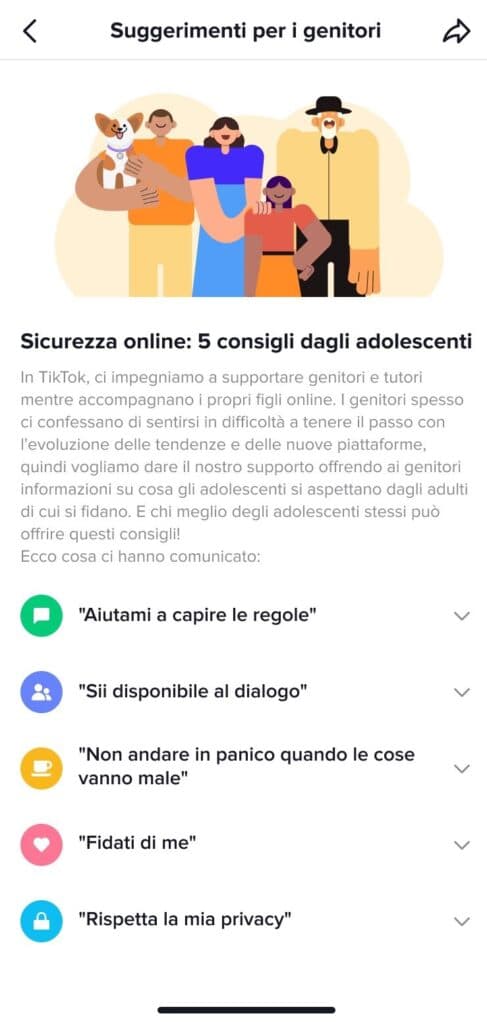 Specifically, these are some tips to ensure parents are supporting minors in their digital journey. At the moment, TikTok provides five different ones:
Help me understand the rules. Teenagers don't expect parents to be experts in how all social platforms work, but they don't disdain their help when it comes to understanding their security and privacy settings.
Be open to dialogue. For today's young people, the online world is of vital importance. And it's important for parents to know. And even more so that they are able to dialogue with their children about their life on social networks.
Don't panic if something is wrong. When a teenager talks to their parents because something went wrong on the platform, it is important that they feel welcomed and reassured. And never attacked or accused.
Trust me. In the use of social media, as well as in real life, it is important to earn the trust of minors. In this case, if something does not go as it should, it is likely that they will turn to adults to preserve their safety.
Respect my privacy. To ensure the safety of a child on an App like TikTiok it is important to balance concern and trust. Being worried is natural, but it is also important to trust the actions of teenagers, especially if they are properly educated about it.
Few useful and essential tips that will allow parents to support teenagers in using TikTok and any other platform.