It's official: the TikTok App is the most downloaded in the world. To reveal it is a global study that sees the platform at the top of the ranking for the first time. A remarkable success, considering that ByteDance only launched an international version of TikTok in 2017. Since then, the App has managed to surpass Facebook, WhatsApp, Instagram and Facebook Messenger, ie all applications owned by Zuckerberg, in terms of the number of downloads. Even in the United States, where we know well that the social network has experienced a rather particular history.
TikTok: App is confirmed as the first in the world for number of downloads
We know that the TikTok App had a tough time with Donald Trump, yet the platform's popularity grew over the course of the pandemic, becoming the most downloaded application. in Europe, South America and the United States. At the same time l'App cinese Likee, a direct competitor of TikTok, has begun to be successful even outside Asia, establishing itself as the eighth most downloaded application. Excellent results also for Telegram, which gained positions in the ranking after the WhatsApp privacy issue. At the moment, in fact, the messaging application ranks in seventh place. The reason for this climb is simple: if before users preferred the ease and comfort of using an App, now they are looking for security.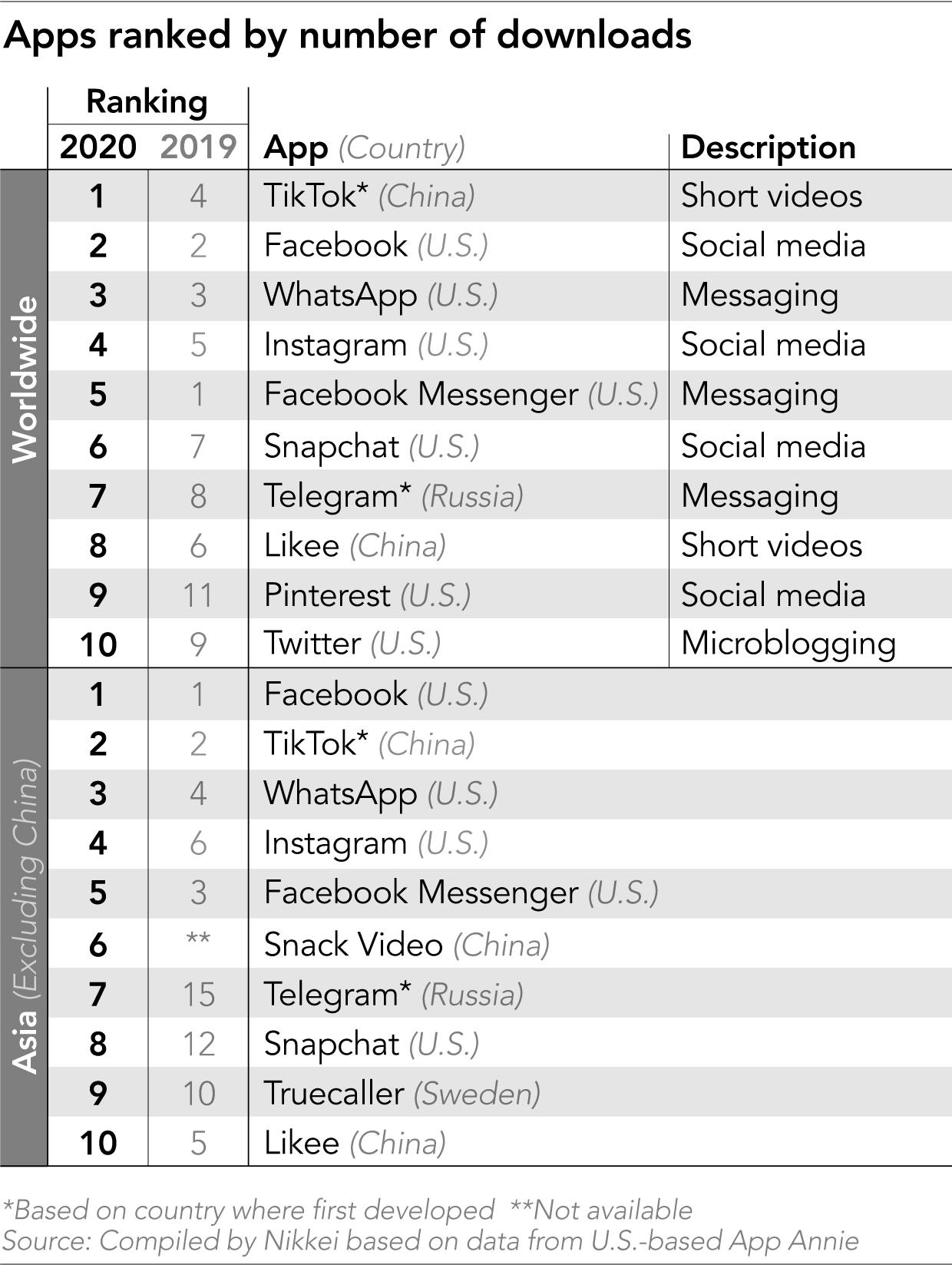 The situation in China is quite different, where the most downloaded Apps are all Chinese production. And at least three of them involve publishing short videos. Starting from Douyin, predecessor of the TikTok App, which ByteDance still distributes in China. But beyond the usual WeChat and Weibo, it is among the most downloaded applications on the Chinese market RED – Little Red Book -. It is a platform that combines social networks and e-commerce, on which it is possible to buy mainly cosmetics, fashion, food supplements and consumer goods. A real novelty in a landscape dominated by short video apps. And on the other hand, content of this type seems to be destined to become more and more popular all over the world.
"TikTok's total watch time in the US and UK is longer than YouTube's and short videos will continue to attract attention." So said Chuzen Kin, Marketing Manager of App Annie, an app market intelligence firm. And with that in mind, we should expect TikTok's App to be top-ranked for a long time to come.