The 2021.1 version of WebSite X5 has just arrived, the software that allows you to create your own site without programming knowledge
Creating a website often takes time and money, as well as a smattering of programming. Untangling the various strings of code is not always easy and many people who want to create their own site sometimes have to turn to experts. Incomedia, just to help those who do not have the opportunity, he thought of creating a software with which to create his own website. So that was born WebSite X5 and a few days ago it is updated to version 2021.1. Let's find out in more detail the news of this latest release.
Here are the news of WebSite X5 2021.1
Before continuing with the various changes introduced with this version, I would like to remind you that the program is available in 3 versions: Go, Evo e Pro. The Go version it's free and is ideal for those at the beginning of their online experience. Obviously, as expected, the latter is also there less complete version of the three and the one that allows you to create less content.
For the Evo version the cost is € 69.99, while for the Pro version comes at a cost of 199 €. However, once you purchase the license, the program will be yours forever and with a license you can work on two PCs at no additional cost. Now let's see what are the improvements introduced with the latest version.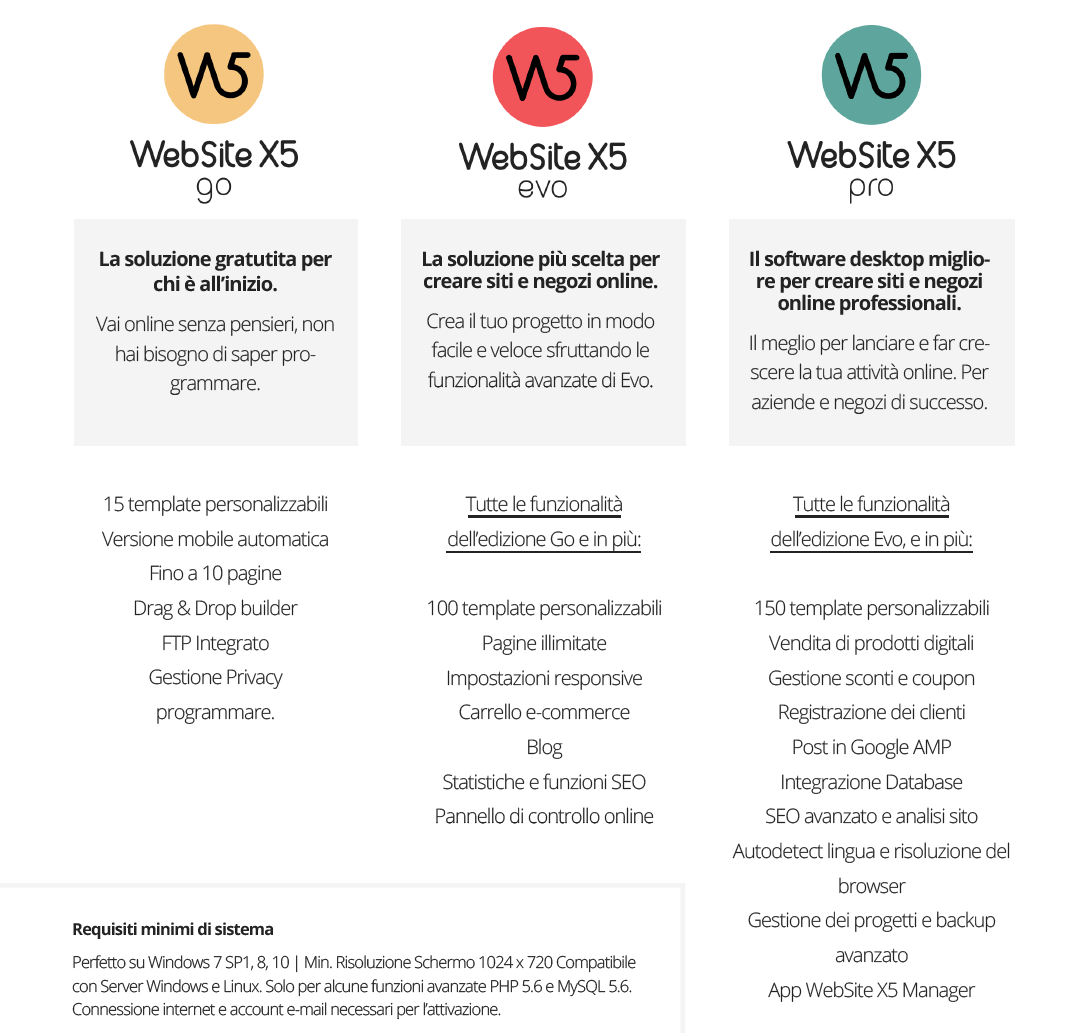 Graphic interface – Everything has been cleaned, finished and moved to create a harmonious and tidy environment, capable of making work pleasant.
Welcome page – By redesigning the moment when the program welcomes users, the developers have made it faster to start, creating a new Welcome page full of information and content that can be useful.
Preview of Projects – An image strikes more than a name which is why previews for existing projects have been introduced. Finding the one to open is even more convenient.
Search object – Providing the user, without inaccuracies or wasting time, what he is looking for is essential for every website. For this reason, the search engine has been enhanced to provide a complete search or only on e-commerce products or blog posts.
Line style – Working on the style of the lines allows you to make the template more complete and elaborate by creating full-width bands capable of marking the narration.
Template (Pro only) – Finding the right template halves the amount of work needed. For this reason, the template gallery has been enriched with 5 new proposals.
In short, many new features for WebSite X5 2021.1 that expand even more a software that is already quite full-bodied in itself. What do you think of this new version? Let us know yours in the comments. In order not to miss further news from the software universe, keep following the pages of tuttooteK!