The new 2021.1 version of WebSite X5 Pro has brought important news and in this review we will find out
Today more than ever Internet it has become not only a means of communication, but also of sustenance. Just think of the various e-commerce sites or even the various sites of the companies that present their software or their electronic devices and hardware. Just following this wave, many try to create their own site. However, this step is not the easiest.
You have to have some programming skills in order to proceed. If not, it will be necessary hire some programmers that he does it for us and this would certainly require a fee. In short, it is not exactly a walk in the park, but the software designed by Incomedia. Let's start this review now and find out WebSite X5 Pro in its latest version 2021.1. How did he behave in our hands?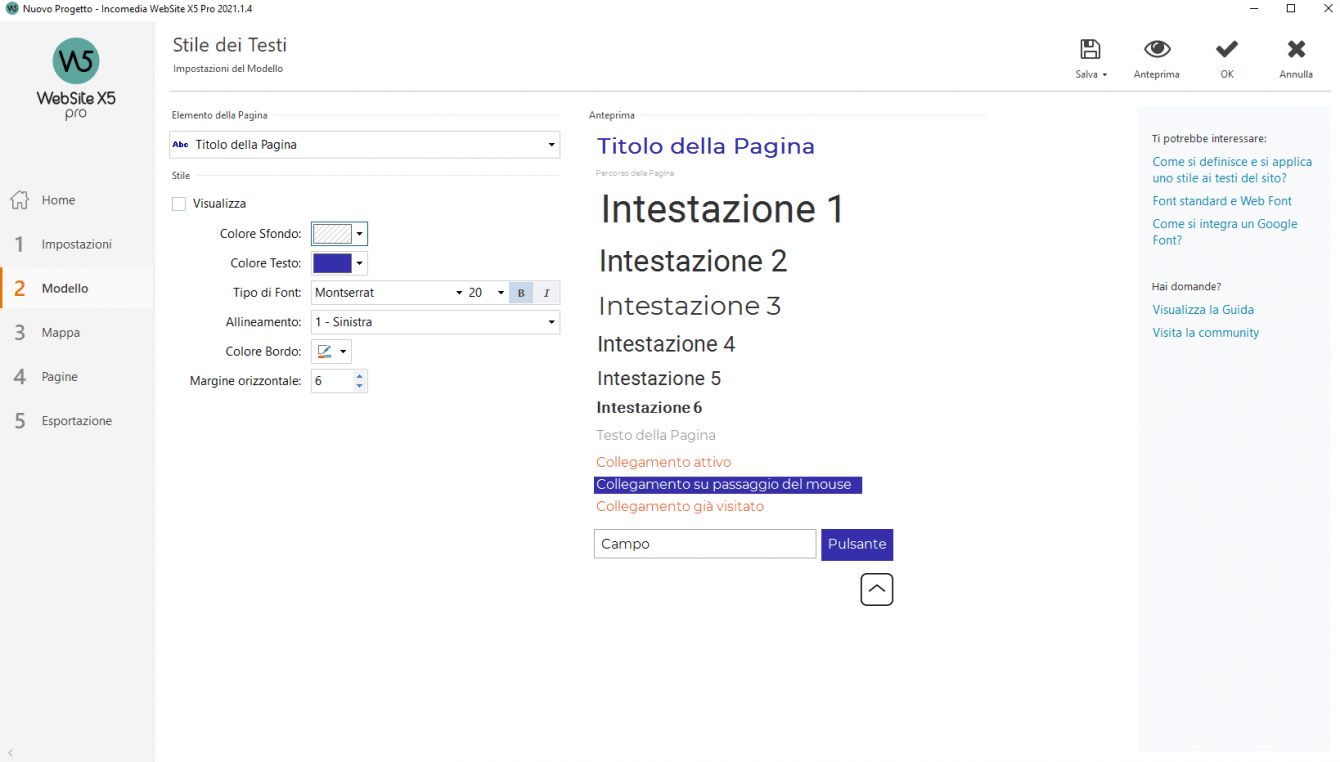 Creating your site has never been easier – WebSite X5 Pro 2021.1 Review
Before proceeding with the changes made with the latest version of the program, it is good to make an overview. As reported in the subtitle, creating your own site is really easy. Also you can also customize every detail of the design, from the layout to the single character of each section. In conclusion, a 360-degree software which will allow you to create something truly unique.
The program features a very simple design, able to simplify the user's work even more. All is well divided into various sections which each represent a fundamental part of the future site. It starts from general information such as name and description, up to notices relating to advertising messages or even those of privacy and security.
However, this graphical interface is also due to the new version. The developers have moved in this direction for create a harmonious and orderly environment, in which the user can interface in the best possible way. Precisely for this reason a new Welcome page that welcomes the user in the best possible way. On this page you can find information and content that may be useful.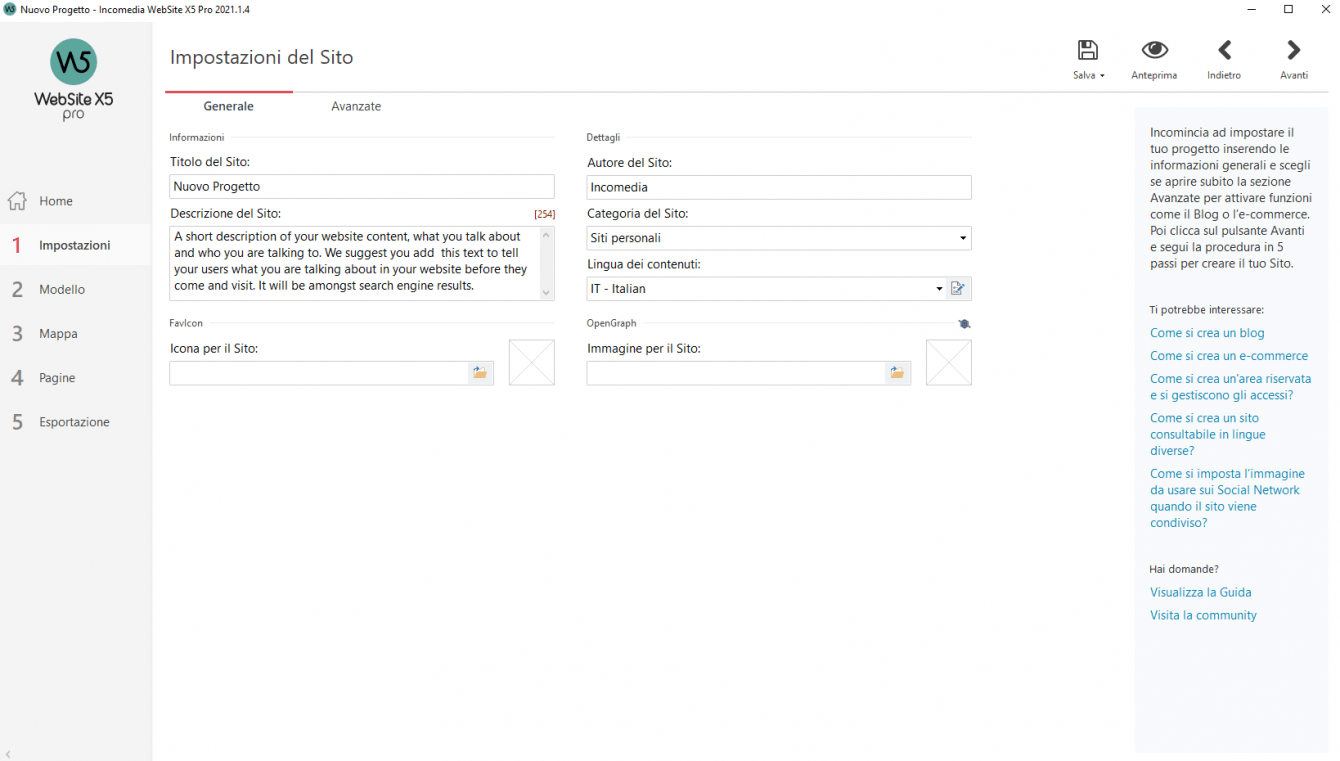 From general to specific – WebSite X5 Pro 2021.1 review
Important for each site is both the general structure of the same, but also that of the single page. The Incomedia software allows us to carry out these steps too thanks to the sections Model, Map and Pages. In the section Template it will be possible to set the "small" details relating to the style of the text, the resolution of the site for each device, the tooltips and other general settings.
In the section of the Map, as the name suggests, you will be able to configure the sitemap. Here it will be possible to set the various pages that make up the site, allowing the user to customize each individual path. Here also you can put the various sections "offline", perhaps interested in a restyle, setting them as invisible or as under construction to allow you to better reorganize your work.
Finally, in the section Pages you can change the design of the page selected in the previous screen. Here you can add images, separators, dynamic content and much more. You can also change every single element that makes up the page, from the dimensions to the background and so on. Of fundamental importance is then the Preview function which will allow us to observe every slightest variation.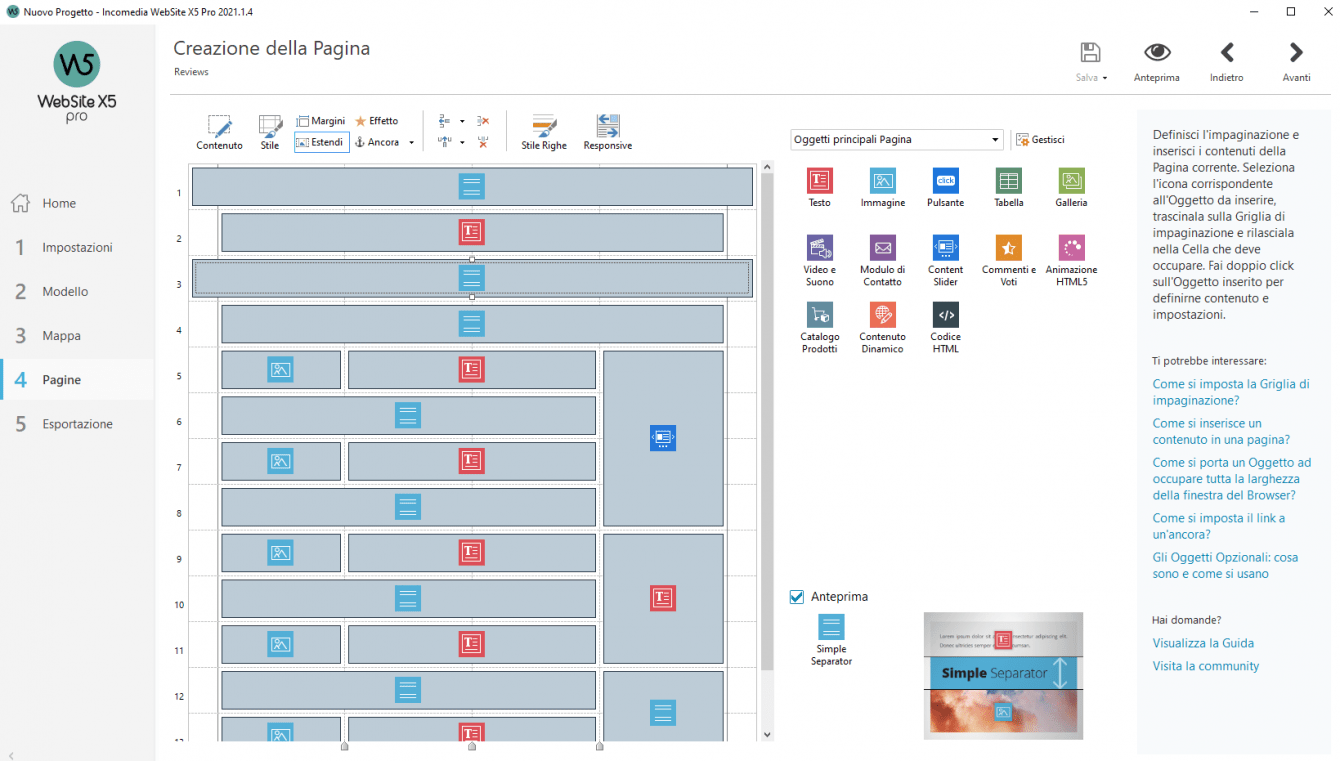 Online in Seconds – WebSite X5 Pro 2021.1 Review
The last section is also the vital one for our new site. Entitled Export, this will allow us precisely to send our project online once completed. However, this page is also important for other reasons. Here it will indeed be possible analyze and optimize the site, so that there are no errors and that it is best optimized for search engines.
It will also be possible save a copy of the project to disk. In this way the site will be exported inside a folder for then save it to a CD / DVD, although these peripherals are less and less used, or on a USB stick. In doing so it will also be possible to modify the code for the more experienced who will want to make changes.
It will also be possible export the project to the PC, creating a file inside the folder. This can be used to create a backup copy or to transfer it to another PC. In fact, with one license it will be possible to work on two PCs. This will allow you to work on a desktop when you are at home, while you can use your laptop while on the go. With the Pro version you can also also view the status of your site via mobile thanks to the appropriate app.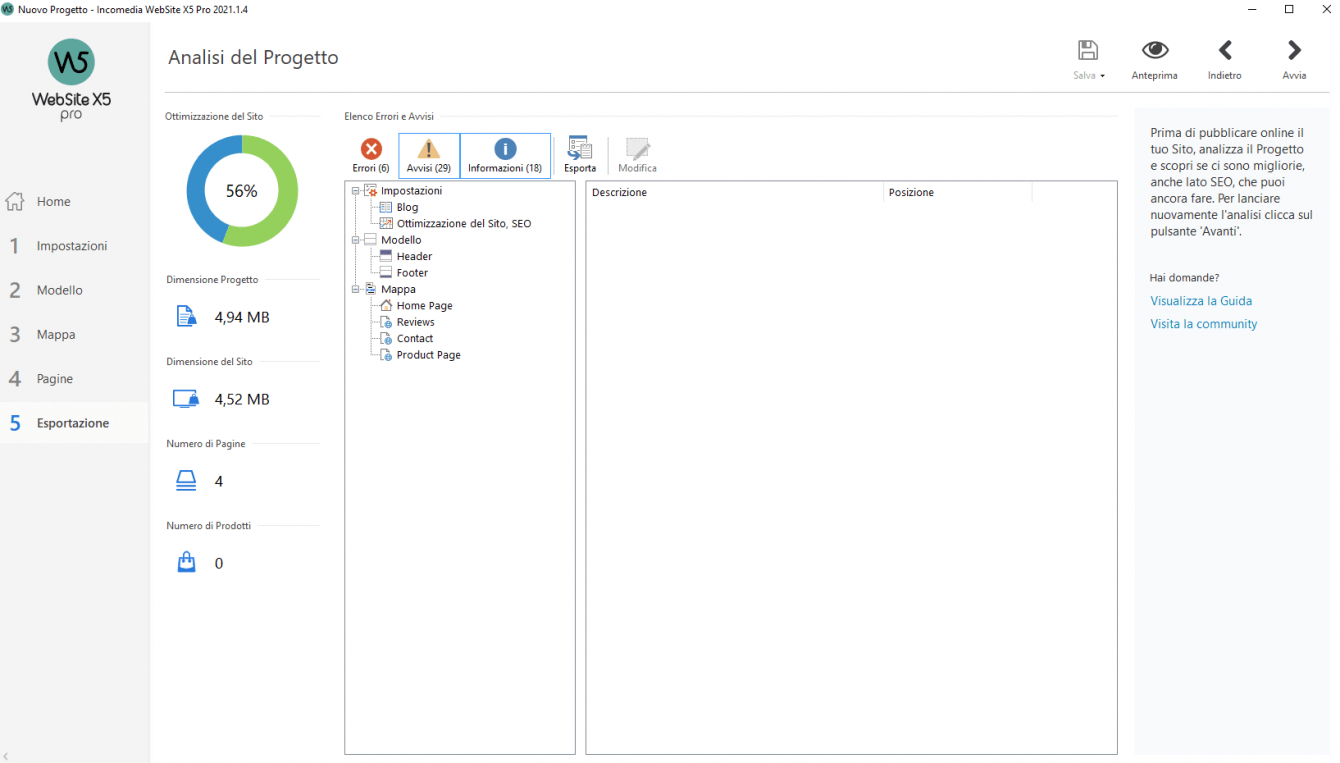 Conclusions
We have now reached the end of this review on WebSite X5 Pro 2021.1 and it is time to take stock. The software, certainly very useful for anyone who has no knowledge in programming, presents itself very simple both in terms of setting and in terms of use. Very important it turns out the wide range of ready-made projects to be modified according to our needs.
All this simplicity, however, must not let you fooled. In fact, the software is truly complete and will allow us to organize our site in every single detail. I must say that I was pleasantly surprised by so much completeness, but what surprised me most is the possibility of using this program even on computers that are not properly performing.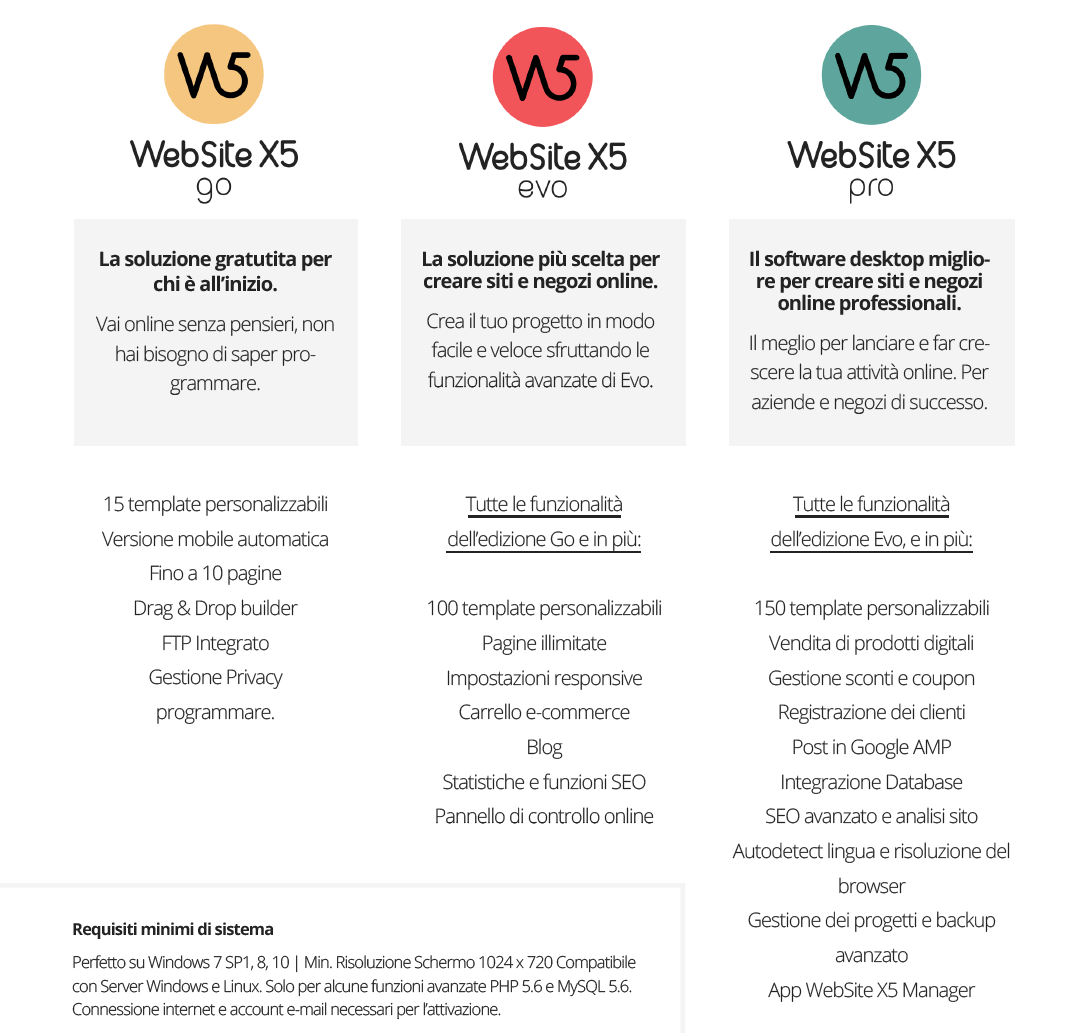 In fact, to use it you need a computer that has Windows 7, 8 or 10 with a resolution equal to or greater than 1024 × 720. Lightness and simplicity are therefore the masters, allowing even less experienced users to create their own site. However, many functions are only available in the Pro version which is on sale on the official website at price of 199 €. As mentioned above, with one license you can easily work on two PCs and the program will remain yours for life.
In fact, there are no monthly fees for using the software. Two other versions, however less complete, are also available alongside this one. Let's talk about the Evo version at a cost of € 69.99 and of that Go available for free, but much more limited than the other two. That's all for this WebSite X5 Pro 2021.1 review. In order not to miss further news regarding the software universe, keep following the pages of tuttooteK!
The best in its field
Points in favor
Clean design
Full
User friendly
Ability to use it on multiple PCs
Lifetime license