Splitgate, the unique shooter developed by 1047 Games, is the new fashion of the moment. The game has already seen a boom in players at the open beta a few weeks ago, and its popularity shows no sign of waning. Just think that during the beta of the game on Steam, active players amounted to 60,000 simultaneously. But what is Splitgate exactly?
What is Splitgate: the game of the moment
Splitgate is a very unique shooter that combines the classic mechanics of the genre with the use of dynamic Portal-style portals. This is as experimental as it is effective, or at least that's the opinion of the thousands of players who are playing it, as the game has been enjoying tremendous popularity since it was released in beta a few weeks ago.
The title was so successful that even the developers themselves were amazed, who were caught unprepared by this incredible turnout. The first days of affluence were in fact characterized by constant server crashes, with waiting times between one match and another of 90 minutes.
This success is, in some ways, incredible. Despite the innovative mechanics, Splitgate is, in its core gameplay, an arena shooter, just like many others on the market. It is no coincidence that this gaming genre is considered a big risk for developers at the moment, as it is slowly reaching saturation point.
Splitgate, however, seems to have managed to carve out a space in this sector, thanks to some tricks that we say are really spot on, which make the game fun and satisfying in its basic play offer.
The game mechanics
The characteristic that made Splitgate's success possible is that it is a game that puts the player's fun at the center of all and implements a series of tricks to ensure that the games are always enjoyable. This is possible thanks to a smooth and fast gameplay, where portals can be used naturally and become an essential component of games.
These portals are real wormhole, which players can place at will to connect two different points on the map, and develop strategies that involve their use in a creative way. The gunplay itself, on the other hand, has many similarities to the Halo series, winking at all lovers of Master Chief's adventures on the ring planets.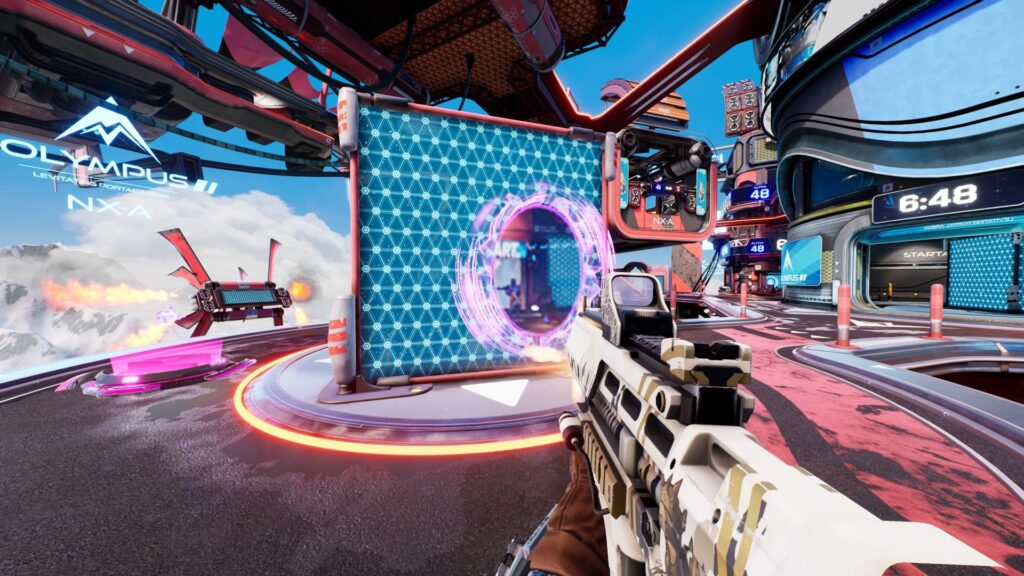 One of the strengths of Splitgate that made it the success it has become are certainly the atmospheres, which evoke those of old shooters with fights are dynamic, aggressive e funny. Players start their adventure with a simple assault rifle: the rest of the weapons can be retrieved from the area, provided they can to survive, obviously.
Unfortunately, the boom in players forced the development team to delay the release of the game, which at the moment does not have a precise launch date yet. But we know it should come up PC, PlayStation 4, PlayStation 5, Xbox One e Xbox Series X.