XSplit VCam is the software that allows you to replace or completely remove the background behind us using only a webcam. Let's find out together in this review
Now anyone who is about to enter the world of live streams and beyond is forced to spend a good amount of money on the purchase of decent equipment that can guarantee him good support. One of the sore points, not only for the expense, but also for the physical inconvenience it creates, it is certainly that of the green screen. Good equipment costs money a lot, not to mention that you have to have some space to mount it it's a good lighting that allows us not to have strange effects behind us.
To our rescue, at least from this point of view, it comes XSplit VCam, the XSplit home software that will allow us to obviate exorbitant expenses and physical encumbrances not insignificant. This particular software is indeed capable of replace or completely remove the background behind us, guaranteeing us the same experience that a green screen can provide, but without the physical encumbrance of the same. Let's see how this software performed in our review and understand if it can be the future in this sector or if it is still a raw product.
XSplit VCam: lightness and simplicity of the software | Review
One of the main factors of this software is its lightness. In addition to not taking up much space on our disk, this lightness also shows itself in terms of performance. In addition to an excellent design from this point of view, the real key factor of this feature lies in his method of use. Through the appropriate settings, in fact, it will be possible increase or decrease the load depending on the quality we want, but it will also be possible decide who to entrust all this "weight" to, whether to our CPU or our GPU.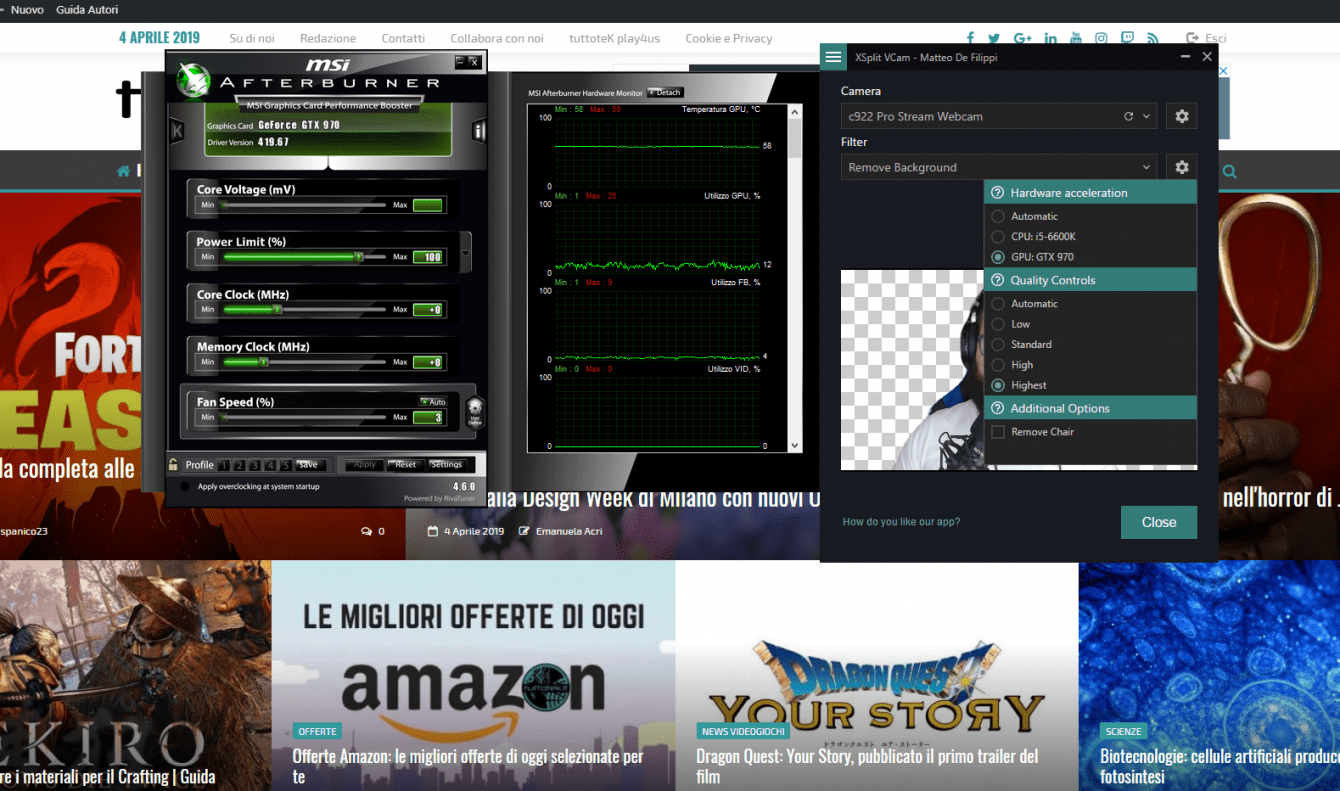 It is important to note that the excellent optimization allows for exploit the software to its full potential occupying a range of 10-15% about an NVIDIA GeForce GTX 970. In short, even with not very recent graphics cards, the program is very light. This allows for a use of the same even on not exactly recent computers, ensuring excellent functionality.
If you are not satisfied with the removal of the background or you simply want to have a different background from that of your room, all you have to do is choose another. You can find lots of them in the software library, choose one of your own or select a website. In the latter case though it will not be possible to interact with the site. To all this is added the possibility of blur the background behind you. This option is very useful if you don't want to show some details of your streaming and / or recording location.
You don't have to be a computer wizard to use XSplit VCam. All you have to do is log in with your account details and follow the instructions. In less than a minute you will be ready to use the software to record or go live, as long as you have chosen the software itself as the capture device. The only real flaw is the chair removal option. The latter in fact presents some problems that will make the chair appear transparent behind us or there will be problems with the cropping of our image.
XSplit VCam: final conclusions on the software that eliminates the green screen | Review
We are now reaching the end of this review and it is time to take stock. XSplit VCam looks like a very useful software, above all for those without a huge budget to spend on green screen equipment nor of space. Its ease of configuration, combined with the good yield that it produces, make it one of the best software around.
The lightness of this program during use is unmatched; will allow us to have great quality without having to use a high-end PC. Its huge library and its various features will allow us to have a different background on every occasion. obviously it is always software and therefore some small smudges in the image will be seen every now and then. The only real problem encountered, as mentioned above, is only with the function that will allow us to remove the chair.
That's all for this review. We remind you that XSplit VCam is available as a free download on the official page, accessible by clicking here. To make the most of this software, you will have to own a premium account of XSplit which will allow you to access all functions of all programs of the company. Alternatively you can purchase a lifetime license, valid only for the VCam, at a price of $ 50.00. We also remind you that this program it can be used with any broadcasting software. In order not to miss any further reviews regarding the software world, keep following the pages of techgameworld.com!
Points in favor
Lightness
Excellent resolution
Practical and comfortable