The new Italian television series created by Antonio Dikele Distefano arrives on Netflix on April 21st: let's take a look at the trailer and poster
Freely inspired by the novel by Antonio Dikele Distefa titled I was never my age, Zero tells the story of a shy and reserved boy with the power to become invisible, a modern hero who learns about his supernatural ability when the Barrio, the neighborhood in the Milanese suburbs he wanted to get away from, is in grave danger.
The protagonist, in spite of himself, will have to take on the uncomfortable role of superhero, but, in his adventure, he will discover the true meaning of friendship thanks to Sharif, Inno, Momo and Sara and… who knows? Maybe even love.
Ne cast of the Italian series in eight episodes we will find acting veterans and young debut talents: Giuseppe Dave Seke (Zero / Omar), Haroun Fall (Sharif), Beatrice Grannò (Anna), Richard Dylan Magon (Momo), Daniela Scattolin (Sara), Madior Fall (Inno), Virginia Diop (Awa), Alex Van Damme (Thierno), Frank Crudele (Sandokan), Giordano de Plano (Ricci), Ashai Lombardo Arop (Marieme), Roberta Mattei (The Virgin), Miguel Gobbo Diaz (Rico) and Livio Kone (Honey ).
The series was written by the same author of the novel from which it is based, Antonio Dikele Distefano, a rising star in the Italian publishing scene; created by Menotti, together with Stefano Voltaggio (also Creative Executive Producer of ZERO) Massimo Vavassori, Carolina Cavalli and Lisandro Monaco; directed by Paola Randi, Ivan Silvestrini, Margherita Ferri and Mohamed Hossameldin
The intent is to give an original and unique image of Milan e tell about a world full of underrepresented cultures, to which significant contributions from the rap scene will be added.
Zero trailer and poster
On the occasion of the release of the series that will arrive on Netflix next April 21, the streamer's official social channels shared the trailer and poster of Zero today.
As you can see below, the poster it portrays the cast members and is accompanied by a caption that reads "Being invisible is true power".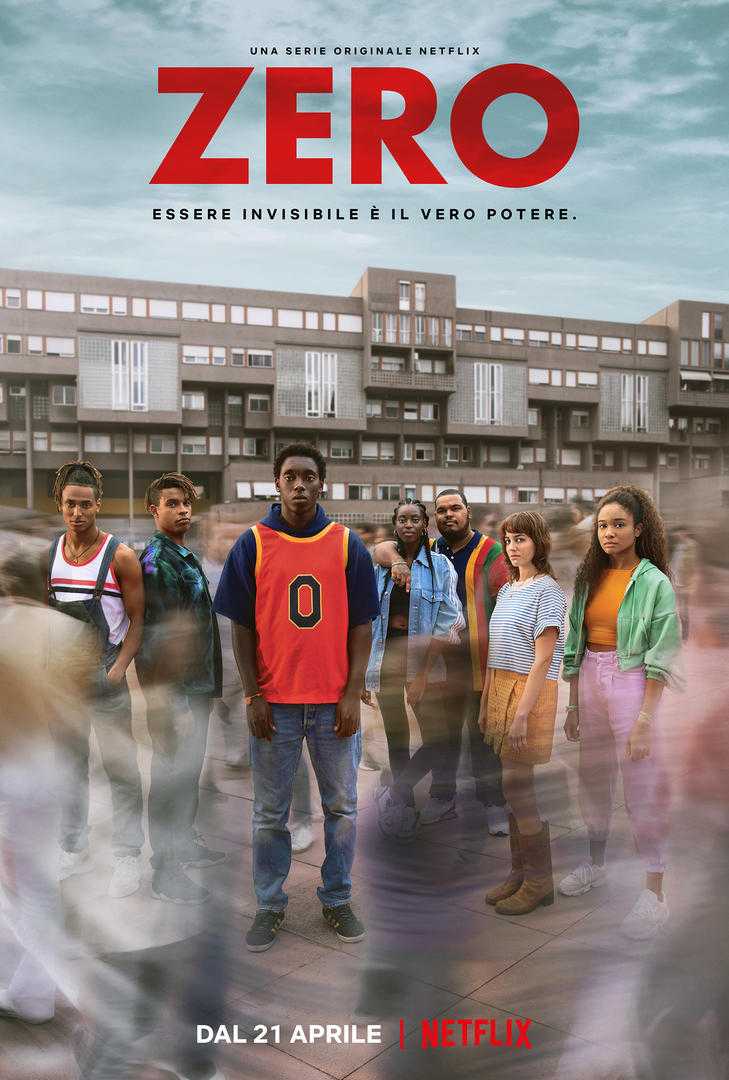 The trailer, instead, it contains an unreleased track by Mahmood, titled Zero (written by the artist together with D. Petrella, D. Faini and produced by Dardust), which will be the soundtrack that closes the series and will be part of the singer's upcoming album. in spring. We also remember that Mahmood is also the music supervisor of the last episode, for which he oversaw the music selection.
Zero is produced by Fabula Pictures with the participation of Red Joint Film.
To keep up to date with the latest news on the television and cinema scene, visit our Movies and TV Series section.