If you search among the best Internet Security suites, Bitdefender Internet Security will certainly amaze you. In addition to the classic antivirus, we have included tons of services including a dedicated firewall and a 100% secure VPN. Let's see the details
Cyber ​​security now it no longer goes through a simple antivirus. Threats from the web have become increasingly subtle and difficult to intercept. Many often the bad guys are no longer interested in infecting our PC, compromising its functioning, but want to steal sensitive data and information from us. This is why having a complete security suite is perhaps best. Today we tell you about BitDefender's Internet Security suite which is among the best available. Let's find out why!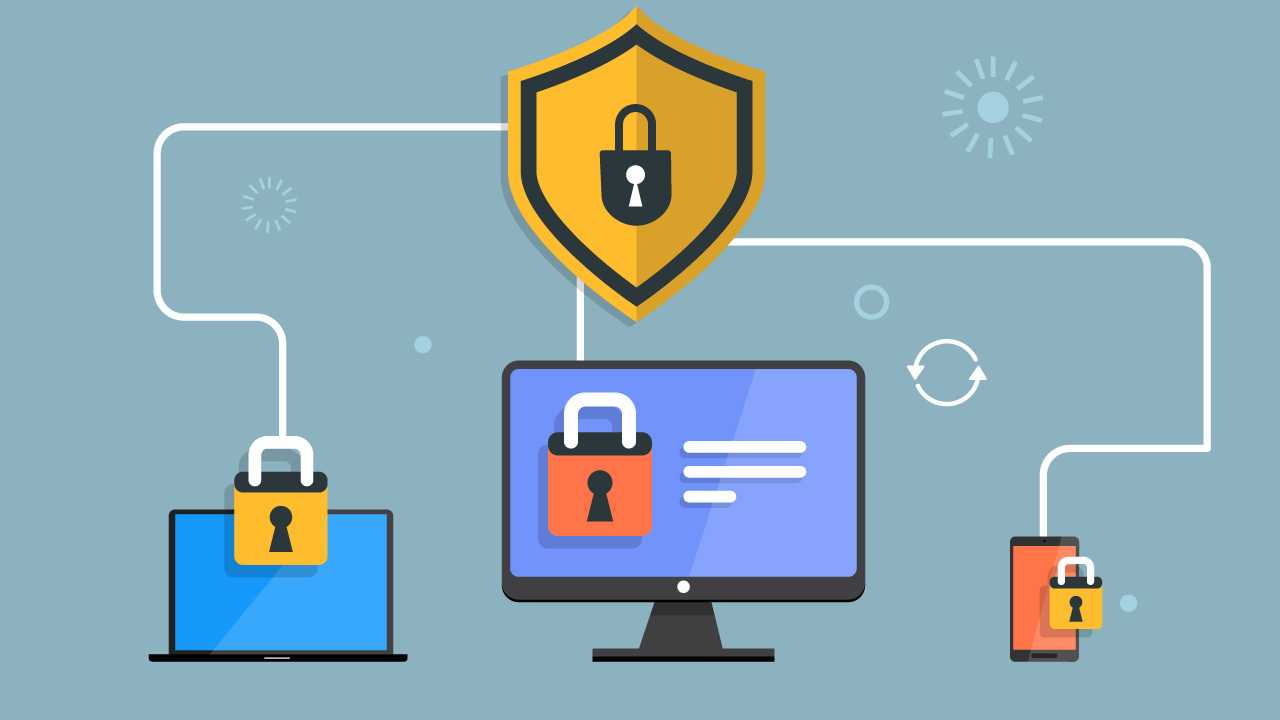 Best Intenet Security suites: BitDefender's offer
BitDefender has always been at the forefront of the defense of our PCs and even today that our lives are increasingly digitized, its mission has not changed. However, the modus operandi is: from a simple antivirus, BitDefender today it offers one of the best Internet Security suites on the market. What does it mean? An Internet Security suite offers a series of useful services to protect our devices and our privacy from multiple threats. Let's see what is offered to us specifically.
Real-time antivirus protection and more with Bitdefender Internet Security
Obviously we start from the protection offered to us against the most common threats that we can encounter while surfing the net.
Unbeatable threat detection to keep all web threats at bay
Bitdefender Internet Security counter all types of electronic threats, from viruses, worms and Trojans to ransomware, zero-days, rootkits and spyware. And it does it in real time! So as soon as a threat is detected, the alarm and isolation will immediately go off. But it is also able to predict the future: in fact, it analyzes the activities of the websites we visit, their contents and activity at the network level to block any attack attempts in the bud with those of bots or malware. It also warns us if we are browsing untrustworthy sites.
One is also included protection against notorious ransomware, malware that encrypts all PC data and then demands a ransom. Another useful feature is that of vulnerability analysis which helps us to understand if there are security holes in our PC due to outdated software.
Infine Bitdefender Internet Security detect and block bogus web pages created for the purpose of phishing that is, to steal your data and passwords. Given that home banking and ecommerce are very popular today, this is a very useful feature.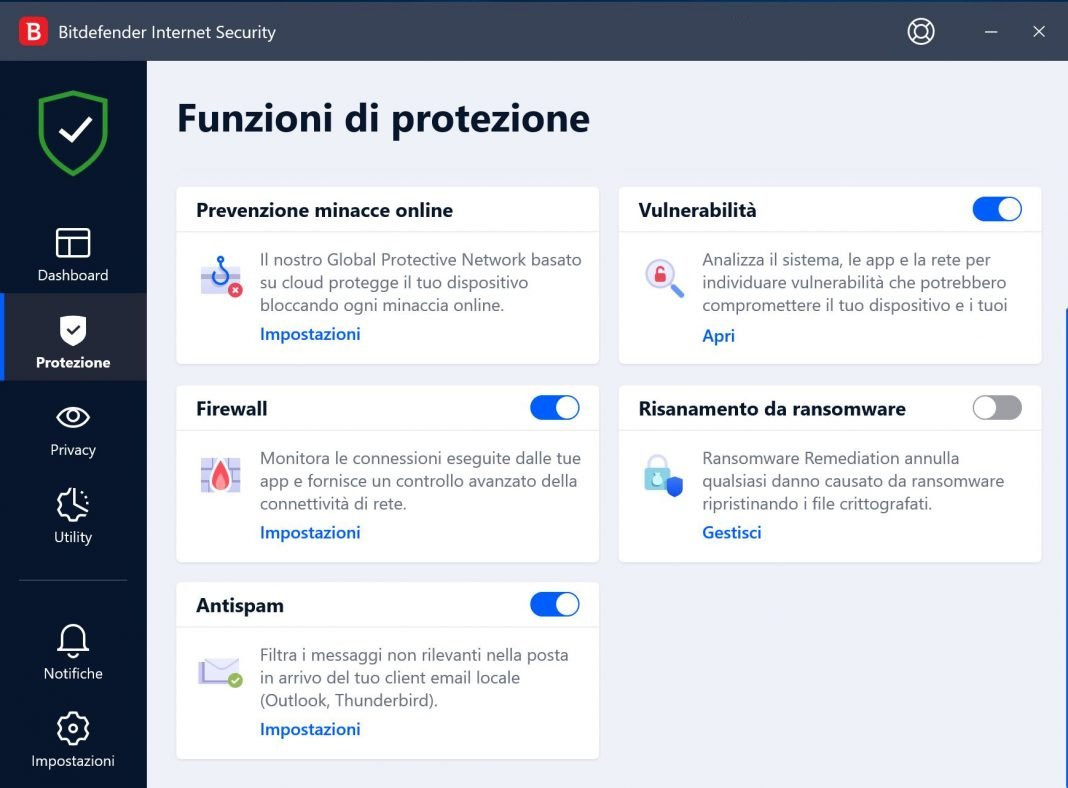 A firewall that blocks intrusions and filters network traffic
The firewall is a fundamental component for our safety which analyzes the packets that are exchanged and can apply filters in order to protect the PC from any attacks or information leaks. But modern firewalls like that of Bitdefender Internet Security also allow you to monitor the network activity of individual applications and block them if deemed harmful.
Secure VPN and protected privacy with Bitdefender Internet Security
This Internet Security suite includes many other features, but certainly the ones that are worth analyzing better are those related to privacy and data protection.
A secure VPN for complete online privacy and 200MB / day for each device
Included in the package we will have the possibility to use Bitdefender VPN. A VPN (or virtual private network) allows you to create a sort of small private Internet that is inaccessible to others which, however, uses the same physical infrastructure. Basically it's like being escorted by the police on a public highway if you like. All data is encrypted so that it is completely inaccessible to others. With the 200 MB included in the package we will be able to carry out the most sensitive activities in total safety thanks to the secure VPN created by Bitdefender.
Protection for webcam and microphone to prevent eavesdropping
In the age of video calls and online meetings, ensuring protection from wiretapping goes beyond privacy. In fact, industrial secrets, strategies, etc. can be divulged during the work videocalls. It therefore becomes essential to have extra protection. Bitdefender Internet Security microphone and webcam protection allows you to monitor which apps are using microphone and webcam in order to block any unwanted guests who intercept our calls.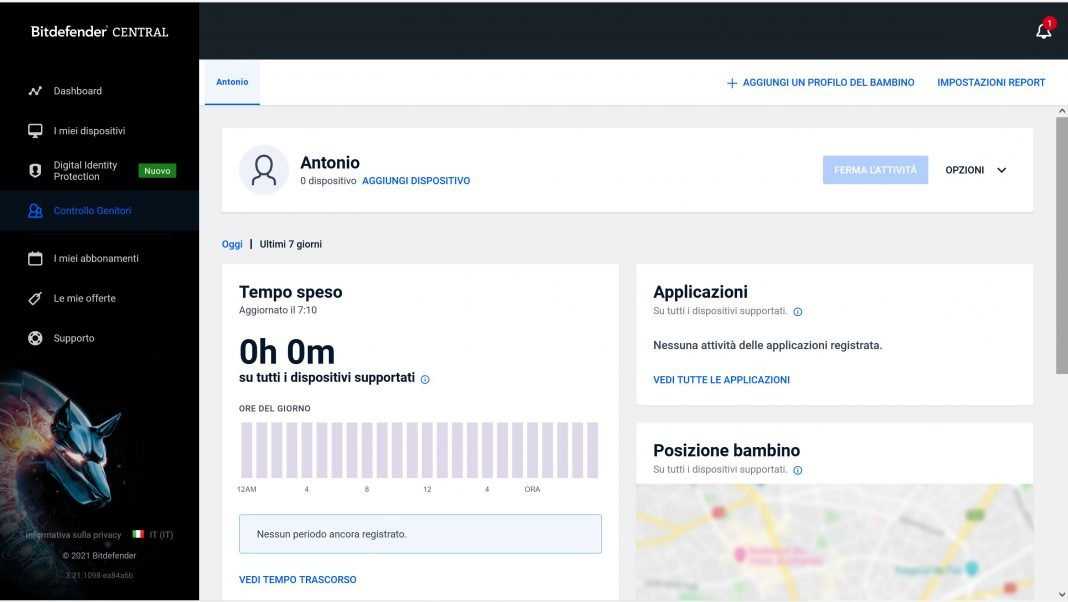 This was an overview of the features of one of the best internet security suites. That's all from the software section, keep following us!