Tatsuki Fujimoto's Chainsaw Man is back with the "second part" from last July, with a new protagonist and a new devil. But with chapter 102, the mythical hero of chainsaws makes his appearance
While the main protagonist of this "second part" of Chainsaw Man, Asa Mitaka, runs away from a mighty devil, stumbles, and faces a tough choice. Sacrifice to War Devil the new friend met in the devil hunting club, or die. Her choice is to stay true to her values, and not kill her friend, but, fortunately, the Chainsaw Devil appears and tears the enemy to shreds.
The continuation of Chainsaw Man was a curious operation, rare of its kind, but with high expectations from the fans. Fujimoto wanted to create a work that was not too long, contrary to the editorial trend of the host magazine, Weekly Shonen Jump. The manga's exceptional reception and the hype created with the imminent arrival of the anime prompted the sensei to continue Chainsaw after the finale.
In the interlude between the two parts of the manga, Shonen Jump has released some one-shots of Fujimoto that have demonstrated, beyond any doubt, the sublime level of the sensei. The return of Chainsaw man at the beginning of the summer managed to shock and at the same time convince the public.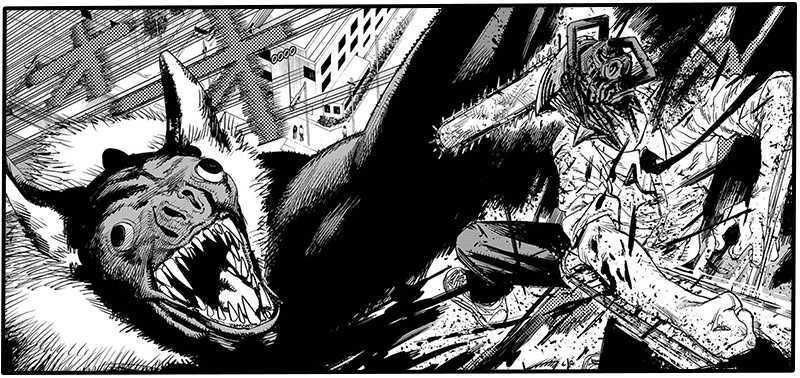 The new story of Chainsaw Man
The second part of the work resumes the wins some time later, focusing on a new protagonist, Asa Mitaka.
Mitaka is an unpopular student, with a low propensity for socializing and an ill-concealed disregard for society as a whole. When she accidentally kills BuckyA devil of low power and class mascot, her classmates dig an even deeper trench around her.
One night, the class rep lures her into deception and reveals that she is the real culprit for the incident with Bucky, as well as possessed by Justice Devil. The teacher of the class, Tanaka, turns out to be a pedophile interested in both students. Attacked by the Devil, Tanaka has no choice but to accept the unexpected help of the War Devil, which allows her to triumph and kill both attackers.
Now, Tanaka is forced to live with the War Devil, and the two discover they have a common goal: eliminare Chainsaw Man.
The manga is published on MangaPlus, but with a different calendar than the works of Shonen Jump, every Tuesday.