FlexClip is the software that allows you to create online videos to keep an indelible memory with you. Let's find out together how he behaved in this review
How many of us, after a vacation, went in search of a program with which create an online video with photos and videos of those unforgettable days? Maybe even with the possibility of being able to put what was the soundtrack of that unforgettable experience. With FlexClip finally everyone can access a free software online which allows us to bring together our memories in a single video, giving them a new shape. It must be said that with this program you can also create small videos to sponsor your business or some particular initiative to share it via social media. Let's see how this software is structured in this review.
FlexClip: Too much simplicity in the online video editing screen does not mean quality | Review
Obviously an online video editor should be simple to use, so that even the less accustomed can put their hand. Too much simplicity, however, it is counterproductive. L'absence of a timeline composed of several levels in parallel it prevents us from working with precision, as it is not possible to create multiple overlapping sequences to create a more detailed video. The only level present also turns out to be quite lacking, being composed only of huge miniatures depicting the elements used and their duration.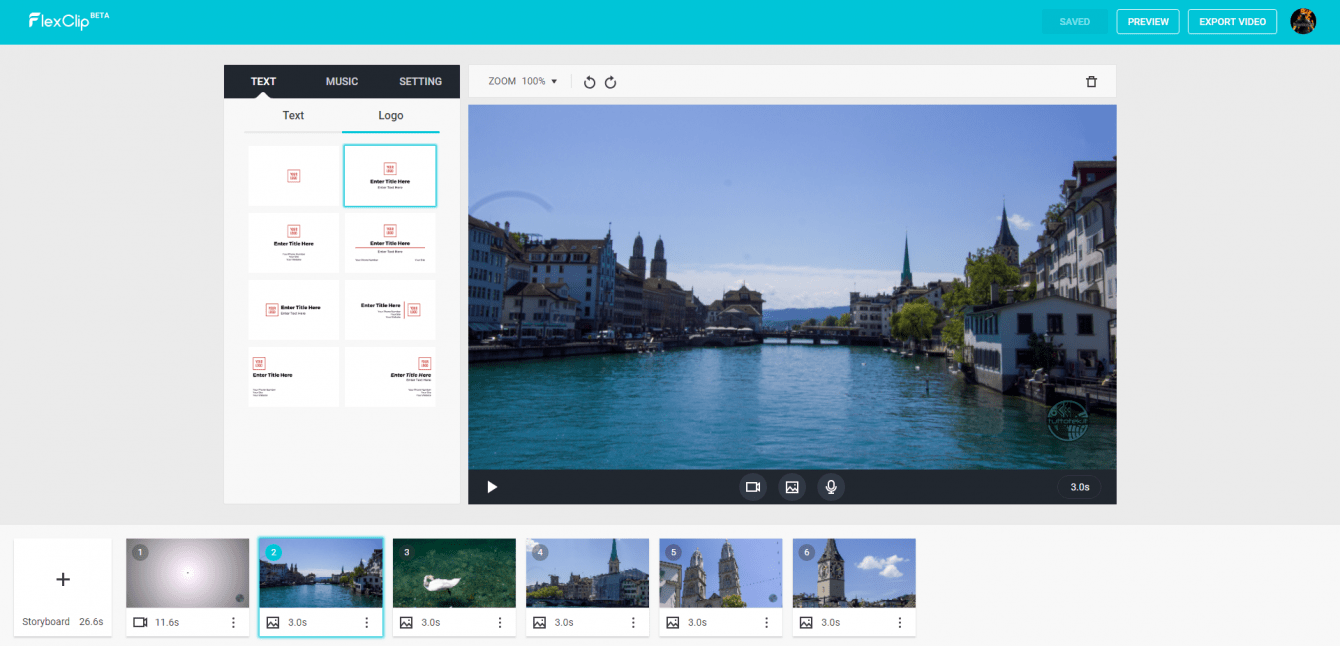 Another limitation of FlexClip comes from the fact that it is not possible to insert more than one music track per video. This leads us to understand that this little online video editor was not made for professionals and that it is very suitable for making small souvenir or advertising videos. Through the appropriate "MUSIC" section it will be possible to set the final volume of the music and cut and move the track as desired.
In the editing screen we also find, next to the media player pane, two other very important sections. In that "TEXT" we can insert texts to our liking following the preset styles or directly the logo of our company followed by a text depending on the selected layout. In that "SETTING" instead we will find a very useful feature for insert our watermark, which will allow us to choose its size, position and opacity. Also in this section we can find thesetting relative to the ratio which will allow us to enjoy 3 resolutions: 16: 9, 1: 1 and 9:16. We therefore note the important absence, even if not vital, from 4: 3, a format widely used especially for taking high-quality photos.
Another negative factor is theabsence of a library that may contain the images and / or videos that we want to include in our project. We will therefore be forced to choose the single element each time and then reposition it in the location we most want (video files larger than 400 MB cannot be loaded on the software). However, moving the elements will not be difficult and, as there are no transition effects, we will not risk complicating our work.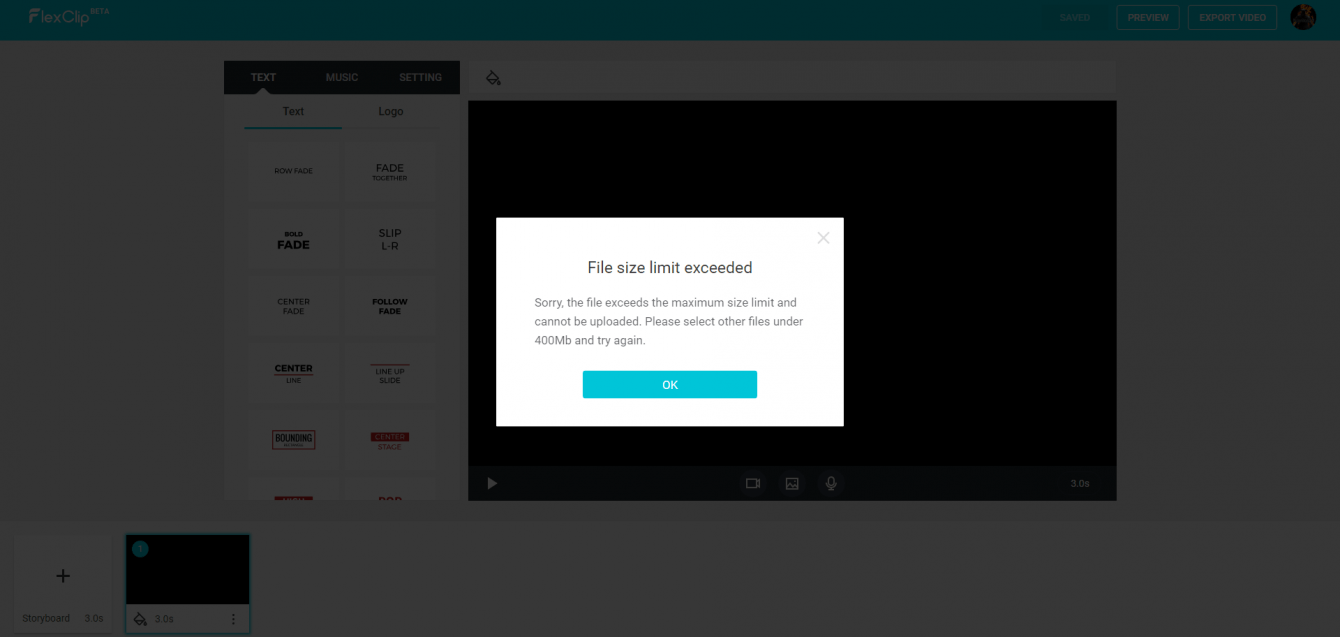 FlexClip: Editing Files Is Essential, But Enough | Review
Any element entered by us may be modified, at least in part. For the photos it is only a simple zoom with possible rotation of the same, while for the videos the speech becomes more interesting. How many times has it happened to you to shoot something with your mobile phone and to continuously rotate it going to vary, in the absence of automatic rotation, the angle of the shot?
Thanks to the "split video" and rotation functionality we will finally be able to have the whole video at the ideal angle, without having to rotate your head to be able to see it clearly. Also important is the "video trim" function that allows us to choose the length of the same, going to cut (to our liking) a portion of your choice of the initial and / or final part.
FlexClip: Final Thoughts | Review
Certainly, a software that allows you to create and / or edit videos online is very convenient, especially if totally free like this one. There good amount of text layouts allows you to create an original video, but the too simplicity of the editing screen trivializes and, in some senses, makes it difficult to get to work to get more than just a video. Although the choice of modifications that can be applied to the selected multimedia contents is not so vast, it allows manage everything sufficiently, allowing you to make cuts on videos in a very simple way.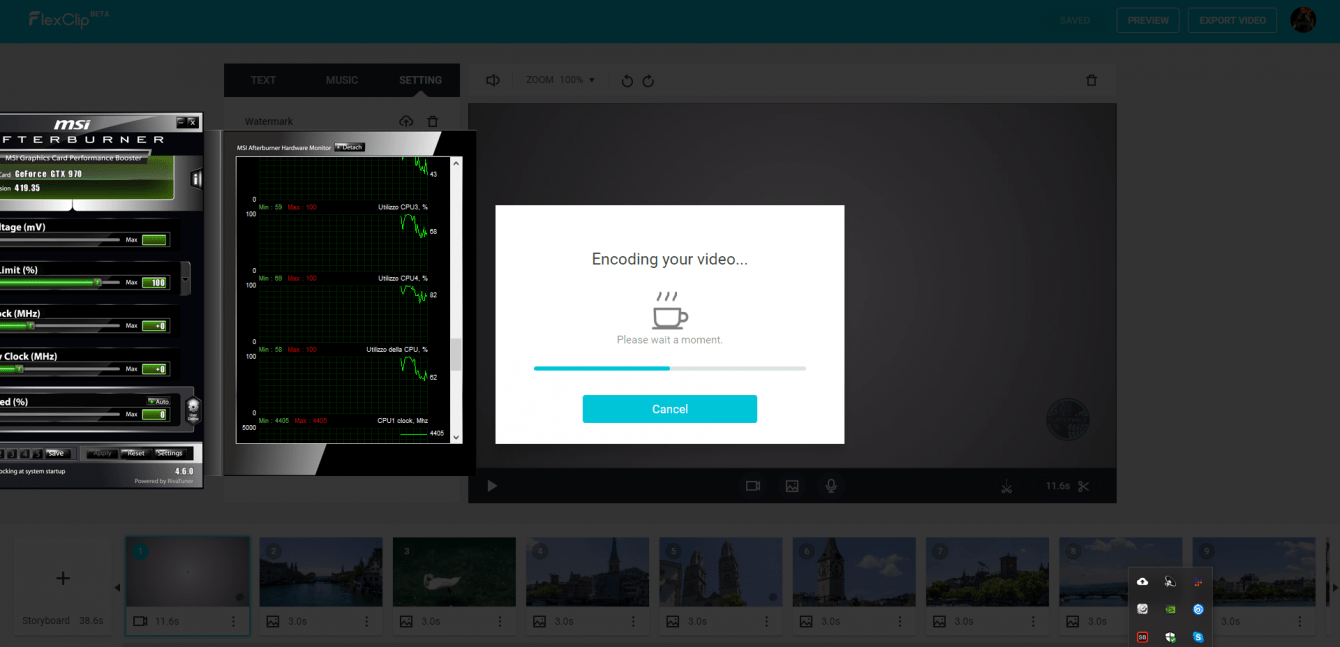 Furthermore, the absence of a library makes it unnerving to put a lot of multimedia files on the timeline and, as if that weren't enough, the fact that the video affects the CPU. Not only in the rendering phase, but also while we are working on our project (you can see this especially when cutting a clip), everything the effort is made by our processor. This makes it very little recommended for those who own a PC that is not really performing.
That's all for this FlexClip review. If you are curious to test this software to create your own online video, by clicking here you will be redirected to the official page. To not miss other reviews and news on the software world, keep following the pages of techgameworld.com!
Points in favor
Simple layout …
Easy to use
Points against
…too much
Absence of library
CPU usage
Only one layer in the timeline