The mid-range of the smartphone market is saturated with products with similar characteristics, but with many small quibbles that drive us crazy. That's why we liked the Honor View 10 Lite: satisfying in all its aspects. Let's find out in detail in our review
Honor is a company that has always put in its devices a great quality / price ratio. Born from a rib of Huawei, it collects many of the innovations coming from the parent company and inserts them in devices that are a little less valuable, but certainly complete and of a high standard. However, in the mid-range, it is undeniable that Honor is on the podium among the manufacturers with the best quality / price ratio, I don't think there is much to discuss about it.
Both Honor and Huawei offer a wide range of products in this market segment, which differ in subtleties: some excels in one field, while they fail in another. With this Honor View 10 Lite, however, there is a rare balance in all fields. I say this right away because in the rest of the review we will go to highlight the strengths and weaknesses of the phone which, overall, is one of the most complete smartphones in the mid-range segment.
Honor View 10 Lite: technical sheet | Review
Display: 6,5" Full HD+ Full View (1.080 x 2.340 pixel,  form factor 19,5:9)
Processor: Kirin 710 octa core fino a 2,2 GHz con GPU Mali-G51 MP4
Memory: RAM 4 GB, internal 64GB / 128 GB expandable with microSD up to 400 GB
Rear camera: 20 Megapixel with focal aperture of f / 1.8 + 2 Megapixel
Front camera: 16 Megapixel with f / 2.0 focal aperture
Connectivity: dual SIM (nano + nano + micro SD), 4G LTE, Wi-Fi 802.11 ac (2,4/5GHz), Bluetooth 4.2 con LE/EDR/A2DP/aptX, GPS + GLONASS,  Micro USB, Jack audio 3.5 mm
Dimensions: 160,4 × 76,6 × 7,8 mm
Weight: 175 grams
Battery: 3,750 mAh with fast charging
YOU: Android 8.1 Oreo with EMUI 8.2 customization
Design and ergonomics: it would look good hanging on the wall – Honor View 10 Lite | Review
This smartphone it's nice. Very beautifull. There is very little to say. Honor has done a great job of design and optimization some materials. The front panel features an excellent LCD display – which we will discuss in detail later – in 19.5: 9 format with notch. There notch you may like it or not, but objectively in this case it does not bother too much: it is large enough to be considered a design element and small enough not to interfere too much with the notification of the top bar, if you can view 3-4 together. A big compliment goes to Honor for theframe optimization in this smartphone: in addition to being thin, I'm symmetrical and this cradles the eye, giving the impression of having a higher-end device in your hands.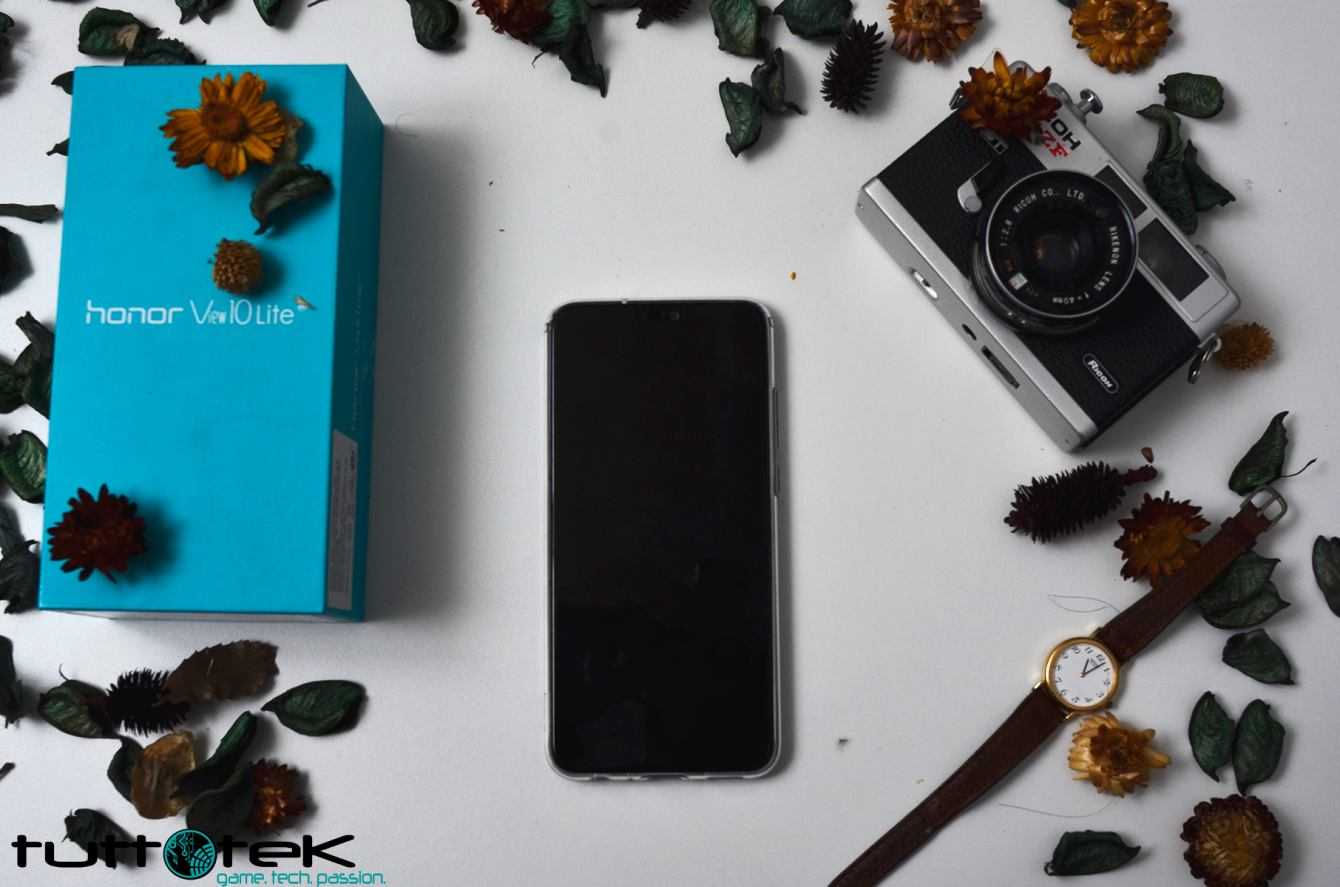 Turning around on the side of the device we find the release button and volume rocker on the right, a little noisy I must say, but nothing too worrying. Above the second microphone and nothing else. We go down to the left side to find the memory expansion slots and also two nano SIM slots. Finally on the rear we find the 3.5 mm jack for headphones (much appreciated), the microphone, the mono audio speaker and the big flaw of this terminal: a port micro USB. It is not a drama, but it is not clear why we continue to not want to embrace the new standard in a phone that costs just under 300 euros, not really very little.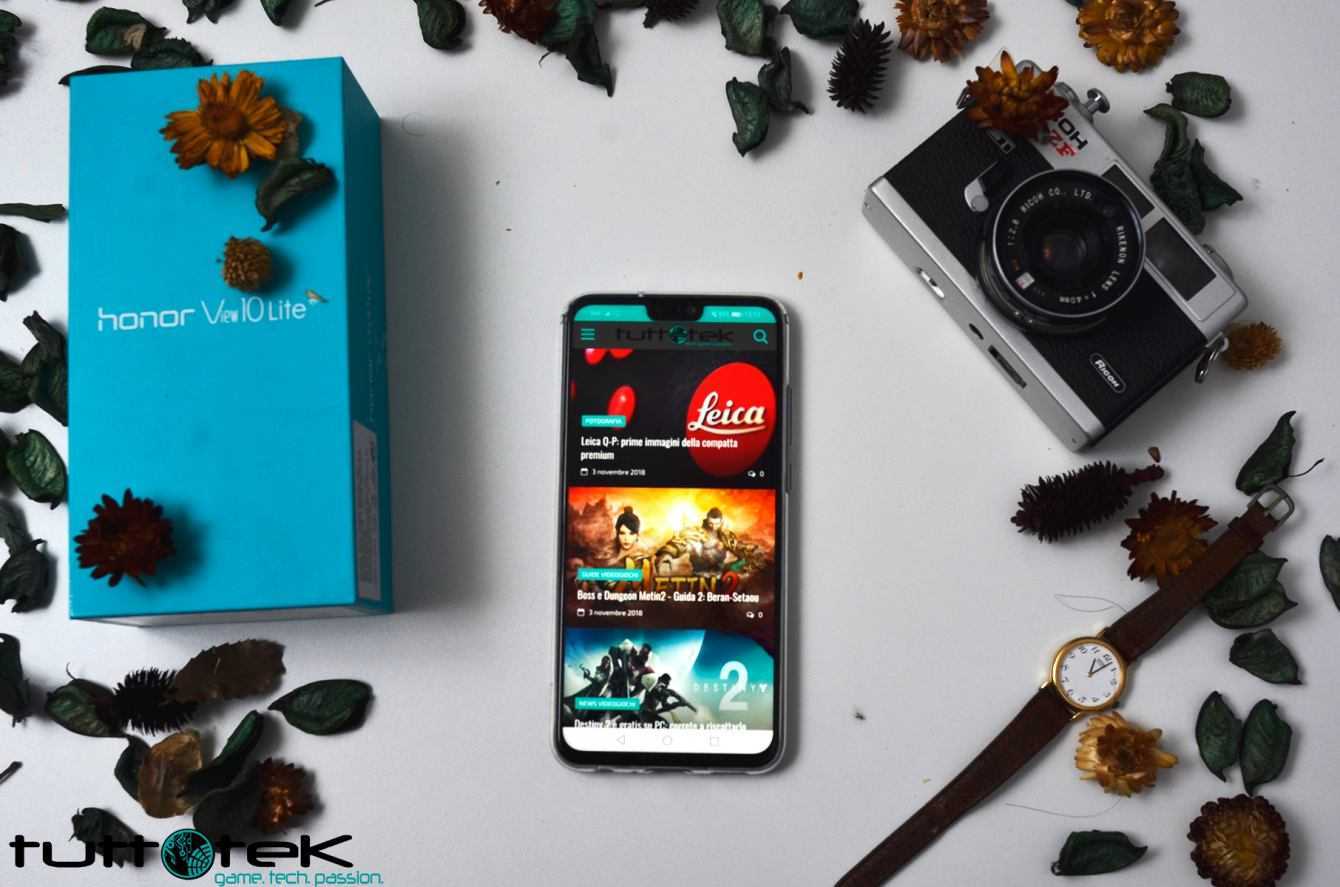 Back cover in glass with double finish, the touch of class and panache that raises the aesthetic level of this Honor View 10 Lite – prefer the red and blue colored versions to make the effect stand out more. The double photographic sensor with single flash is now inevitable, in a traffic light configuration that is very reminiscent of an iPhone. Also present the fingerprint sensor that does not miss a shot, fast and accurate.
As a gem, the Chinese company has decided to implement it in this Honor View 10 Lite face unlock, called in the jargon of the smartphone "unlock with a smile" perhaps to distinguish it from the more advanced 3D recognition present on many top of the range. Facial recognition works very well in optimal lighting conditions, but also when light is scarce – certainly not in complete darkness. This feature really surprised me, even if it sometimes fails: you have to be careful about the angle and in high contrast situations (near a window for example), but all in all it's really good; works with hood and glasses (not sunglasses).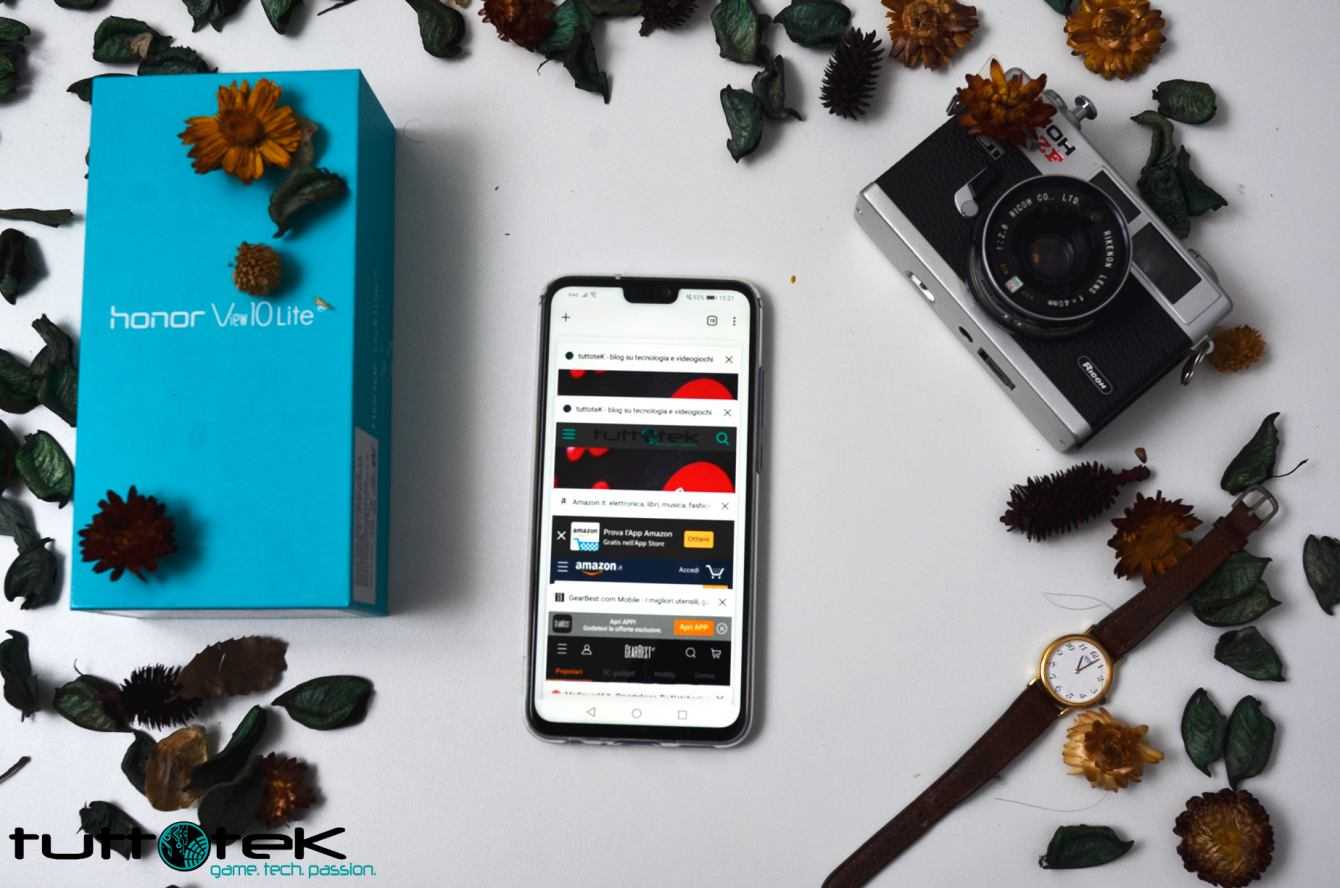 Though it is not small, let's talk about a 6.5-inch display, that's a lot handy thanks to the elongated design in 19.5: 9 format. I have quite large hands and can use it comfortably with one hand in most cases. In any case, there is one comoda gesture which allows you to reduce the size of the interface by swiping the navigation bar for those who do not have the skills of the great Gianni Morandi. However, I found it convenient to use both vertically and horizontally. Small flaw in ergonomics? Sometimes, due to the small bezels, you inadvertently touch the touch screen activating what needs to be activated. The IP certification against splashes and dust is obviously missing, however Honor gives you a comfortable transparent cover in the package and pre-applies a protective film on the smartphone screen.
Display: a good LCD – Honor View 10 Lite | Review
You are really impressed with the quality of this display. It's not an OLED, but it's not a low-mid-range display either. It is a unit from 6,5 toe LCD IPS with resolution 1,080 x 2,340 pixels. The nuances are well reproduced, the colors are saturated and the brightness is very high. You can see very well even under the sunlight. The black level is more than decent for an LCD panel, as well as the minimum brightness (it also has the blue light protection mode). Even at extreme angles the colors do not change, the viewing angle is very high.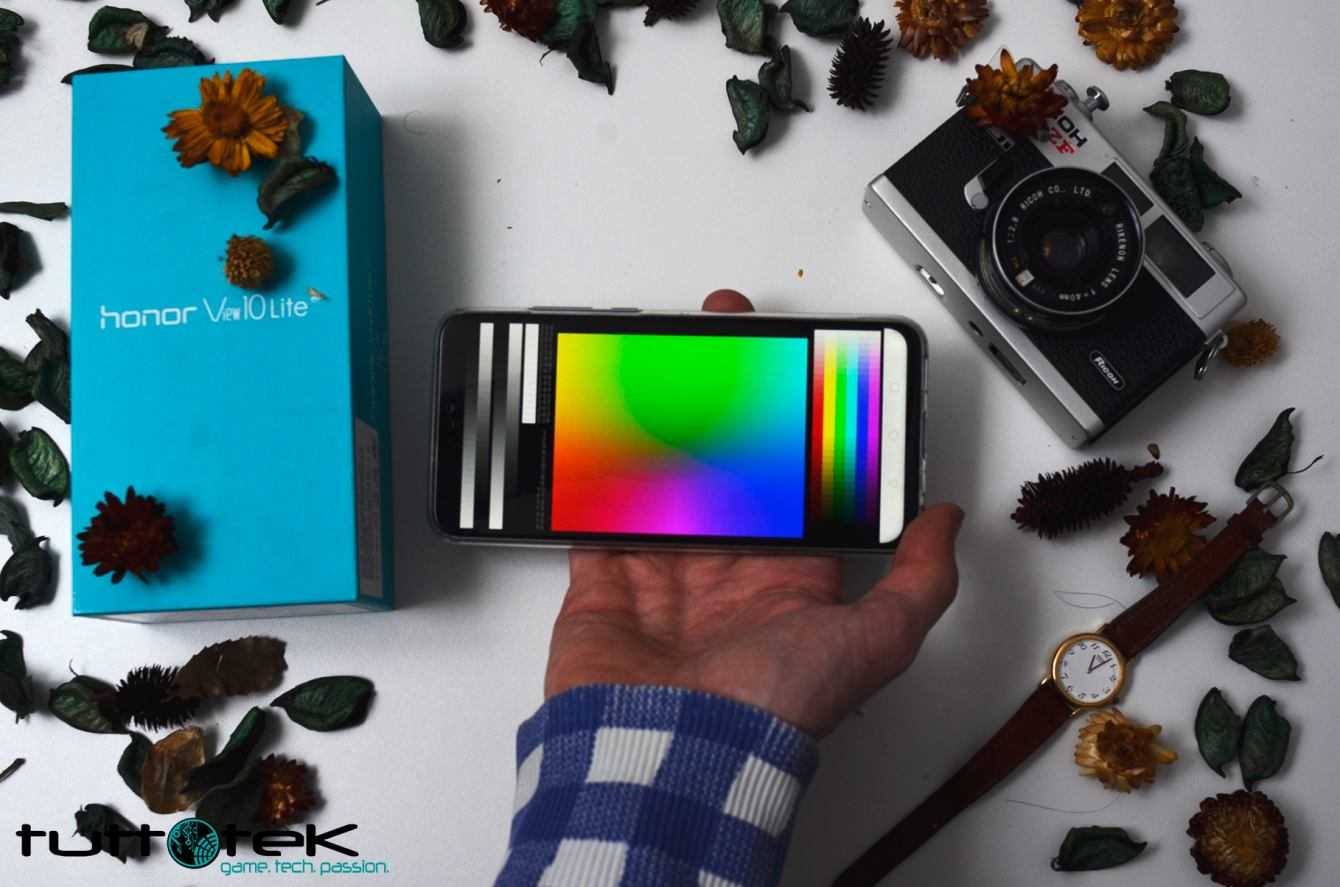 All the colors are well reproduced, even if not with extreme fidelity, but the temperature can possibly be adjusted. By default, the "intense" color reproduction mode is set, which shoots saturation at the cost of burning out some details. I prefer the standard one, then go to your taste. You notice a slight clouding phenomenon near the edges, but really a millimeter effect and negligible overall. That said it is a panel non HDR e non wide gamut. But do we really need it after all? For a phone of this range the screen is absolutely promoted.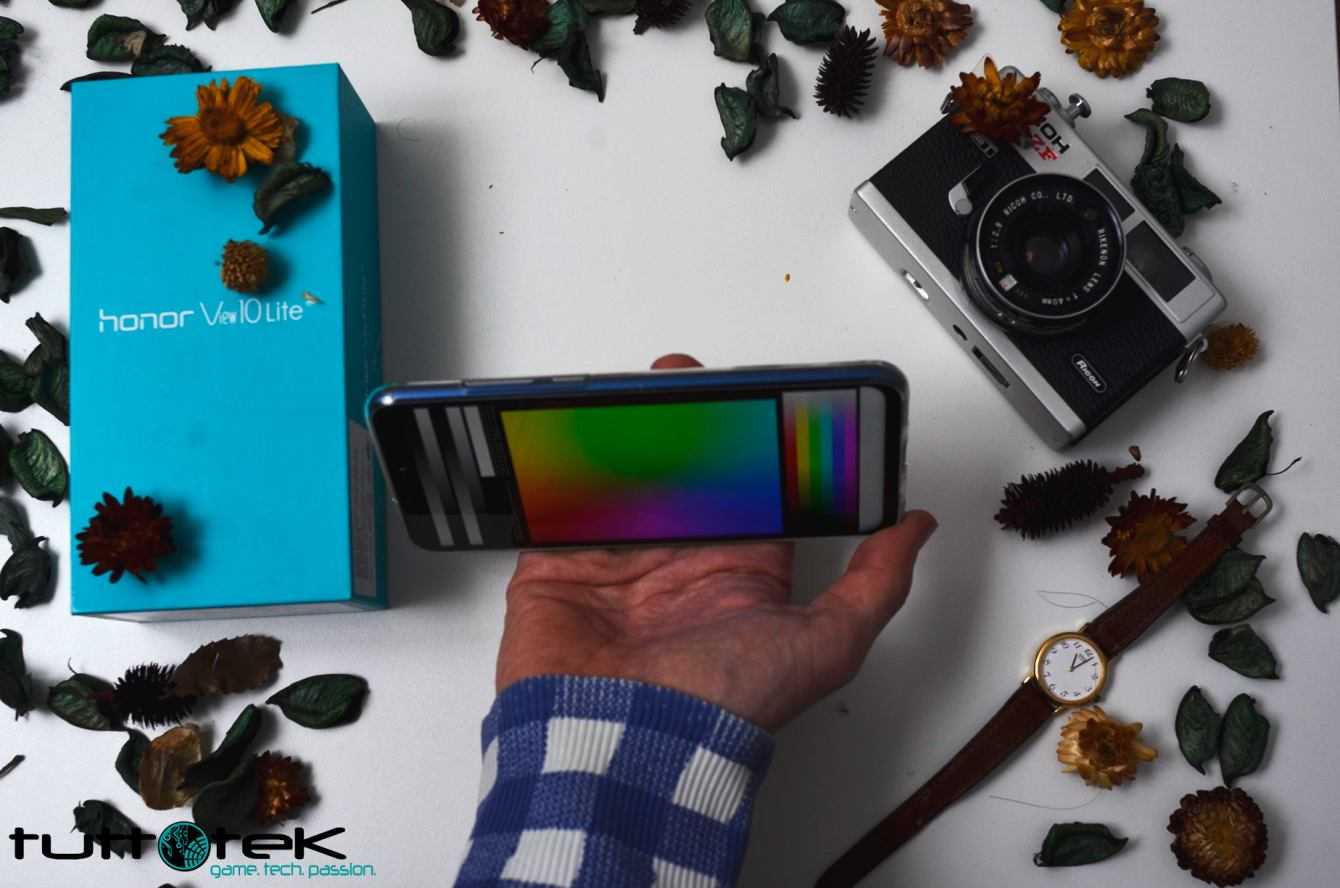 Hardware and performance: what are the top of the range for now? – Honor View 10 Lite | Review
On the hardware side, one can only be satisfied. The processor is the new Kirin 710, made in 12 nm, integrates a CPU consisting of four cores Cortex-A73, operating at the frequency of 2,2 GHz, e quattro core Cortex-A53 with clock frequency a 1,7 GHz and a Mali G51 quad-core GPU. Despite being the heir to the much-hated Kirin 659, this processor has nothing to do with lag. At a computational level we are very close to the performance of a top of the range last year and in line with Qualcomm's proposals (only on the GPU side it struggles a little, but in reality it is not noticed at all in everyday use).
The RAM ammonta a 4 GB and it is enough to use the phone smoothly, quickly switching between applications smoothly. The two cuts of memory from 64 and 128 GB expandable does not give any kind of concern. They are not very fast memories (we are talking about eMMC), but they do their job properly.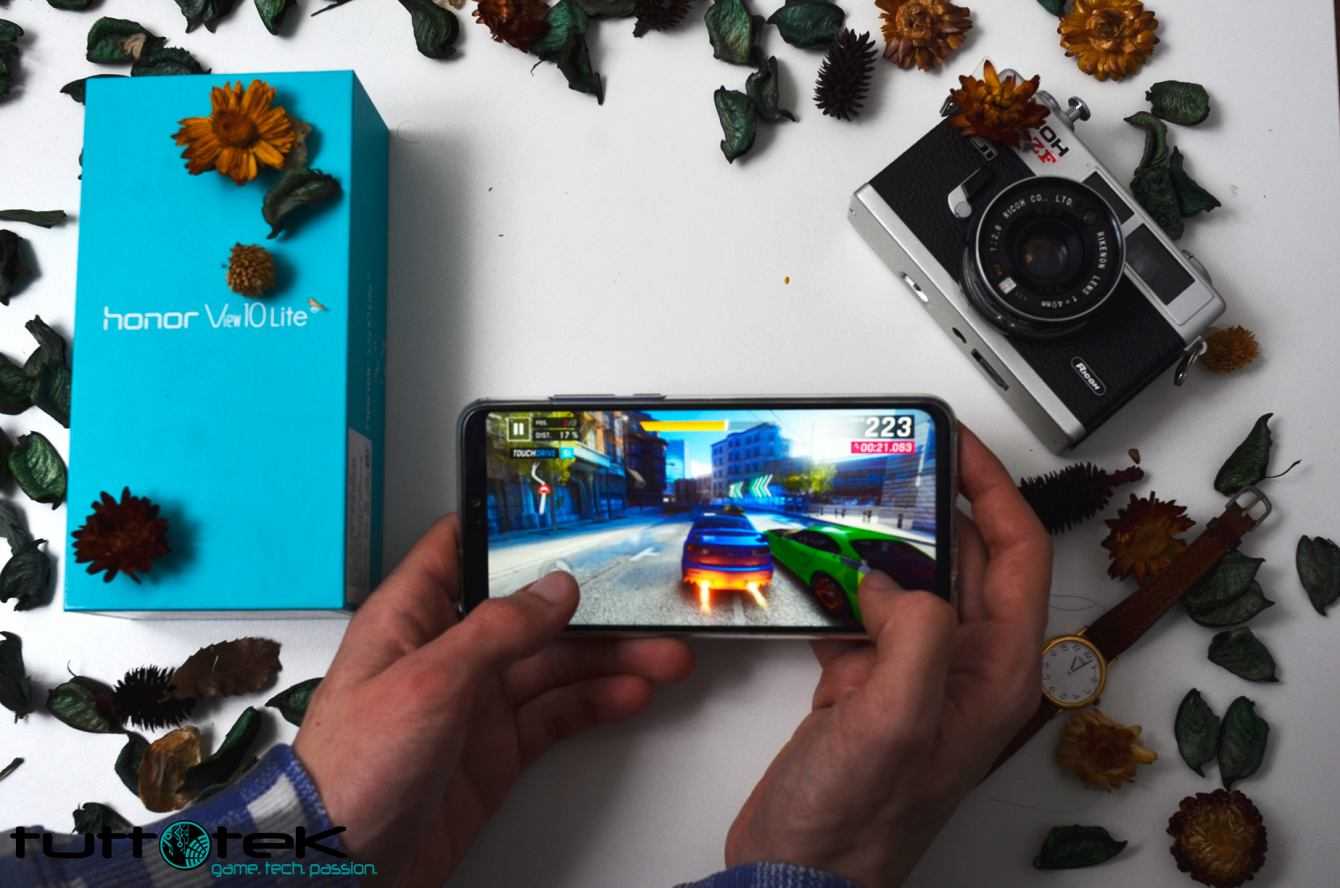 In everyday use there are no particular slowdowns or lag: everything it is always fluid, snappy and ready to use. A slight warmth can rarely be felt in the upper part of the device, but it is not at all annoying. This Honor View 10 Lite is not particularly warm: during the use of Asphalt 9 with graphics to the maximum there are no lag or drops in frame rate, with a temperature that is around 35 ° degrees and then quickly drop once the application is closed.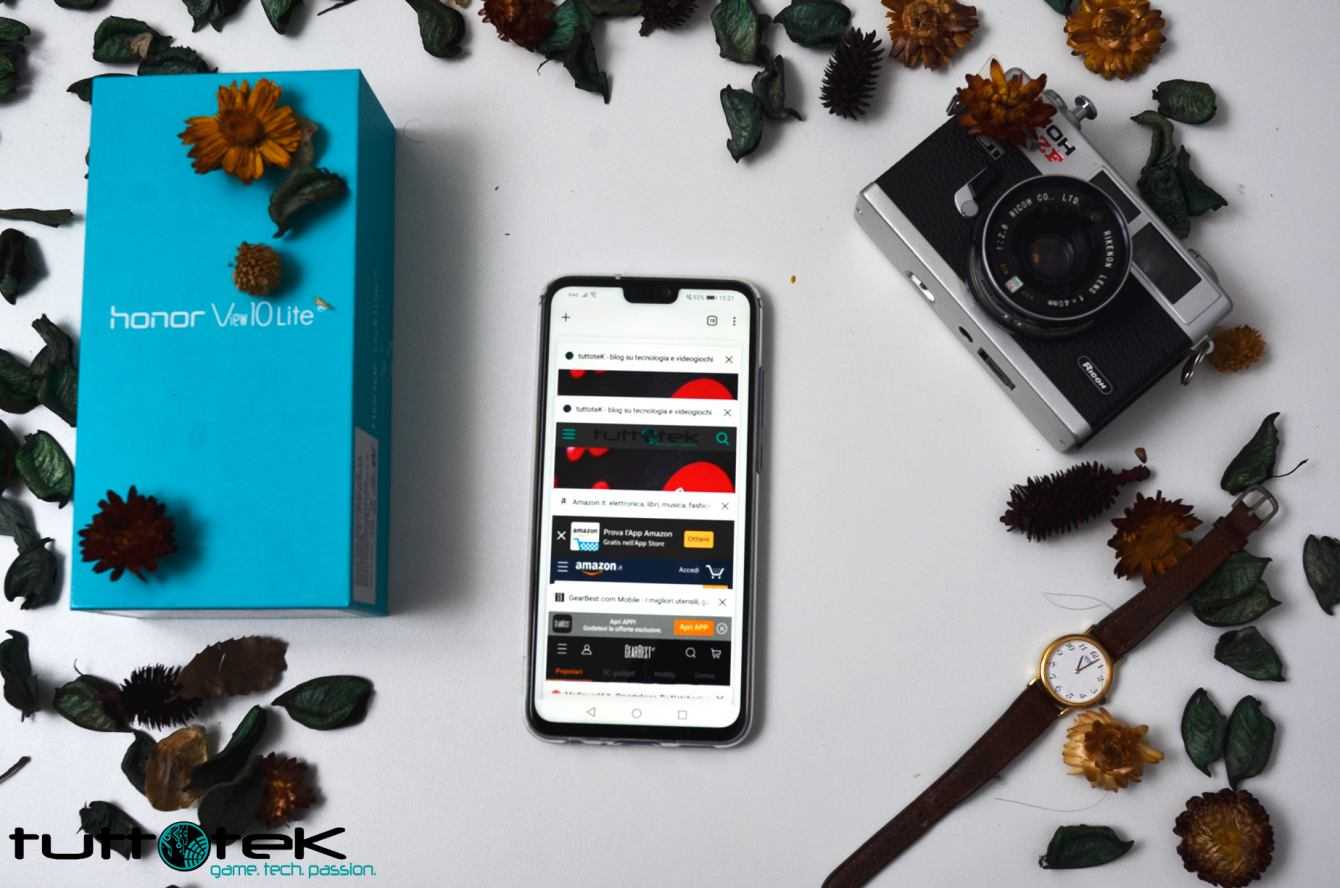 I tested the performance in everyday use using some popular applications. As already mentioned with Asphalt 9 I have not encountered any problems, the game starts in about 20 seconds and everything works fine. With office programs such as WPS e Adobe Acrobat Reader the interface remains fluid and snappy, even with very large files full of images (even if loading in a very crowded thing of images can take a few seconds). I also played around with the photo editing software a bit Lightroom with great pleasure: the application works well and the effects are applied in real time without any lag, even the export of JGP files at 20 MP really takes place in a matter of seconds, ready for social media; the only flaw loading the files in the library requires a wait of about 2 seconds per photo. Great it streaming video, with Miracast transmission to the smart TV, during which no frames are lost even at high resolution.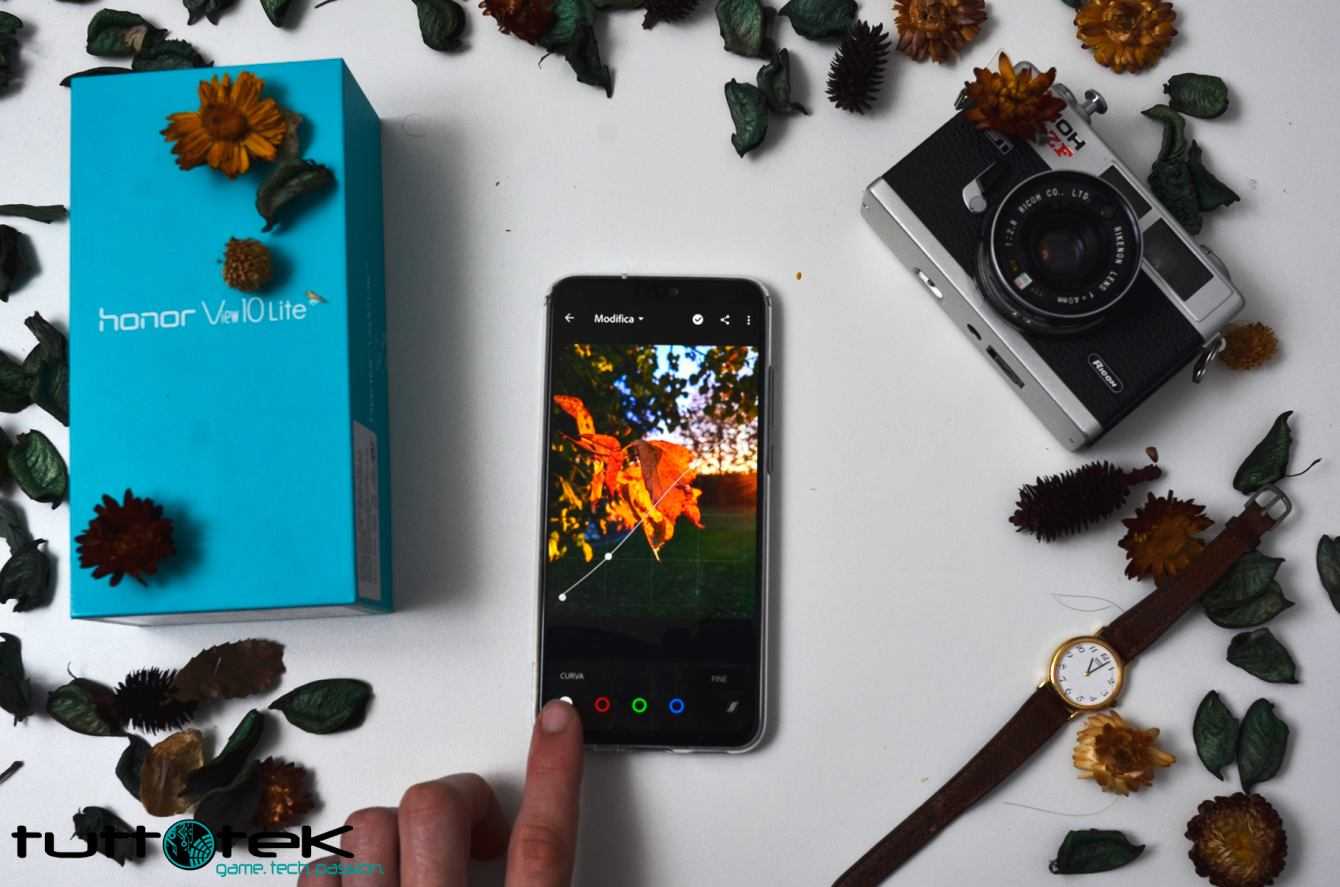 Ultimately, the hardware platform remains mid-range, but this minimally affects the general usability of the device which, thanks to a large amount of memory, is always fluid and snappy. Now even the mid-range SoCs offer more than enough computational power, that is, what really differentiates them from their bigger brothers are modems, image processors, DSPs and NPUs.
Camera: good, but not always at the top – Honor View 10 Lite | Review
Point without infamy and without praise: it does its job very well in many situations, while it swerves the nose in situations that are a bit critical. And then there is artificial intelligence, but will it really help?
That of Honor View 10 Lite is not the camera that makes you say "Wow!", But still in everyday use the shots are overall good. The rear sensor from 20 MP it returns a pretty good detail and also the dynamic range is above expectations. A bad habit of this Honor View 10 Lite, which I don't like at all, is that of shoot on saturation (especially if we activate the AI): many times the colors are natural and you notice a lot in different situations – the shades most affected by the problem are the greens. Sure the saturated photo has a strong impact, but I want to be the one to decide how and how much, not my phone, especially if it crumbles the details to pump up the colors. THE video you can shoot in FHD at 60 fps, but also in slow motion mode; the general quality is certainly not excellent, but we can be content to fill the stories of Instagram.
Thanks tovery wide aperture of f / 1.8 instead you get a bokeh very pleasant at sight. There is also the second sensor to amplify the blur effect and it works quite well if you don't want to push it to the extreme of its possibilities; however, I still prefer natural bokeh. Also excellent is the mode exposure…