Let's find out how to edit PDF files through simple steps on Windows, Mac, Linux, smartphones and tablets!
Very often it happens to all of us that we have to edit a PDF file, but the difficulty lies in identifying the most appropriate software, which is easy to use and above all free. Nowadays, there are numerous programs, available on the net, that allow you to make changes to PDF files without using Adobe Reader or other similar software. In fact, these are programs that not only allow you to make simple changes to the text of the file, but they are able to convert PDF to images, add special writings and customize the contents present. Furthermore, many of these software offer the possibility to work online on the file of interest, without having to download the program and this is really very convenient, as it certainly guarantees a time saving and avoids burdening the memory of your PC.
Having said that, let's see then how to edit PDF and what are the most suitable software for each version of Windows, Mac, Linux, smartphone and tablet.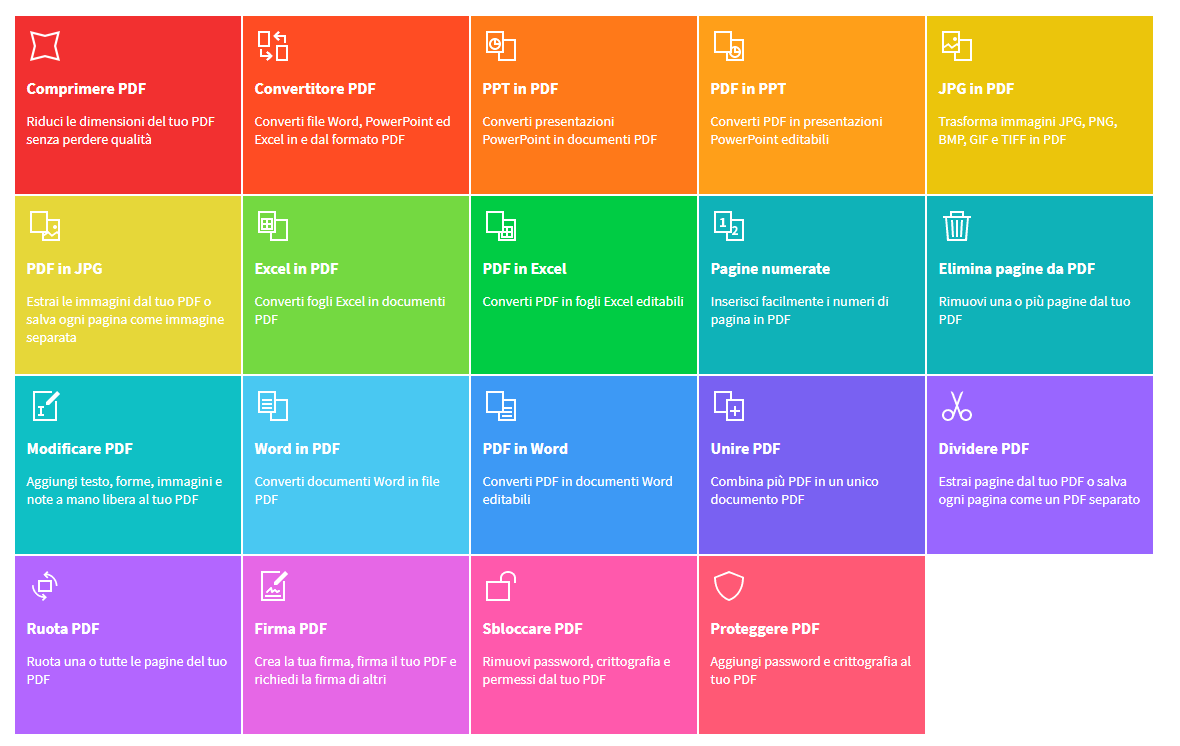 How to edit PDF files on Windows, Mac and Linux
Let's analyze in detail how to edit PDF files and what are the free software that allow it. We remind you that some of these programs are online and we emphasize that the use of some websites is not always safe, in fact, you have to be careful about the pages that are opened and any annoying and deceptive popups. We do not recommend also the insertion of any personal data or sensitive data (mobile phone, credit card) in any circumstance.
The sites on this list are tested and safe, but we know well how in the world of the web things can change very quickly: therefore, be careful!
TechGameWorld.com is the author of this article they do not assume any responsibility for the use of the sites present in this guide, which is for information purposes only. We emphasize that downloading copyrighted content is illegal: piracy is a crime.
How to edit PDF on Windows, Mac and Linux: LibreOffice
The first software in our ranking that allows you to edit PDF files is LibreOffice: it is a program in Italian, simple and completely free, available for Windows, Mac and Linux. Among the many features offered, LibreOffice allows us to customize PDF as we like, but it can also be seen as a very valid alternative to Microsoft Office, as it has the ability to process data on spreadsheets and create documents and presentations, all under the constant spelling check typical of any Office software.
In order to carry out the download of LibreOffice, linked to This Page, then click the button "Download version XX", related to your operating system. After downloading the installation files, open the file ".exe" and select "Next", "Next", Install "," Yes "and" Finish ".
Caution: in the case of Mac, in addition to the basic LibreOffice setup, you need to download the Language Pack, in order to obtain the Italian version. Once this is done, click on "Translated User Interface", wait for the completion of the required operations and then open the package "LibreOffice_xx_MacOS_x86-64.dmg". Now all you have to do is copy the LibreOffice icon into the folder Applications operating system, open the dmg package and finally run the language pack. If you were to see a error message, don't worry: click on the executable file with the right mouse button, then click "You open" and then on "Open and install".
After installing LibreOffice, you can then make all the changes you want on your PDF files: first, after opening the program, upload your file of interest in the section Draw and have fun experimenting with new solutions, taking advantage of the many tools offered in the menu on the left.
Once you've completed your changes, remember to save your fileby clicking on the button "Export to PDF", placed in the menu File top left.
Caution: if you can't open LibreOffice on Mac, go to System Preferences / Security and Privacy / General and disable app protection for a few moments by clicking on the icon with the padlock symbol at the bottom left and confirming your choice. At this point start LibreOffice, then go back to the previous path and re-enable the protection for the apps.
How to edit PDF on Windows, Mac and Linux: Microsoft Word (Windows)
In second place in our ranking of software that allow you to edit PDF files we have Microsoft Word, program for Windows which is part of the Microsoft Office suite. Word allows you to import PDF files from the 2013 version and convert them to classic files DOC/DOCX, which can then be reprocessed and saved as a new PDF.
To open a PDF file in Microsoft Word, start the software, then select the menu "File" at the top left, then click "You open", in order to load the desired file. Once you're done, select "Save with name" again from the menu "File", then choose the PDF format from the drop-down menu.
Warning: Microsoft Word may not perfectly convert the original PDF document, so if you have to work on an important document you can use a different software, such as LibreOffice described above.
Come modificare PDF su Windows, Mac e Linux: PDFill FREE PDF Tools (Windows)
Continuing our ranking of the best free programs to edit PDF files, we find PDFill FREE PDF Tools, which is software available for Windows and it is really very useful, especially for merge multiple documents or divide one into several separate documents. Another feature, offered by PDFill FREE PDF Tools, is that of being able save documents as PDFs after scanning them through a simple scanner. The only flaw is given by the fact that this program does not allow you to modify the contents of existing PDF files, which means that, if you want to make changes to texts and images, it is necessary to resort to the use of another software among those present in this list.
To download PDFill FREE PDF Tools, linked to this page and select "Download now" twice, since in the first case the key is located at the top right, while in the second it is in the center of the screen. For to install the program, on the other hand, starts the setup and confirms all the required choices.
Caution: During the software installation, you may be prompted to add two more programs, GhostScript e .Net Framework di Microsoft, necessary for the correct execution of PDFill FREE PDF Tools, so don't worry and confirm your choice.
Once the setup is complete, enjoy PDFill FREE PDF Tools. The most important features I'm:
Merge PDF Files, which is used to merge multiple PDF files;
Rotate or crop, useful for rotating and cutting pages;
Split or reorder, which allows you to choose the desired sequence of the pages contained in the original PDF;
Add watermark by text e Add watermark by image, which allow you to add watermarks in the form of text or image;
Convert PDF to images, which is capable of converting PDF files to images.
How to edit PDF on Windows, Mac and Linux: Preview (Mac)
If you are curious about how to edit PDF files on Mac, the next software is the one for you: in fact, in fourth place in our ranking we have Preview, a program already present on OS X and having the function of opening images and PDF files. It is a software that has a multiplicity of features, since it allows you to rotate PDF document pages, highlight and underline portions of text, add custom signatures and extract portions of files from the original.
To edit your PDF file, all you have to do is open it with Preview, then you will need to select the button with the suitcase symbol, located at the top right of the application. By doing so, you will have all the tools that will allow you to customize your file. If your goal is to to merge more documents or to extract a part of interest, select the thumbnail view from the View menu, then make the necessary changes and save the result by clicking on Print and then on "Save as PDF".
Come modificare PDF su Windows, Mac e Linux: PDF Tool Kit+ (Mac)
Another very useful software for editing files PDF è PDF Tool Kit+, available for Mac. It is a paid program, available at the price of 1,99 euro, and allows you to make changes to PDF files in a great way simile a PDFill FREE PDF Tools, as its functions offer the possibility of merge multiple PDF files, separate one into several parts, rotate pages and convert the file to images.
Between limits of this software, we remind you that it is impossible to modify the texts and contents of the original PDF file.
How to Edit PDF on Windows, Mac, and Linux: PDFescape (Web)
As for online software, the first one that needs to be considered is PDFescape, really very simple and fast, even for those who do not know how to edit PDF files via the Web. This program does not require any registration, so it is very advantageous to use. To access the page, click here, then select the item "Use Unregistered for Free!" to upload your file. Once this is done, click on "Upload", located at the top left, after which you can start making changes: you can in fact add images, texts e reorder the pages, but already existing writings cannot be modified. Once the changes are complete, save the new file by pressing the button with the white arrows icon.
Caution: the maximum upload limit of a single PDF file is 10 MB with a maximum number of 100 pages, so if you have a file with a larger size I suggest you use a software described above.
How to Edit PDF on Windows, Mac, and Linux: SmallPDF (Web)
Another very useful software for editing PDF files online is SmallPDF, which, in addition to allowing you to merge multiple documents or divide one into several separate parts, it also allows you to reduce the size of the original file and remove the copy protections. It is an in program italiano e sure.
To access the website, linked to this page, then choose the type of modification desired, among those listed below:
Protect PDF;
Merge PDF;
Split PDF;
Rotate PDF;
Unlock PDF;
PDF to Word (and vice versa);
PDF in PowerPoint (o viceversa);
Unlock PDF;
Delete pages from PDF.
When you are done making changes, remember to select the button "Download the file".
Caution: this online service is free for 14 days, after registering, and then provides a monthly cost of € 10 or an annual cost of € 90.
How to edit PDF on smartphones and tablets
If you have no idea how to edit PDF files on smartphones and tablets, here is a list of programs that are right for you:
Foxit Mobile PDF (Android, iPhone/iPad);
PDF Expert…