Huawei P30 is certainly one of the flagship devices of the Chinese company, but will it be a good product? Let's find out together in our review
The top of the range range, after a period dominated only and exclusively by Apple e Samsung, now sees reality as Huawei e Xiaomi assert itself more and more every day. The two Asian brands in fact compete strongly with the two most renowned companies and often they create superior products in many ways. Although many still do not know these new realities of the mobile world, who has had at least one experience with one of their smartphones is was satisfied from these products. Will it be the same for the latest top of the range of the Chinese house? Let's start ours Huawei P30 review and let's find out together.
Huawei P30: technical sheet | Review
CPU: Huawei HiSilicon Kirin 980 octa-core, 2 x 2,6 GHz Cortex-A76 + 2 x 1,92 GHz Cortex-A76 + 4 x 1,8 GHz Cortex-A55
GPU: Mali-G76 MP10
Display: 6.1 ″ OLED FHD + with resolution 1080 x 2340 pixels (422 ppi)
RAM: 6 GB
Storage: 128 GB
Rear camera: Triple camera Leica 40 MP wide angle lens, f / 1.8 aperture + 16 MP wide angle lens, f / 2.2 + 8 MP telephoto aperture, f / 2.4 aperture, OIS
Front camera: 32 MP, apertura f / 2,0
Connectivity: dual SIM 4.5G, Wi-Fi 802.11 a/b/g/n/ac, Bluetooth 5.0, BLE, SBC, AAC, aptX, aptX HD, LDAC e HWA Audio, USB Type-C 3.1, GPS A-GPS/GLONASS/BeiDou
Sensors: Ambient Light Sensor, In-Screen Fingerprint Sensor, Gyroscope, Compass, Proximity Sensor, Gravity Sensor, Hall Sensor, Laser Sensor, Color Temperature Sensor
Battery: 3650 mAh
Dimensions: 149,1 x 71,4 x 7,5 mm
Operating system: Android 9 EMUI 9.0 Pie
Huawei P30: simple and elegant design | Review
The design of the P30 at first glance appears to be simple, but at the same time Elegant. Obviously the materials used are worthy of a top of the range, thus equipping it with an important build quality which gives a feeling of strength and resistance to any impact. The rounded corners in fact allow the smartphone to withstand excessive loads due to accidental drops, thus preventing our device from shattering. Despite these "curves", both the top and the bottom are completely flat, guaranteeing one firmer grip.
The body of the device is made entirely of glass (except for a plastic side band), making the smartphone elegant, but somewhat slippery and risky to use with one hand despite the dimensions not exactly exaggerated of 149.1 x 71.4 x 7.5 mm it's a weight of 165 g. The rocker and the on / off button are firmly on the side and give a feeling of unparalleled resistance. All this confirms the excellent construction and solidity of the device. On the opposite side is theaccommodation for the two Nano SIMs, while at the bottom of the smartphone we find the 3.5 mm jack port, the door USB Type-C to load it and the speaker box.
Front design
The front design is very simple. In addition to 6.1 ″ OLED panel with 1080 x 2340 pixel FHD + resolution, we find the notch drop within which the 32 MP front camera with f / 2.0 aperture and proximity and ambient light sensors. Just above, along the upper edge, there is a housing ear capsule. The fingerprint sensor on the other hand is integrated on the screen.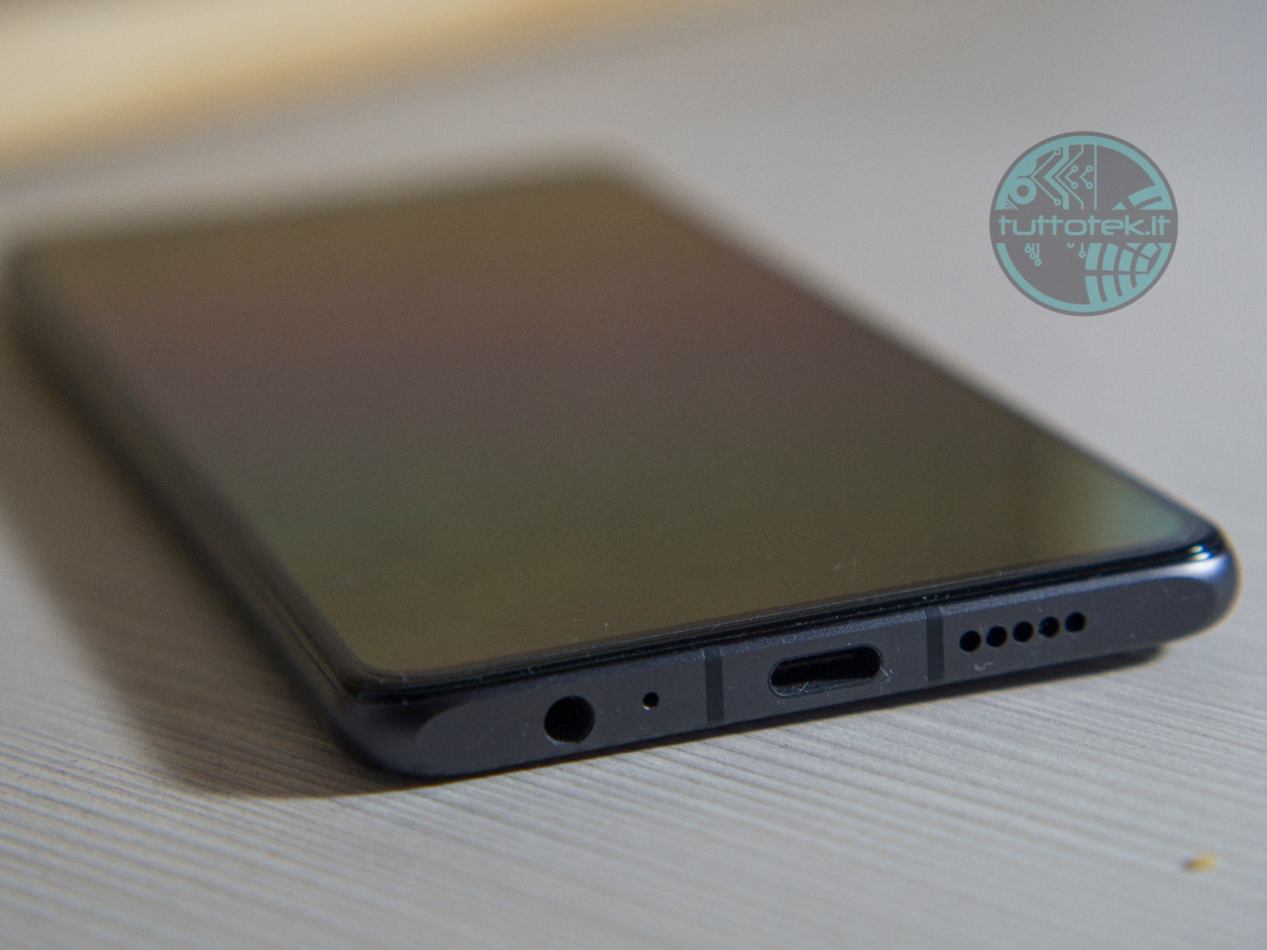 Back design
If the front design turns out to be very simple, the rear one is even more so. Here indeed we find only the triple Leica camera composed a main objective 40 MP with f / 1.8 aperture, the second from 16 MP wide angle, with f / 2.2 aperture and the third from 8 MP (this time it is a telephoto lens) with f / 2.4 aperture. To complete everything immediately below we find the flash LED.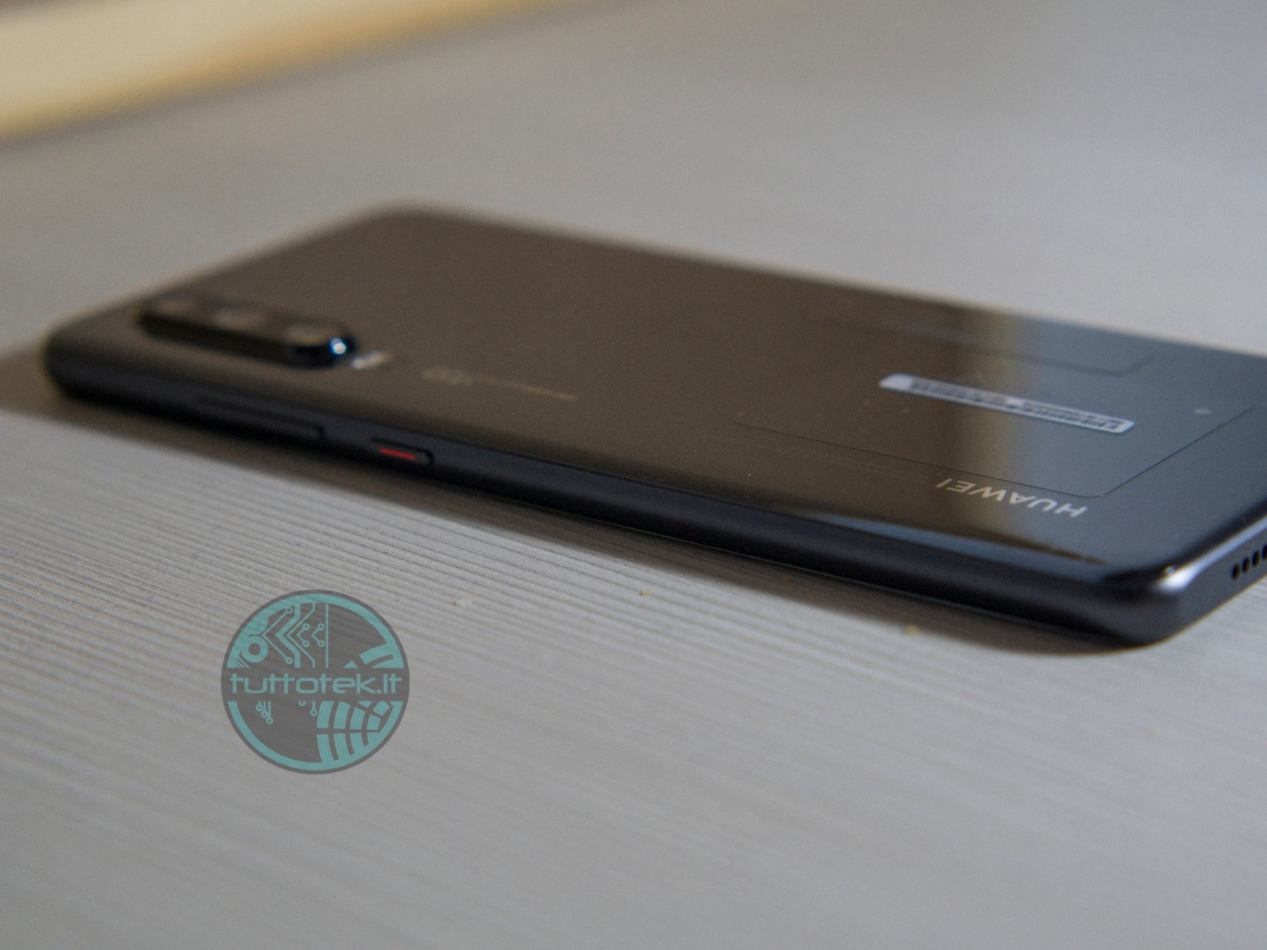 Huawei P30: a fabulous display to say the least! | Review
As already mentioned above, the device is equipped with a 6.1 ″ OLED panel with FHD + resolution (1080 x 2340 pixels) and image ratio of 9:19 able to guarantee a pixel density of 422 ppi. The display occupies the entire front of the smartphone, with the exception of the drop notch and the ultra-thin bezels placed around it. OLED technology guarantees a color rendering nothing short of fabulous, both during the daily use of the various apps, and if you want to see a movie or a TV series. The shades of color respect the real color spectrum and it is also excellent response of whites and blacks both frontally and at extreme angles.
The ambient light sensor then allows us to enjoy aexcellent lighting in all circumstances, both in the sun and when we are in bed with the lights completely off. Thanks to this perfect lighting in every occasion we will be able to enjoy the best of the quality of the display, managing to read without straining our eyes too much in any context of ambient lighting. The 1080 x 2340 FHD + resolution, among the highest currently in circulation, allows us to enjoy a great experience, allowing us to notice any detail at the highest quality.
Huawei P30: hardware that does not cry out for a miracle, but does its job | Review
The beating heart of this Huawei P30 is characterized by a Huawei HiSilicon Kirin 980 processor (octa-core a 7 nm with a maximum frequency of 2.6 GHz). This CPU is accompanied by a 6 GB in memory RAM e 128 GB of storage. This configuration allows you to open the various applications without any problem, with an enviable fluidity. obviously there will be no sudden lag or freeze problems with both commonly used and non-commonly used apps. With such a RAM and with the computing power of the processor, of course, there will be no multitasking problems. However, some apps tend to be disabled in the background, especially if they haven't been used for a while.
The GPU Mali-G76 MP10 it is a security and guarantees excellent performance in graphics processing and gaming. Despite the intensive use to which it was subjected, the P30 did not present no problem of excessive overheating, even after a few hours of use. Only a couple of times we were able to feel a very slight warmth which in any case does not cause any discomfort to the touch. A hardware sector therefore not bad, but which certainly allows you to have the same performance that some other smartphone can guarantee us at a lower price.
Huawei P30: a monstrous photographic sector | Review
The photographic sector of the smartphone is perhaps its absolute spearhead. The device is equipped with a triple camera with two wide-angle lenses yes 40 and 16 MP respectively equipped with aaperture f / 1.8 and f / 2.2 it's a 8 MP telephoto lens with f / 2.4 aperture. This particular composition of the camera and the possibility of making the various lenses work together, allows us to have great photos in any situation.
Clearly these are not shots similar to those of a professional camera, but they are certainly among the best in the world of smartphones. Particularly impressive is it zoom fino a 30x in some shooting modes. Thanks to this powerful zoom we can immortalize any detail that even our eyes might miss or that in any case is not clear. Obviously, with such a high zoom, the shot will not be qualitatively good, losing that quality that distinguishes non-zoomed shots.
Various Modes and Videos – Huawei P30 Review
Also important is the "ultragrandangolare". This particular shooting mode will allow us to capture even more of the landscape, enclosing in a single shot all the beauty of the panorama that is in front of us without having to lose even a single detail. Although therefore from a distance the camera of the P30 behaves in an excellent way, even at close range the photographic sector behaves excellently. Thanks to the super macro function, in fact, we can take pictures at a very close distance, allowing us to appreciate every little detail, with a resolution that rivals many photographic sectors.
Against the light or in the presence of very intense light sources, the shots are still very good and full of clearly visible details; we hardly encountered any flare problems. The is also very good yield in low light (or even in total absence) thanks to the night mode.
Even in the video recording you can see all the quality of this sector. With the possibility of being able to registrare video in 4K a 30 fps we will be able to fully enjoy every captured moment. The quality is really high and, as it should be, videos will really take up a lot of space. However, thanks to its 128 GB of storage, we won't have any storage problems. Very effective and really well optimized is then the slow motion mode that does reach peaks up to 960 fps, thus guaranteeing us a really well done slowed effect.
Front camera – Huawei P30 review
The front of the device is equipped with a 32 MP camera with f / 2.0 aperture. Also this like the previous one allows us to enjoy truly quality shots and does not disappoint the reserved expectations. The yield of thebokeh effect which is equipped with the portrait mode that allows us to blur the background to our liking to highlight the subject in the foreground. However, this is still a setting managed by a software algorithm, sometimes you may notice some small problems due to a lack of blur.
Huawei P30: connectivity always present | Review
During our period of use of this device we never noticed any connectivity issues. Reception and connection to the various cells are excellent in every situation, guaranteeing us a quality, especially in calls, which is really good on every occasion. The ear capsule does its job very well, guaranteeing us a really good audio quality on every occasion, even with the volume at maximum.
The department is completed by: Wi-Fi 802.11 a/b/g/n/ac, Bluetooth 5.0, BLE, SBC, AAC, aptX, aptX HD, LDAC e HWA Audio, GPS A-GPS/GLONASS/BeiDou e USB Type-C 3.1. Browsing on Google Maps is excellent and also the Bluetooth connection, tested on my faithful Fiesta, is always clean and fast, with a really good quality. The excellent Wi-Fi connection then allows us to enjoy a greater bandwidth. Comparing the various tests carried out with a Huawei P9 Lite, we note that the DL speed of the P30 it is almost double compared to that of P9, while in UL there are similar values ​​due to the effective band limit.
Huawei P30: no problems with autonomy and fast charging | Review
Great satisfaction also comes from the smartphone battery. With a 3650 mAh capacity, this battery allows us to enjoy an excellent autonomy, …