Complete review of the new Kospet Tank T1, thus begins the latest generation of the Chinese company's rugged smartwatch
After the last Tank M1, Kospet once again tries to approach an almost unexplored market, that of rugged smartwatches, with the new Kospet Tank T1. With its impact resistant shell, sporty design and extreme water and dust certifications, will it meet expectations? Let's find out together in our full review.
Kospet Tank T1 review: data sheet
Brand: Kospet
Template: Tank T1
Display: 1,32″ TFT IPS 360×360
Materials: metal + plastic
Strap materials: silicone
Available colours: black and green
OS supported: Android 5.1+ e iOS 10.0+
CPU: RealTek8762DK
RAM: 64KB
ROM: 128MB
Battery: 350 mAh
Bluetooth: V. 5.0
App companion: Fit Cloud Pro
Monitoring: up to 20 sports, heart rate, steps, spO2, blood pressure, sleep
Other: IP69K certified against water (up to 5 ATM), dust, pressure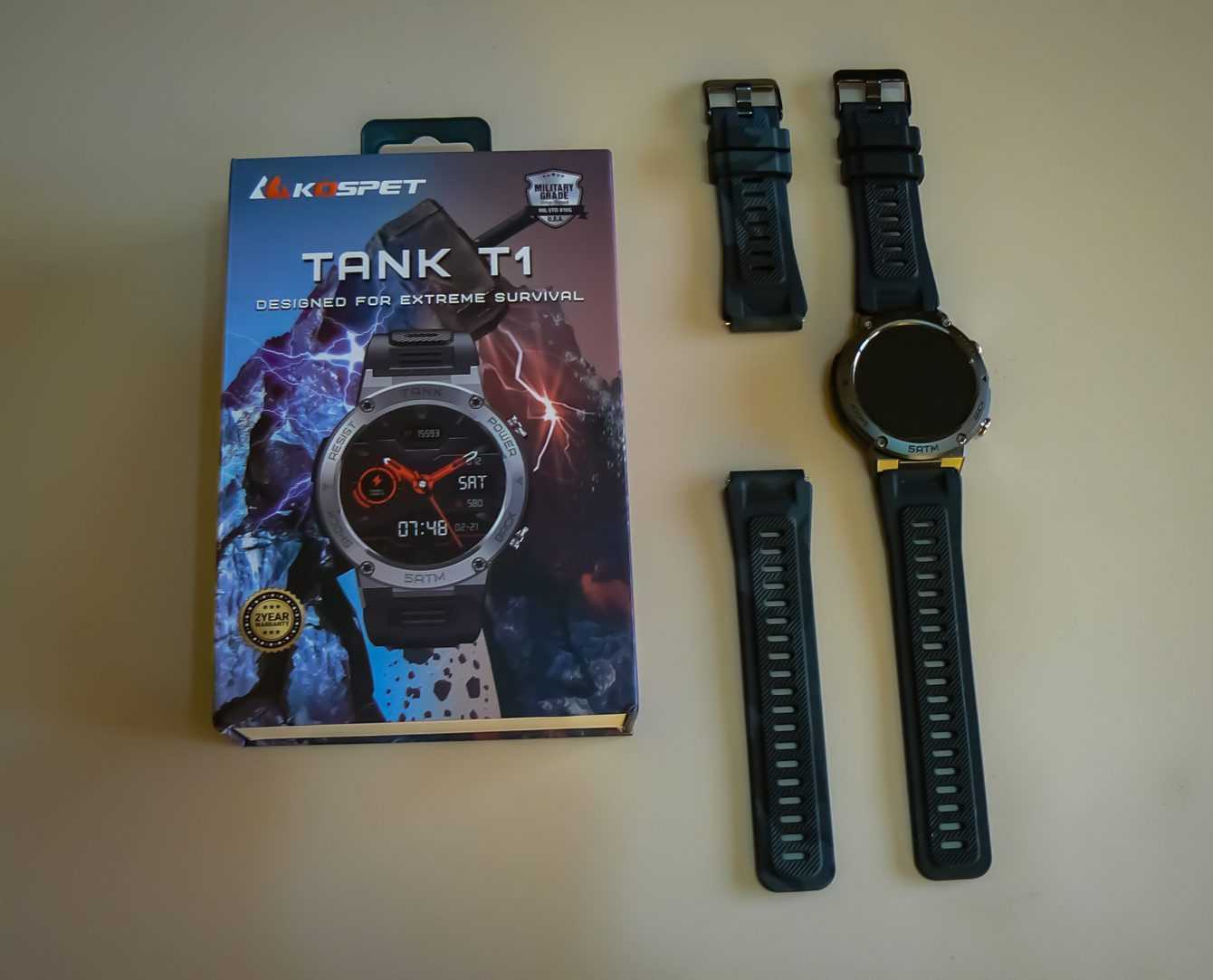 Unboxing and build quality | Haylou RS4 Plus review
The sales package brings with it the smartwatch, the instruction manual, the charging cable and an extra strap, always appreciated. Once extracted from the box, the smartwatch is presented to us in all its robustness, with a resistant polycarbonate shell and a large display TFT da 1,32" sunken, less prone to scratches and bumps. The first sensation was that of a light and equally robust smartwatch, ideal for facing any type of adventure. The lines and measurements make it a smartwatch not very suitable for slender wrists (like that of the writer) however the classic and traditional design allow it not to disfigure even the most common events and occasions.
Both straps supplied are of medium quality, not the best in consistency but at least they will not cause you annoying skin irritation. Finally, speaking of sensors, we are faced with the classic smartwatch setup in this price range. We will therefore find the heartbeat sensor, the detection of steps, sleep and oxygenation in the blood (spO2). Also in the lower part we will then find the magnetic pins for recharging, which takes place in about 2 hours.
Hardware and autonomy | Haylou RS4 Plus review
Under the body we find a somewhat limited hardware compartment, but which allows you to manage all the functions of the watch very well. Among these we have: heart rate measurement, blood oxygenation, guided breathing exercises, alarm clock, timer, calculator, stopwatch, step and pressure measurement, albeit the latter with questionable accuracy. As for the measurement of steps, the smartwatch has a considerable underestimation which often distorts the results by a good 30%. On the average then the amount of workouts available, 20 and of various types, thus embracing a discrete user margin. On the other hand, sleep monitoring is excellent, not so much in its various phases, as in detecting falling asleep and awakening.
Waking up with the movement of the wrist is ok, quite accurate but it takes some time to wake up the display. The quality of the latter is discreet, a panel of 1.32 "AMOLED round and with a resolution of 320 × 320 pixels. The peak brightness is capable of adequately displaying on-screen content even in direct sunlight. One then takes care of everything to turn everything around large 350mAh battery able to accompany us for at least 14 days. Finally, a shame for a really too weak vibration, the absence of the brightness sensor and the integrated GPS that will force you to rely on that of your smartphone.
Companion software and apps | Haylou RS4 Plus review
If the hardware does not present anything striking it is because even the software, commensurate with it, is at the same levels. In fact, the features and apps will be the same and cannot be 'added' via the companion app. The smartwatch is and will remain as fresh out of the box. However, the applications present will be sufficient to satisfy the majority of users to whom this type of product is addressed. Too bad, however, for some unfortunate and imprecise translations, which could often find themselves confusing the user less accustomed to this type of technology.
Discreet companion app for smartphones, rather sparse in content and information but which still allows a precise Bluetooth pairing (really stable) and always ready to hang up in case of disconnection. The interface, on the other hand, urgently needs a revamped graphic side and an adjustment as regards the translations, which are also very bad here. In any case, from the app it will be possible to access the about 100 dials alternatives, of all kinds, too bad for the transfer speed really too low, some will even take minutes.
Conclusions and price
Finally, the new Kospet Tank T1 it will do exactly what it was meant to do, but it will never go further. So if you are looking for a smartwatch that can accompany you on your adventures then it is for you, it is truly rugged! Otherwise, carefully evaluate the purchase of this device since the smart side has significant limitations. In any case, keep an eye on it in the coming weeks, since with the necessary updates it could still represent the ideal purchase for those looking for a reliable smartwatch without necessarily having to spend a fortune.
Let us know your opinion below in the comments. Finally, do not forget to follow us on our Instagram page, on our YouTube channel and stay connected on techgameworld.com to stay constantly updated on all the news from the tech world!
Points in favor
Build quality
Autonomy
Design
Points against
Inaccurate in some measurements
Not very smart
Companion app not up to par