The medium-low range of smartphones is certainly the one with the most products and with the greatest demand. This implies greater competitiveness in the market and greater attention in the production of devices. Will the Nokia 3.1 Plus be a good product or will it remain on the back burner like others? Let's find out in this review
After two very productive and fruitful years at home Nokia, mainly due upon leaving Windows Phone for a more practical and used Android (in many of its forms), this 2019 too opens in the name of a general renewal, thanks to the update of some of its most important smartphones to Android 9 Pie. The choice adopted by the Finnish brand to guarantee absolute after-sales assistance to its customers has had a good impact on its market, thanks above all to the young company HMD Global who took charge of restoring the Nokia brand to its old splendor.
2018 saw the arrival of many new devices that have gone to replenish the ranks of smartphones, including the Nokia 3.1. 2019, on the other hand, opens directly with his more innovative and performing version, the Nokia 3.1 Plus. Released at the end of January, will this device live up to such a competitive market or will it turn out to be a flop? We from techgameworld.com we had the pleasure of trying it for you and this is our review.
Nokia 3.1 Plus: let's see the data sheet | Review
Processor: Helio P22 MediaTek MT6762 octa-core, 4x 2.0 GHz Cortex-A53 + 4x 1.5 GHz Cortex-A53
GPU: PowerVR GE8320
Internal memory: 32GB (expandable up to 400GB)
RAM: 3 GB
Display: 6 inch HD + IPS LCD with 720 x 1440 pixel resolution, 9:18 (268 ppi)
Rear cameras: 13 MP 3L5 F2.0 + 5 MP 5E9 F2.4 con flash LED
Front camera: 8 MP 4H7, fixed focus, F2.2
Networks: GSM: 850/900/1800/1900, LTE Cat. 4, 150 Mbps DL / 50 Mbps UL
Connectivity: Bluetooth 4.1 con A2DP/LE, Wi-Fi 802.11b/g/n
Connections: Jack Audio da 3.5 mm, Micro USB (USB 2.0)
Sensors: Accelerometer, proximity sensor, gyroscope, compass, fingerprint
Battery: 3500 mAh
Dimensions: 156.88 x 76.44 x 8.19 mm
SO: Android 8.1 Oreo (One Edition)
Nokia 3.1 Plus: let's take a look at the design | Review
The smartphone will arrive in our hands in a big box just enough to house it. In the box also the Micro-USB cable will be present which on occasion can act as a connection with our PC, the charger to be connected to the electrical socket of the home line, the paper clip to open the slots for NanoSIM and MicroSD and the inevitable pair of earphones with the Nokia logo.
At the first touch we can immediately notice one almost unparalleled lightness although the dimensions are not really small. While measuring 156.88 x 76.44 x 8.19 mm in fact, his weight remains contained in 180 g, a fairly average value given the size of the device. The design of the Nokia 3.1 Plus is very common to that of other smartphones, with a plastic shell that guarantees one good grip on the hand. Although not very visible when looking at the device from the front, the off button and the volume rocker are firm to the touch, with a good input speed. There are no particular decorations on the body, if not a thin black plastic band all around the screen.
Front design | Nokia 3.1 Plus review
On the front of the device we find a 6-inch diagonal panel IPS LCD, which covers it almost entirely, with the exception of small edges at the top and bottom, while laterally it occupies almost all the available space. This choice is quite different from that of one of its low-end predecessors, the Nokia 2.1, giving the device a greater elegance and a much larger screen.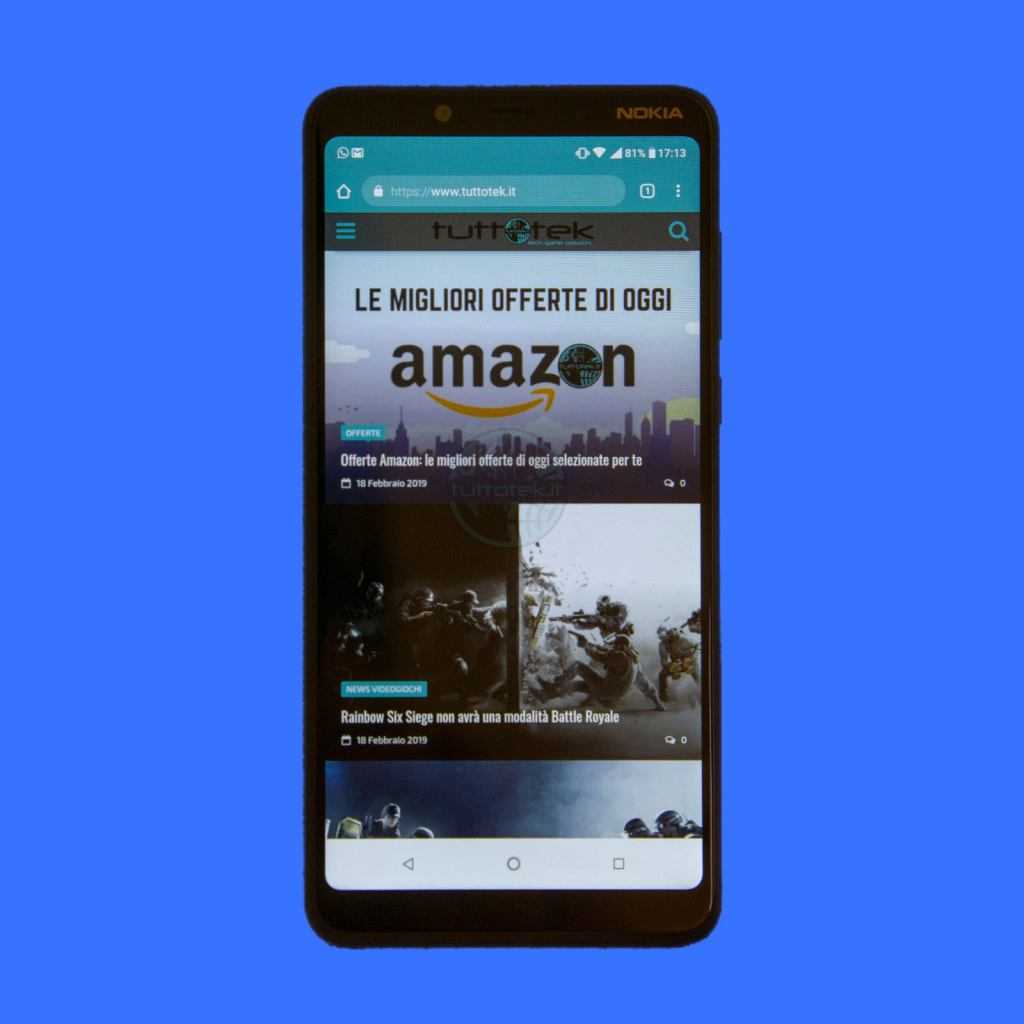 Moving our gaze slightly higher we can immediately notice the historic logo in the right corner and proceeding to the left we find the proximity sensor, a small one earphone case dedicated to calls and the 8 Megapixel front camera which we will analyze later in the review.
Back and side design | Nokia 3.1 Plus review
On the back of the smartphone we find once again the Nokia logo, exactly in the center. Looking up we will notice the fingerprint sensor, smaller than the average, but equipped with a unmatched precision. In fact, if you do not register your fingerprint well or if you do not place your fingertip well within the sensor area, you will not be able to unlock it. Higher up we can see the two sensors: the first from 13 MP 3L5 F2.0 and the second from 5 MP 5E9 F2.4. Just below them we find the flash LED. These 3 elements, arranged in a traffic light, together with the fingerprint sensor, occupy the central axis of our device and fill only a third of the entire length.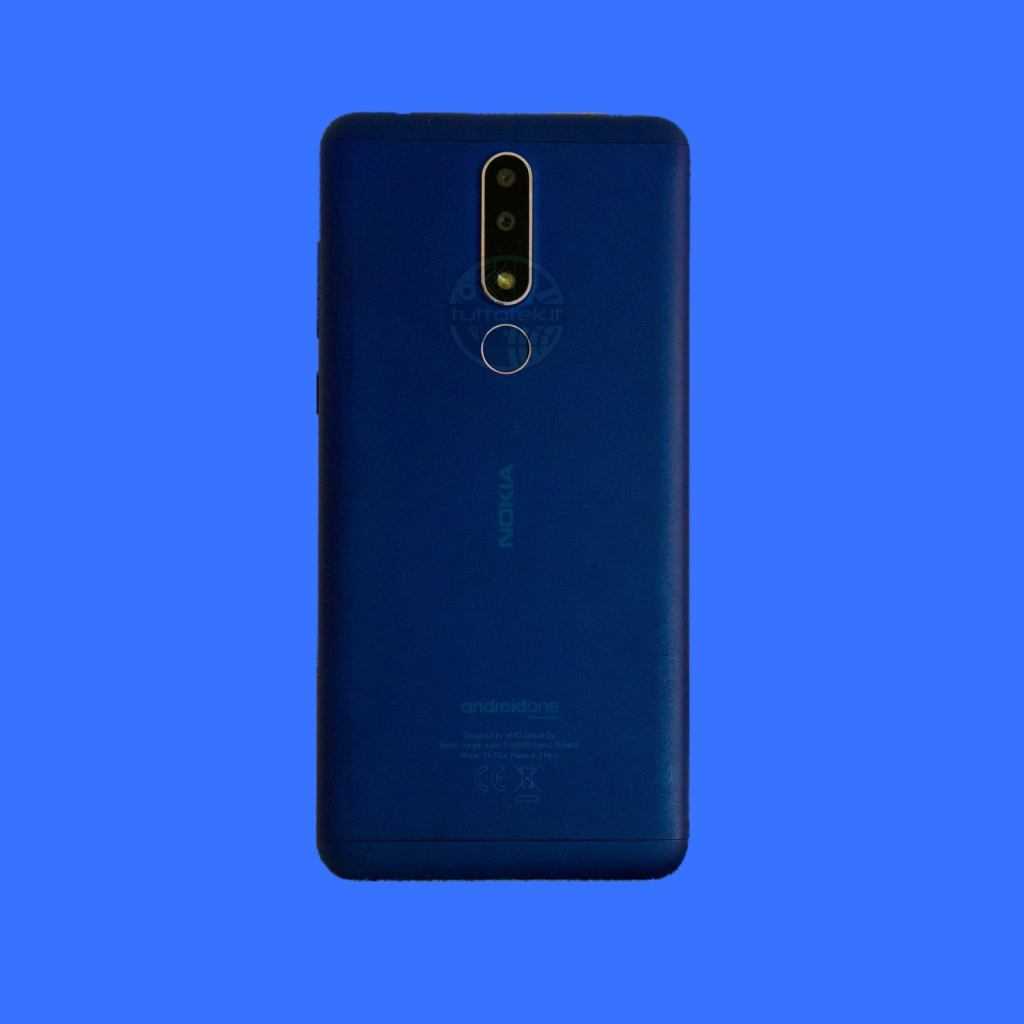 Laterally we can see the off key and volume rocker, while on the other side we have 2 slot a scomparsa. In the larger of the two will find accommodation one of the two NanoSIMs and any MicroSD that can expand storage up to 400GB. In the other smaller one instead we can insert the second Nano SIM in case we need it.
Nokia 3.1 Plus: an HD + display that doesn't mind | Review
The Nokia 3.1 Plus is equipped with a 6-inch diagonal display, large enough to allow us to watch our favorite TV series or play some videos when we are comfortably in bed, without missing a single detail. The panel chosen for this device is a IPS LCD, equipped with a resolution 720 x 1440 pixels with a ppi rate (pixel per inch) equal to 268, not exactly high. Contrary to what is the standard, we do not find a Gorilla Glass to defend it, but a common tempered glass without a brand.
Although the pixel density is not very high, you can enjoy very good sharp images and the color rendering has nothing to envy to that of other devices with a higher density per inch. There is also no striking difference with devices with a resolution Full HD which may have a much lower amount of ppi for that format.
Although it is able to defend very well despite a not exactly high pixel density, the real ace in the sleeve of this panel is brightness. Indeed it is possible read the screen well both in the sun and at night without straining your eyes. During the day we will be able to save some battery precisely because there will be no need to set the brightness to maximum, while at night, thanks above all to the dedicated Android mode, you can activate the blue light filter. This will allow our eyes to remain protected from the light emitted by the LCD screen and not to strain our eyes too much due to the intensity of the same.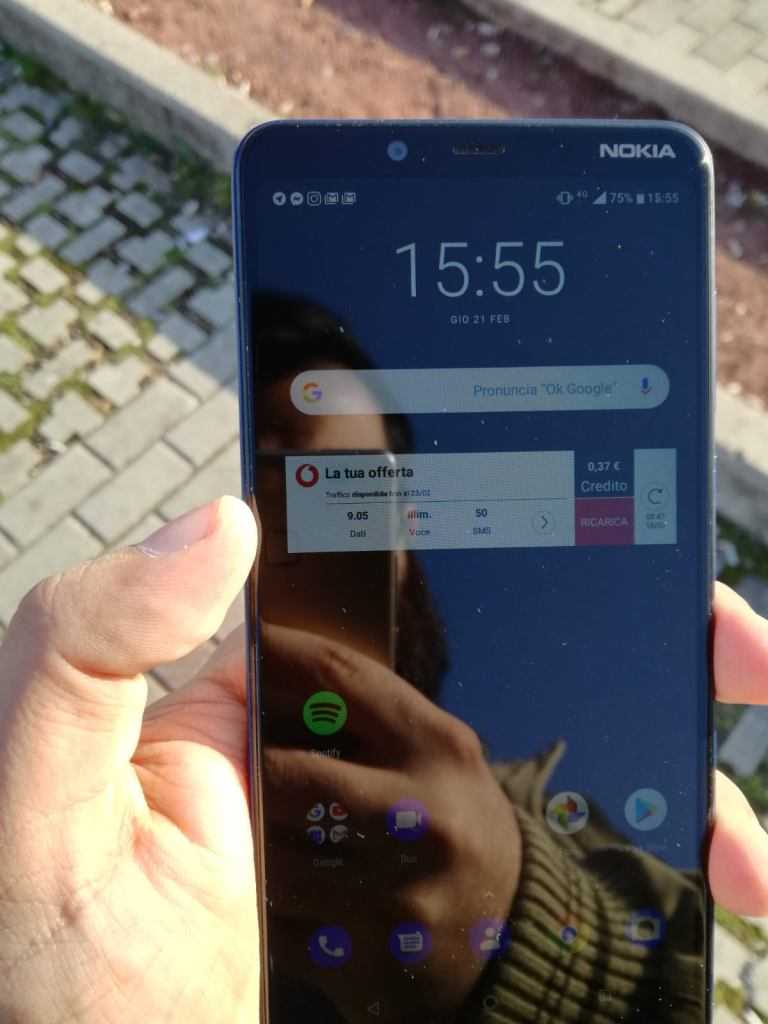 Nokia 3.1 Plus: excellent storage and fluidity | Review
Although the internal memory and RAM are not overly high like those of the top of the range, 3 GB of RAM e 32GB of ROM they allow you to have a good dose of storage space and a fluidity that other low-mid-range competitors lack. The optimization of Android 8.1 Oreo (One Edition) certainly allows you to sr
make the most of 3 GB of RAM, making the same operating system very lean and therefore light, without various slowdowns due to UI customized by the various companies.
While this optimization is important for fluidity, it all weighs on storage. going to occupy about 1/3 of the 32 GB available, almost 2 GB more than the base version of the operating system. Despite the excessive weight, there remains a good percentage of space available for storage of numerous multimedia files and various apps, without the need for an increase in storage. But if you want to keep all your most cherished memories, then you will need to install a MicroSD to expand the possibilities even more.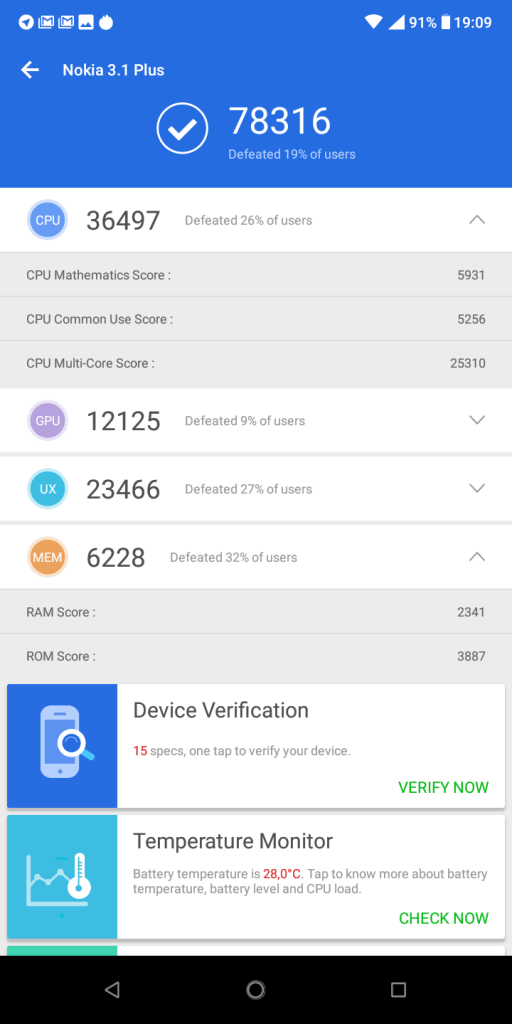 Thanks to such a high fluidity, for video game fans we have good news. While on some really heavy games it does suffer a bit from some frame drops, with all other gaming apps, as long as they don't require too much load, you will enjoy a great experience without compromising performance. This Nokia 3.1 Plus is preparing to be a great smartphone with regards to basic functions, but even with slightly more complex applications it is not affected much, therefore suitable for those looking for a performing device without spending too much.
Even the CPU, a unit Helio P22 MediaTek MT6762 octa-core composed by 4 core da 2.0 GHz Cortex-A53 e 4 core da 1.5 GHz Cortex-A53, is a unit designed to provide a smooth execution of all instructions, without causing slowdowns of any kind. This particular beating heart of the Nokia was specially designed for support mid-range devices and therefore ensure good performance thanks to its eight Cortex-A53 cores that can have one maximum frequency of 2 GHz according to the requirements.
Nokia 3.1 Plus: the photographic sector is not the best, but it defends itself well | Review
Rear cameras | Nokia 3.1 Plus review
Although we have not found any problems until now, the first doubts may arise for many in relation to the photographic sector. Obviously with a sensor from 13 MP 3L5 F2.0 and one from 5 MP 5E9 F2.4 you can't expect too much. Within its limits, the photos turn out to be well balanced, without any noticeable shot burn even in very bright light conditions. However, despite this good yield, it is as if something is missing. To be precise, it is the quality that will allow you to keep your memories, but that surely it will leave a little bitter in your mouth because it is not exactly optimal and your shots will not be as you want.
Despite a resolution of 4160 x 3120 pixels the photos, at least those outdoors, have just one little lack of detail. Also if there is a very intense light source it can be noticed some small problem of flare. Positive note is the flash that discreetly does its job, guaranteeing the necessary light to illuminate the subject without ruining the shot. The photos at night, however, lose a lot of quality compared to daylight, making fairly sharp images of the blurry patches of color.
As for the videos on the other hand, you can very well applaud Nokia for the quality of the same. The factor that most impressed and surprised me is the ability to capture even the smallest details. In fact, shooting a snowstorm I was enchanted by how the smartphone managed to capture not only the gusts of wind, but even every single bow. Of course, the quality is not excellent, but it is difficult to find such quality on other devices belonging to the same price range. The slow motion and time-lapse functionality.