The ORICO multiple USB charger offers a large amount of ports for charging smartphones, tablets and other devices at the same time with excellent performance in terms of charging speed and thermal dissipation. Let's find out all the details in our ORICO Multiple USB Charger review
Very often in the family, especially in the very large ones, when everyone goes home in the evening and need to recharge their smartphones, tablets and various mobile devices snaps the war to the grip. And then USB chargers become a rare commodity and are subject to constant theft: total anarchy. Nowadays everyone in family have at least one smartphone and in addition there can also be tablets, smartwatches, bluetooth speakers, power banks and so on and so forth. In short: the socket in the kitchen is never enough!
But there is no problem. The ORICO multiple USB charger that we present in this review will allow you to charge numerous heterogeneous devices all at the same time. We tried the version with 10 USB ports, the largest and most powerful, however it is good to remember that there are different versions with 7 and 5 USB ports to adapt to the different needs of space and number of devices to be recharged. Let us now turn to our impressions.
Main technical characteristics
10 USB port at 5V, 2.4 A for charging devices
Total deliverable power of 120 W
Smart IC is an integrated electronic device that automatically adjusts the output according to the connected device independently
Grids for heat dissipation
Status LED and power button
Size of 23,8 x 13 x 9 cm e 1,3 kg of weight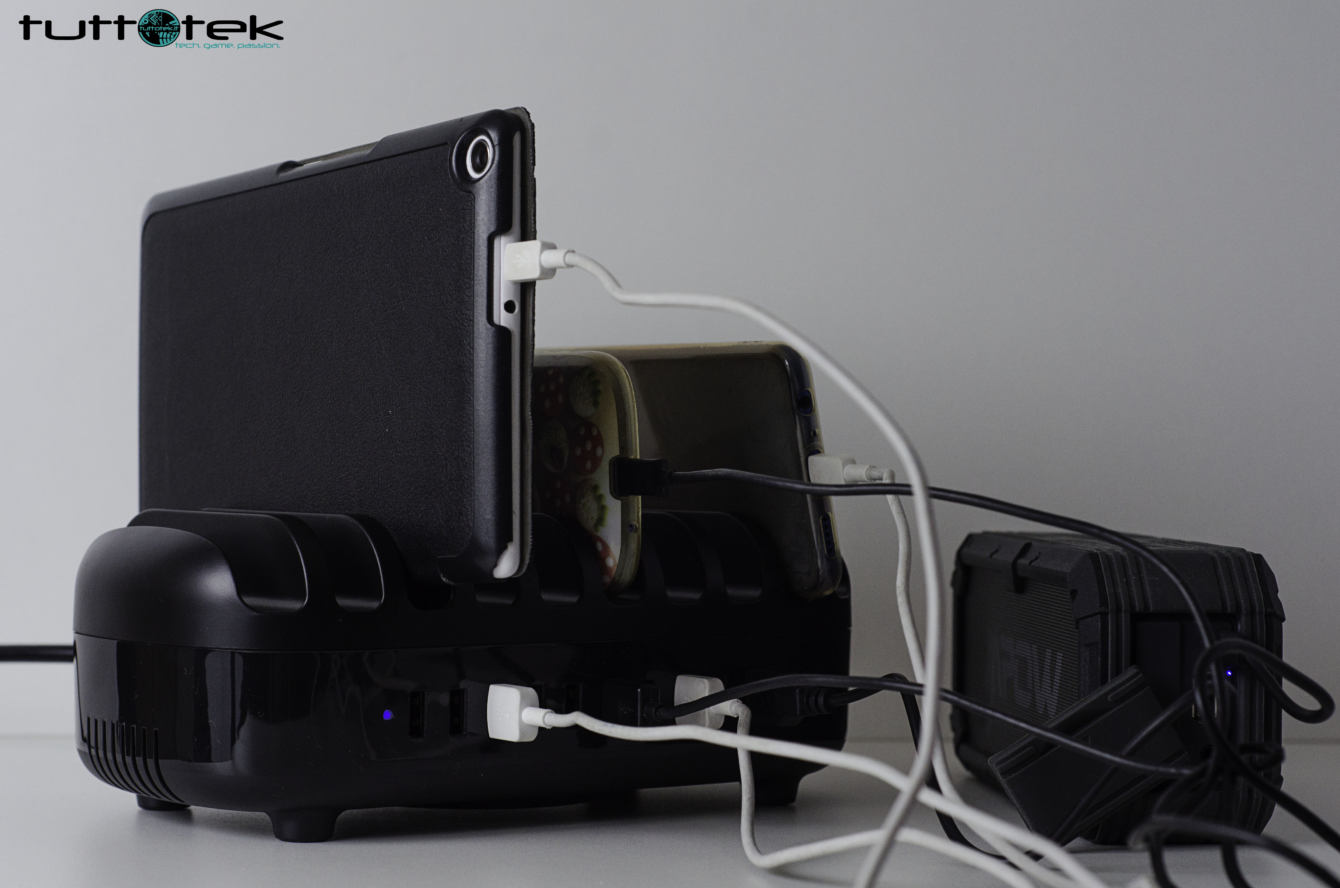 Construction and design | ORICO multiple USB charger review
Let's start with the box. The packaging looks so very basic, but functional. There should be no problem even with long expeditions. The very basic equipment includes only the 1.5 meter power cable with German socket (you will therefore need an adapter not included in the package, but easily available, to be able to use it with the Italian socket).
On a constructive level we cannot cry out to the miracle: it is about the 100% plastic. This makes the device light, but to the touch the sensation is anything but that of solidity. Thanks to the lower feet made of rubber, this ORICO Multiple USB Charger in review remains firmly anchored to the surface where it is placed. Ultimately, therefore, the usability of the product is not affected by the realization in plastic.
Product design understand 10 coves about 2.5 cm deep and with a width that varies between 1 and 1.5 cm that can easily accommodate any smartphone or tablet produced in the last 3-4 years even with attached cover. This "crested" design is very convenient compared to a classic multiple USB charger because it allows you to keep all devices in an orderly manner while charging. On the back, near the power socket, there is a power button that allows you to disable our ORICO multiple USB charger without unplugging each time. save energy. Also in this case the quality of the button is only modest and the "plasticity" during the pressure is felt a lot. In the front we find the 10 USB ports for charging devices and a Blue LED that notifies correct operation. Finally, below and on the sides there are the ventilation grilles for controlling the temperature of the internal components, which we will discuss shortly.
The 10-door model it is not very compact, but not excessively bulky. As a yardstick for size we can take an A4 sheet folded in half on the longest side, but it is above all the height of about 10 cm that affects a lot. The generous dimensions then become useful in terms of stability when many devices are inserted at the same time.
Specifications and Performance | ORICO multiple USB charger review
As already mentioned, the model we tested is the one with 10 USB port. Each of them can deliver up to 2.4 A of current with 5 V output voltage; which implies that each output can independently deliver up to 12W of power, enough to charge all modern devices fast enough, but without support for the latest ultra-fast charging standards. A 3750mAh battery is fully charged in about an hour and a half. Unfortunately, the overall power of 120 W of this ORICO multiple USB charger in review is not "cumulative", ie it is not possible to recharge a single device with the declared full power: each output delivers a maximum of 12 W. So you will have a hard time recharging a PC, especially during use, unless it is a very low-power model. The management of the USB outputs is done independently through a dedicated integrated circuit and works very well with all modern devices: the ORICO multiple USB charger will automatically adjust the output voltage and current according to the needs of your device. They are also integrated a series of protections for current and temperature changes that block the power supply to avoid damaging your devices.
The circuitry and heat dissipation system seem to work quite well. We tested the ORICO multiple USB charger with 5 heterogeneous devices (smartphone, tablet, powerbank, bluetooth speaker) and we only noticed a slight warmth at the base of the charger after about an hour of use. Also the test with 10 devices and then with the charger fully loaded did not show any difficulties in managing temperatures. So from what emerges from our review, the ORICO multiple USB charger does very well in this regard.
Conclusions
Despite the not top-notch construction due to the high amount of plastic present, the ORICO multiple USB charger manages to fully meet most expectations: it charges all kinds of devices properly and allows you to maintain a certain order. Recharging numerous devices will no longer be a problem because you can expand the potential of a single socket. From our review we can ultimately declare that the ORICO DUK multiple USB charger is a great product overall.
In any case, using all 10 device outputs at the same time is really unlikely in a domestic context. For this we notify the possibility of purchasing models with 7 and 5 USB ports: the specifications are similar to the model we tested, however these models are more compact and economical. One last piece of advice is to equip yourself with some 10-15cm USB cables for recharging because the data supplied with the devices are generally very long and create an unpleasant mess. If the manufacturer decided to supply them with the charging station it would be a really good thing.
From the mobile devices section, that's all! Keep following us for many other news and reviews!
Points in favor
Excellent management of outputs and heat
Functional and ergonomic design
Button to turn off the charger
Points against
Plastic construction
Limit of 12 W for each output