In this review we present the Smart Game Booster software, a utility program that integrates numerous features to optimize and monitor the performance of your PC. It includes several modes including Game Boost, CPU and GPU overclocking, temperature monitoring and many more
Getting your hands on a modern PC is not for everyone. Smart Game Booster in particular is aimed at those who they do not have a great deal of knowledge in hardware and they cannot push their car manually. This software offers a full suite of utilities to monitor and optimize various resources from your PC. Especially if you are a gaming enthusiast, you can activate the Game Boost mode to optimize processes and RAM usage, favoring video games and CPU and GPU overclocking automatically.
Review Smart Game Booster: Game Boost
The main purpose of this software should be to optimize performance when playing games by entering Game Booster mode. Smart Game Booster is capable of analyze active processes and suspend (or change the priority) of those that are considered useless or secondary while you are playing. In this way, games can use CPU and GPU in a privileged way. The RAM also breathes more as redundant process pages are downloaded. In addition, the Game Boost mode tries to squeeze the hardware to the maximum, overclocking the CPU and GPU as much as possible. We tested Smart Game Booster with 3D Mark, the configuration included Intel i5-6600 CPU, AMD FirePro W4100 GPU, 16 GB DDR4 Kingstone Fury Black RAM and Samsung 850 EVO SSD. Unfortunately with Game Boost mode activated we only earned a paltry 0.12% in overall performance.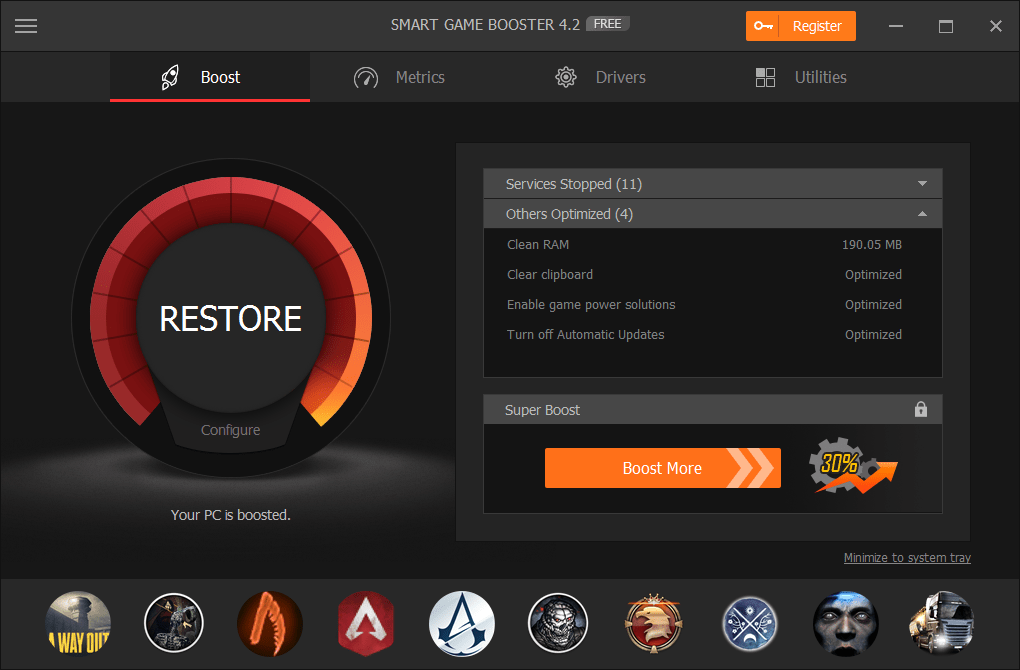 However, we would like to specify that this configuration is not very suitable for gaming and overclocking. Other components have a higher margin for improvementcertainly no miracles can be achieved! However, the simplicity with which this software allows you to optimize performance is truly disarming: with a click Smart Game Booster analyzes and starts the game in Game Boost mode; when the game is closed, the program restores the normal characteristics of the system.
Smart Game Booster Review: Monitoring
This program also allows you to monitor system resources including monitoring CPU temperature, GPU temperature, motherboard temperature and disk temperature and fan speed, all plotted on the time axis. All quite accurate apart from that of the disc which remains planted at 0 ° C. The interesting thing is that it is possible activate a HUD (Heads-Up Display) where the various temperature measurements and the FPS of the game are entered in real time. Also very useful are the shortcuts that allow you to capture screenshots or start / stop screen recording. A complete monitoring suite included in Smart Game Booster, even if it doesn't go very deep.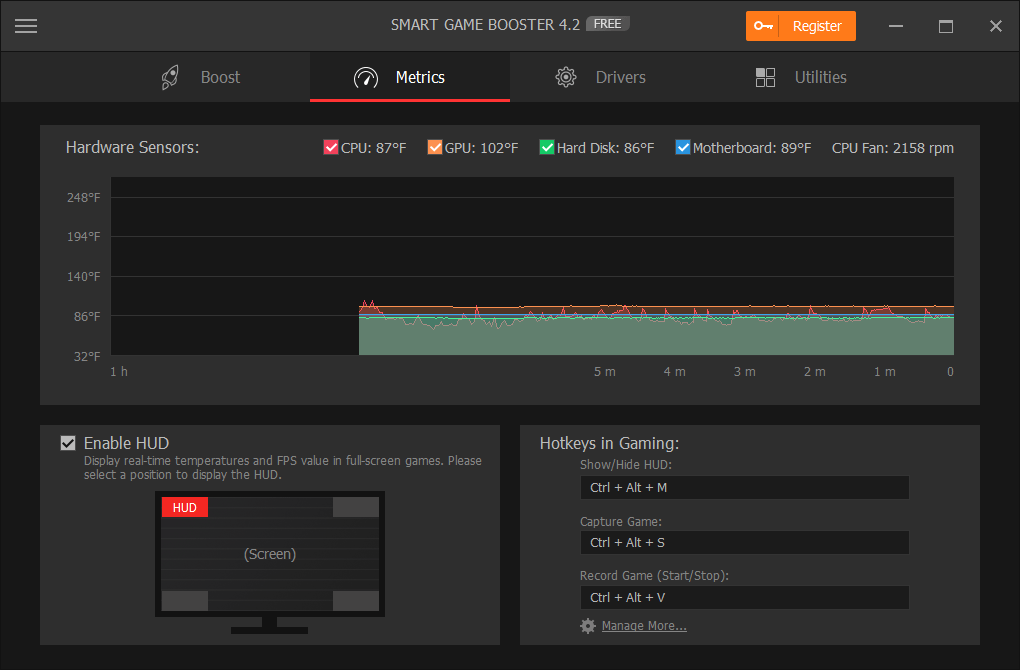 Smart Game Booster Review: Utility
The software offers some useful features for diagnosing and optimizing the entire PC. Surely the most useful is the automatic defragmentation disk: in a few minutes the software analyzes and reorders the fragments of the files inside the mass memory. This feature is useful when using very large files (such as video games) and a disc that is almost entirely filled; the advantages are seen above all in the loading times. The second interesting utility is the automatic driver update functionality: Smart Game Booster analyzes and searches for the drivers to update and installs them, all automatically.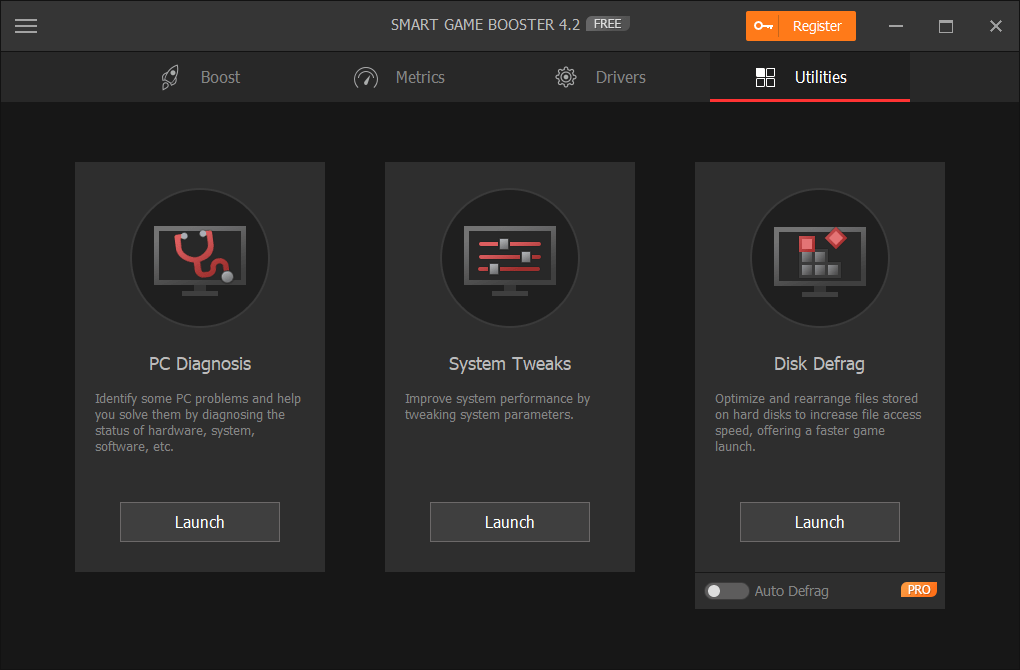 Secondary are the functions of PC Diagnosis which provides on a terminal-like screen a series of low-level information about the current state of the system – for example the status of various processes and virtual memory and the System Tweaks which allows you to enable / disable a huge amount of flags associated with different background processes that could slow down your PC.
Conclusions
Smart Game Booster is a program indeed very easy to use and practically all the features they are made in a completely automatic way. On the one hand, this can be an advantage for inexperienced users, but a limitation for more experienced users who would like to get their hands a little dirty. Therefore highly recommended for newbies who want to squeeze their PC and optimize it without getting too much trouble. From the software section that's all! Keep following us!
Points in favor
Very simple, but …
Lots of built-in features
Points against
… few possibilities for customization
No miracle