After launching the fourth generation of the very powerful Xperia 1 and Xperia 10, Sony has also decided to launch a compact smartphone designed for creator. The new Sony Xperia 5 IV in fact it has cameras, audio and features for the gaming at the most, in a body of contained dimensions. A smartphone that you can easily keep in your pocket, and then take pictures and record videos that show all of Sony's experience in these areas.
Sony launches Xperia 5 IV, features for creators
When Sony introduced us to this smartphone, it didn't hide even for a minute for those who thought this product: content creators. So much so that it also brought us statistics on how the creator economy is bursting, with beyond 143.8 million creators in the world compared to the 600,000 of just ten years ago.
So Sony has also decided to update the Xperia 5 series, bringing all the best news seen in the world of mobile photography with the other products of the brand. Like an increased autofocus speed and a front sensor capable of shooting great quality videos for yours Stories, Reel or TikTok content. And rear cameras that closely resemble those impressions of Xperia X1 IV.
But also by working closely with the teams of Sony Audio and even Sony Pictures, to make sure you put all your corporate knowledge to truly give you the best of streaming. And with a large battery in a small body, this smartphone wants to conquer all content creators, but also those who appreciate those contents on their smartphone.
And then there are the compact dimensions: 6.1-inch screen, measures 156 x 67 x 8.2 mm and above all weighing only 172 grams. With top specifications, these contained measures are by no means obvious.
Advanced photography and videography: the uncompromising features of Sony Xperia 5 IV
Sony has chosen a trio of 12MP cameras for the back of your smartphone, but made sure they were excellent. In fact we find three proprietary sensors of excellent workmanship:
And 24mm wide sensorwith F1.7, 12MP 1 / 1.7, OIS stabilization and High-Speed ​​Read 120fps sensor
And ultra wide da 16 mm12MP 1/2.5 e F2.2, con sensore High-Speed Read 120fps
And 60mm telephoto sensorwith 12MP 1 / 3.5 and F2.4, with OIS stabilization and also with High-Speed ​​Read 120fps sensor
As always, Sony's technology also feels on the software side of the camera. The Japanese company builds and programs the operating system of some of the best cameras in the world and wants to bring all that mobile experience.
Video e live streaming
You can already appreciate it in the videos in Basic Mode, which have autofocus that follows the eyes of animals and people in the frame and also the ability to track the movements of objects. The videos that Sony showed us at the presentation are really impressive in the results.
You can also record impressive videos in 4K 120 fps in slow-motion, slowing down up to five times, with a wider dynamic range. And with Optical SteadyShot con Flawless Eye videos should be smooth and jitter-free (a great news for someone like us who never has a very steady hand when recording). You can activate it with Photography Pro on the sensors da 24mm e 60mm.
Videography Pro makes it super easy to use your Xperia smartphone (even with Endurance Mode to lengthen the time) for it streaming video. But you can also use a Sony alpha series camera using your smartphone for direct streaming. A godsend for streamers. And Sony demonstrated the video qualities of the Sony Xperia 5 IV by shooting the new video of Cat Burnsinger-songwriter who used her smartphone to "People Pleaser".
Camera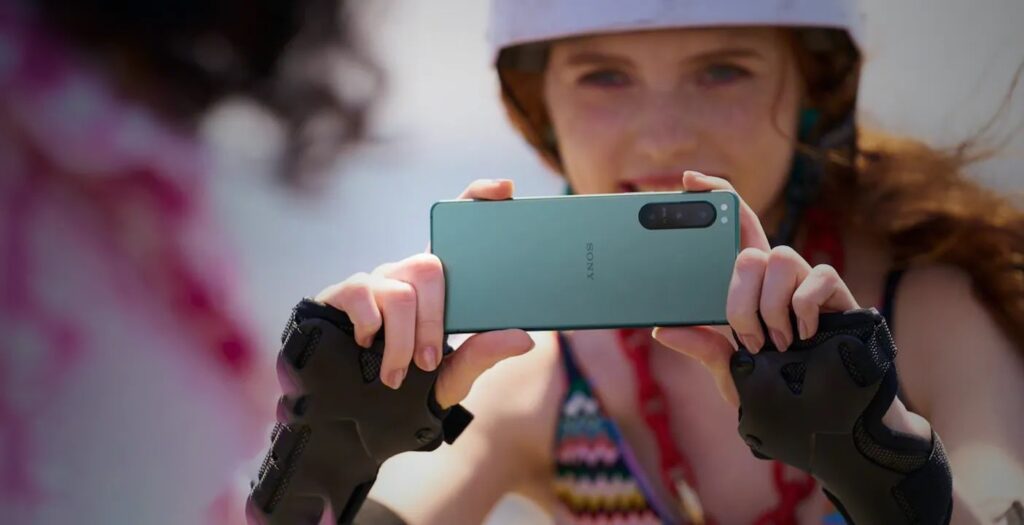 Sony software not only enhances videos but photos as well. Real-time autofocus for the eyes on all sensors makes it possible to create realistic yet highly artistic portrait modes. And tracking to frame subjects and track them even when they're temporarily out of frame makes it easier for them nature or sports shots. In fact, artificial intelligence also measures the distance between the camera and the subject, making it possible to follow him more precisely. Sony proved it to us with some shots of an adorable dog on the beach, but we assure you we weren't distracted – the technology looks just as gorgeous as the animal.
Also colors and contrast improve with l'AF/AE burst shooting in HDR a 20 fps e fino a 60 fps per l'AF/AE continuous on all sensors. Impossible to miss the best shots for creatives.
Improved front camera
It also improves the 12MP front camera, which has a larger sensor than the previous generation. In fact we pass by a sensor from 8MP and 1/4 inch to one from 12MP and 1 / 2.9 inch. This should result in more detailed photographs in low light, something that should allow you to be more daring with front camera shots.
Class-leading audio and display
During the press presentation, Sony made no secret of the importance of being able to work with colleagues from other departments. The sensors for the camera are only the first level: the audio and display for watching movies and listening to music also promise great things.
The front speakers, both above and below the screen, have superior performance in the low frequencies. They are also built and mounted to minimize unwanted vibrations, which generate imperfections in the sound. In addition, the audio is developed with Sony Music to guarantee enormous quality: there is Hi-Res audio via the 3.5mm jack cable and Hi-Res LDAC audio via Bluetooth. Also there is the 360 Reality Audio to immerse yourself in music even more.
Finally, there is also the possibility of using Music Proto make your music sound like it was recorded directly in the studio with a condenser microphone.
The display from 6,1 pollici FHD+ OLED has 50% more brightness and refresh rate from 120Hz. Optimization Real-Time HDR allows you to reproduce splendid contrasts and bright colors. This will allow you to enjoy the movies Bravia Core for Xperia, which will offer hundreds of Sony titles (including the latest Spider-Man, don't forget!). Includes five titles to redeem and a one-year subscription for over 100 movies to watch.
Battery and processor (and gaming features)
Creators, especially those who run long live streams, will certainly appreciate the 5,000mAh battery. Sony assures you that you will not feel the decay for at least three years and that fast charging will allow you to get the 50% autonomy in 30 minutes. In addition there is the wireless charging, always very useful.
The processor, on the other hand, is one Qualcomm Snapdragon 8 Gen 1: we are talking about one of the best mobile chips on the market. This also allows you to play competitively or for streaming. Especially if you use Game Enhancerwhich allows direct streaming, modifying the live at will (even with different voices) e showing the overlay comments.
Sony Xperia 5 IV features: accessories and sustainability
In short, the Sony Xperia 5 IV has top-of-the-range compact features, with Sony's audio and video quality, quality cameras and even three well-made colors: Black, Ecru White e Green (which is our favorite).
Furthermore Sony presented interesting accessories such as the Style Cover with support to leave the smartphone tilted on the table while watching TV series and videos. And it has even rethought the packaging, up to 50% thinner and with less impact on the environment. There is no plastic in the package (but neither is the USB-C cable).
At the moment we do not know the price of the device, we will update you as soon as we have more information.