Assassination Classroom author Yusei Matsui will return to Jump next week, with Nige Jōzu no Wakagimi, a historical setting manga. Three more new titles will follow in the following weeks, all signed by veterans
With the release of the latest issue of Weekly Shonen Jump, we were wondering if the 2021 it was going to be another year full of new magazine issues. With the closure of Moriking after less than a year of serialization, in fact, a place has already been freed up in the list.
Thanks to the translation of Jump's advertising spaces, we are now able to respond. A new manga is already on its way with the release of the January 25: it's about Nige Jōzu no Wakagimi  (The Young Lord Who is Skilled at Escaping).
The author is the well known Yusei Matsui, which has recently become popular thanks to Assassination Classroom, one of the most original Shueisha titles of recent years.
Matsui later proposed, again on Jump, the one-shot F-Ken, a story about kendo and fetishes that, despite the always high artistic level, had perplexed more than thrilled the readers.
Complete change of direction then with The Young Lord Who is Skilled at Escaping, in which the story of a hero "out of history" and now unknown will be told.
The first chapter will have the usual color opening and 52 pages, and, as always, will be previewed on Sunday on MangaPlus.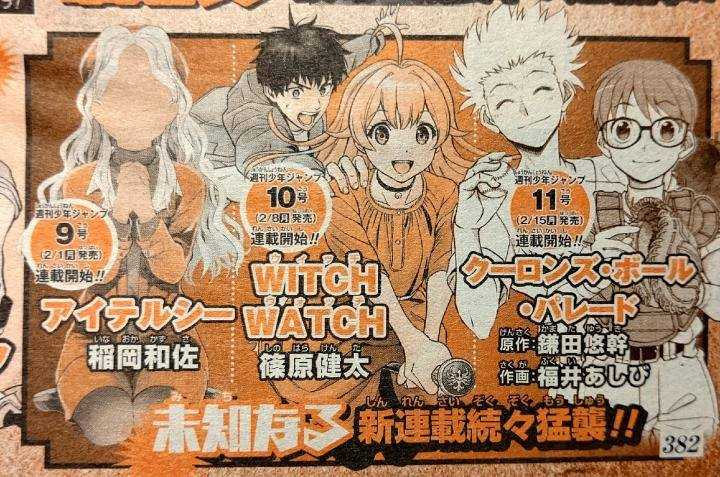 Besides Nige Jōzu no Wakagimi, the other manga coming to Shonen Jump
For the week of February 1, we'll have Aiterushi of Kazusa Inaoka. Inaoka has already published a work with Shueisha, in a minor magazine, Invade You!, in 2018. It is a sentimental comedy, with a supernatural twist, which has been going on for a total of 3 volumes. It may be that his new work also proceeds in this direction.
The following week will be the turn of Kenta Shinohara with Witch Watch. Shinohara is a veteran of the publishing house, published since 2007 with Sket Dance, and then with Astra Lost in Space su Jump +.
Finally, for February 15th we will have Clones Ball Parade, del duo Yuhki Kamatani and Ashibi Fukui. This is the first time these two artists have collaborated, but both are not novices. Notably, Kamatani was the creator of Nabari no Ou, of which perhaps someone will remember the anime aired in Italy on MTV some years ago. It looks like the new manga will be a spokon.
In short, this year Shueisha brought out heavy artillery for their flagship magazine. Keep following us to discover these new manga together.